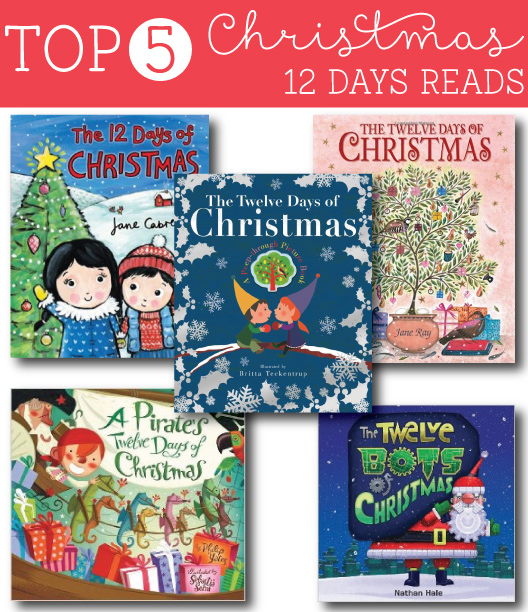 Around here at Second Story Window, there's not much we love more than Christmas picture books!  
Today we're sharing some of our favorite versions of the 12 days of Christmas. Our other Christmas books posts have narrowed our recommendations down to our top 5, but there are just too many good ones for the 12 Days of Christmas.  So we have 5 CATEGORIES of Twelve Days of Christmas books to tempt you with! (Affiliate links included.)
---
Category #1: Silly Twelve Days of Christmas
The 12 Bots of Christmas by Nathan Hale
I've had this in my library for years, and I still enjoy pulling it out for my preschoolers every December. I used to read it to my 2nd graders and they went nuts for the detailed illustrations and the unique twist on the traditional story. In this version, Robo-Santa is delivering an assortment of clever robots: Turbo Doves, Wrench Hens, Geese-o-Matic…! A fun and clever twist on a holiday favorite!
A Pirate's Twelve Days of Christmas by Philip Yates
The illustrations in this version are bright and lively.  Like Yate's Pirate's Night Before Christmas, the text gets a little heavy on pirate speak, but it doesn't take away from an enjoyable story.
The 12 Bugs of Christmas by David A. Carter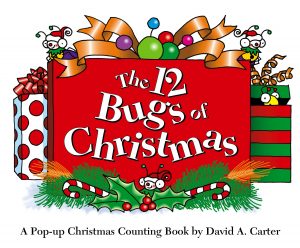 Each page of this book has a different buggy pop-up from a Fruitcake Bug in a Pear Tree to Nimble Bugs a-nibbling. If, like myself, you're creepy-crawlyphobic, don't worry– these illustrations are silly and not gross.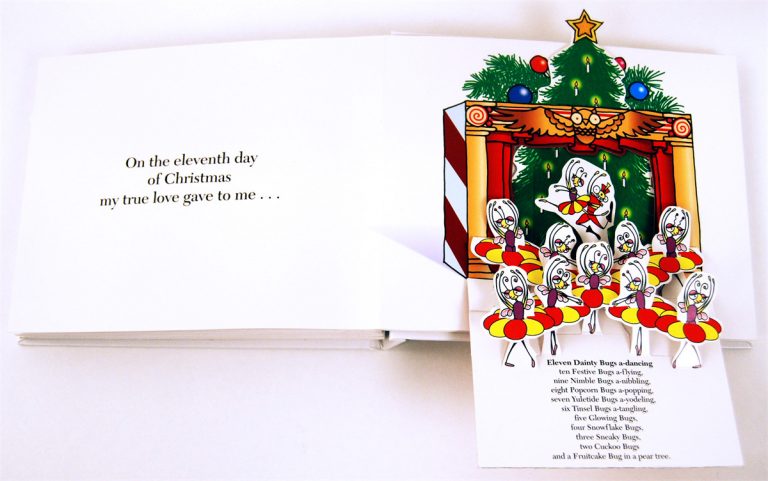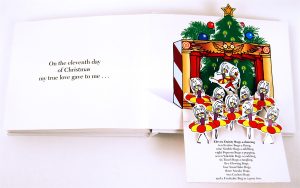 ---
Category #2: Modern Twelve Days of Christmas
The 12 Days of Christmas by Jane Cabrera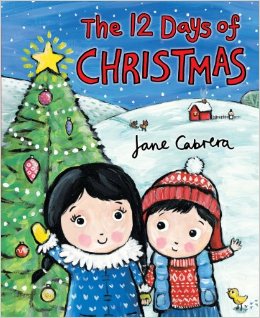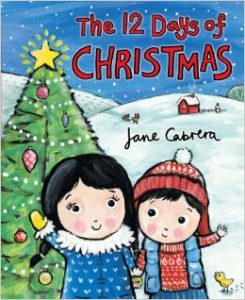 Before I picked this up, I assumed it would be a brightly illustrated take on the traditional song. However, this version has a little boy and girl celebrating a party in a pear tree.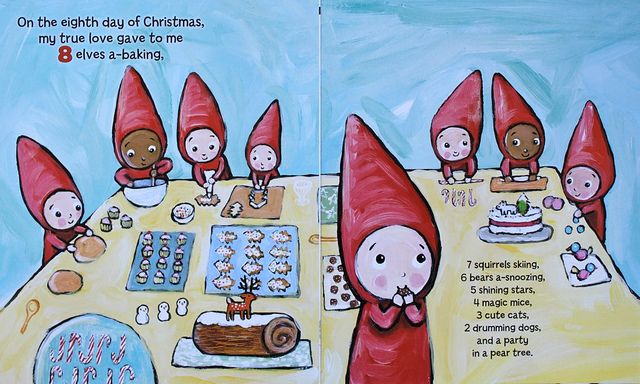 Lots of other woodland characters come by to celebrate: cute cats, squirrels skiing, snowmen singing, etc. And in the end, the kids are flown home in Santa's sleigh.
Roc and Roe's Twelve Days of Christmas by Nick Cannon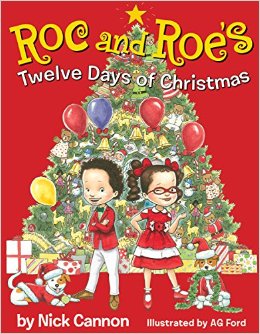 Nick Cannon–yes, that Nick Cannon–has a story about his twins decorating the tree. Each day we see them having a new adventure and adding a new ornament. The text isn't spectacular, but the illustrations are charming.
The Worst Twelve Days of Christmas by Sudipta Bardhan-Quallen
This is Joy's 6th Christmas, so she has a pretty good idea about how things should work. Unfortunately, this is Sam's first Christmas and the "stinky baby" is wreaking havoc with everything Joy tries to do. Of course, she eventually realizes that having a baby brother adds to the holiday.
---
Category #3: The Animals' 12 Days of Christmas
The Twelve Days of Christmas Cats by Don Daily
For the cat lover in your life, this is one of several books that offer a feline twist on the familiar text.  The pictures are richly detailed and showcase a wide variety of cats.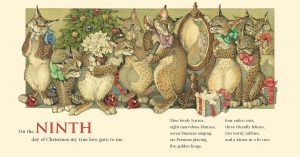 The 12 Days of Christmas by Tad Hills
The text in this book is the traditional song, but the illustrations add a lot to the story. Anita's well intentioned suitor is showering her with gifts. It seems like a sweet gesture at first, but quickly gets out of control. And those little piggies are just darling!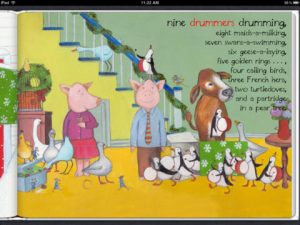 A Firefly in a Fir Tree by Hilary Knight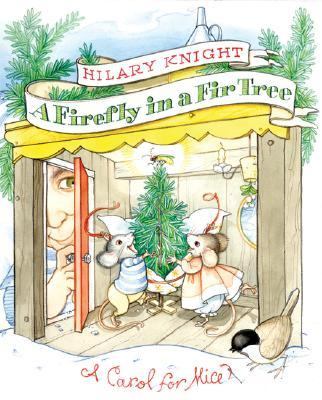 Back in 1963, Hilary Knight found a pair of mice in his studio and the inspiration for this book was born. Sadly, both the original and this 2004 reissue are out of print, but you can find used copies online. The gifts for these sweet water color mice include thistle dusters, golden bells, spinning spiders, and fanning feathers.
---
Category #4: Twelve Days of Multicultural Christmas
A Stork in a Boabab Tree by Catherine House
Set in southern Africa, a young couple is preparing for the birth of their child in the middle of the Christmas season. Each day showcases a different aspect of village life: women pounding, children playing, storytellers, etc. The pages also included more detailed descriptions of the different activities and objects used in the story.
12 Days of Christmas by Rachel Isadora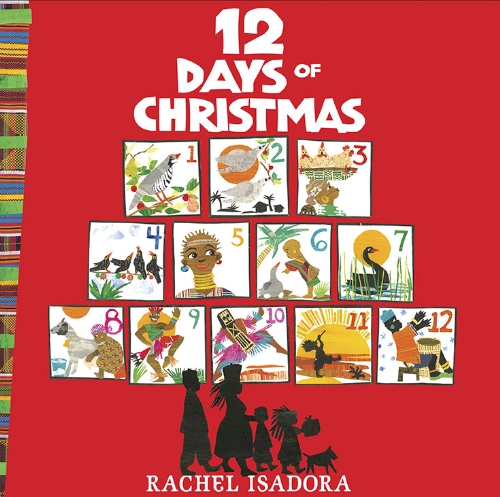 This version retains the traditional text, but moves the setting to Africa and illustrates it with vivid collages.
A Piñata in a Pine Tree by Pat Mora
We included this in another Christmas book round up, but it bears repeating.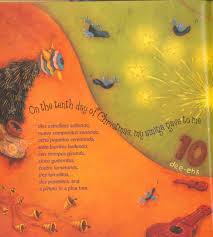 A hispanic twist on the Christmas celebration that includes presents from a secret amiga. More details about different Christmas traditions is also included.
12 Days of Christmas Island by Teresa Lagrange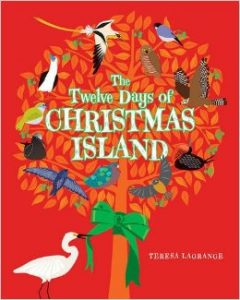 Christmas Island is a real place! It's a small island off the northwest coast of Australia. This book celebrates the island's unique and diverse bird population.
A Porcupine in a Pine Tree by Helaine Becker and Werner Zimmerman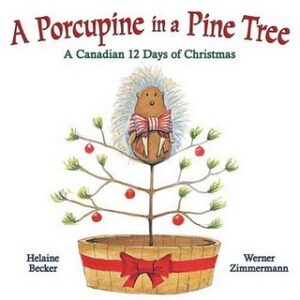 Although you can find copies online, sadly, this Canadian version is out-of-print. Such a shame–who wouldn't love reading about these caroling moose?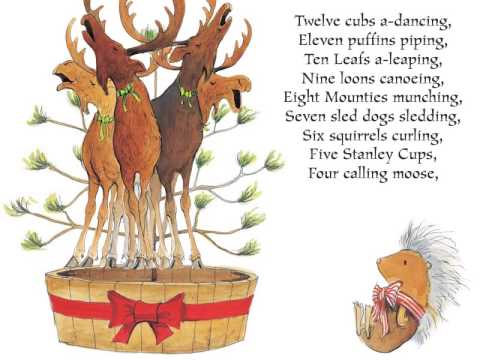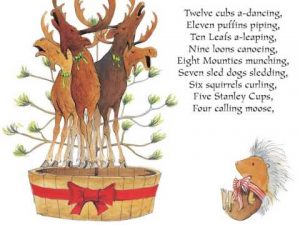 ---
Category #5: Traditional Twelve Days of Christmas
There is no shortage of beautifully illustrated versions of the traditional 12 Days of Christmas.
The Twelve Days of Christmas by Britta Teckentrup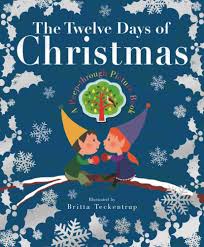 After falling in love with the illustrations, I ordered this one this year. Because I <definitely> need another copy of the 12 days of Christmas!
The Twelve Days of Christmas by Jane Ray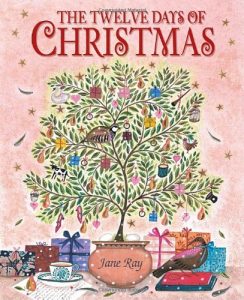 The cover doesn't do this book justice! I love the detailed water colors!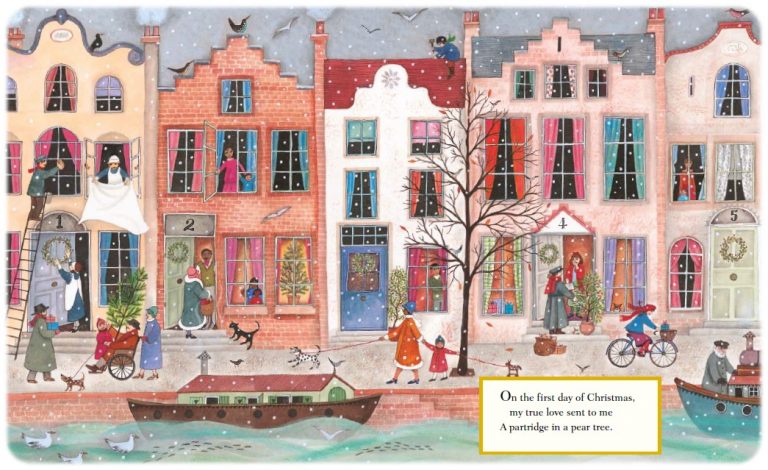 V&A: The Twelve Days of Christmas by William Morris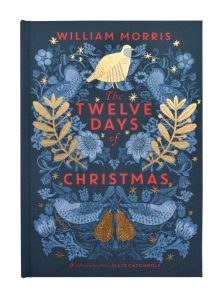 This is a new publication, but might be a little tricky to track down stateside. But the illustrations, based on Willam Morris's textiles, are so gorgeous, it's worth the hassle!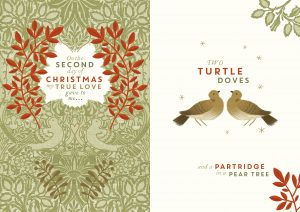 The Twelve Days of Christmas by Alison Jay
I love the folk art look of Alison Jay's crackle-finished illustrations.
And don't forget Robert Sabuda and Jan Brett and Laurel Long…Really, there's a version of 12 Days of Christmas to suit any taste or style! Happy reading!
 Want more Christmas book recommendations? We've got you covered!