As avid book lovers (and collectors), narrowing our favorite Christmas books down to a mere TWENTY FOUR seems like a gargantuan task. There are just so many wonderful Christmas books and more coming out each year. With careful consideration, we've whittled our favorites down to 24 of our very favorite Christmas books that we absolutely love to read each year.
Note: We did not include any "nativity" related books on this list so that they're all appropriate to read at school (if you're able to do Santa-related Christmas activities at your school). We also aimed for books that aren't too text-heavy and we did not include any board books on this list.
This post contains affiliate links.
1. The Sweet Smell of Christmas by Patricia M. Scarry – Join Little Bear as he prepares for the holidays, all the while giving readers a chance to smell six wonderful scents including apple pie, Christmas tree, hot chocolate, and more!
Did you have this book as a child? It was such a favorite in our childhood home that we both hold it dear to our hearts. And I'm delighted to say that my children now adore it too. It's one of the first books we read every year.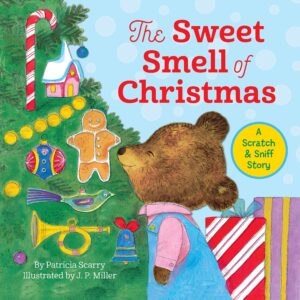 2. Dream Snow by Eric Carle – On Christmas Eve the old farmer falls asleep wondering if will Christmas will come when there's no snow. He dreams about a snowstorm coming to cover his animals in a snowy blanket. Christmas morning, he wakes to find it has really snowed!
We highly recommend getting the hardback version of this book which has a special effect button at the end of the book. That + the simple transparent snow pages make this simple book one that kids will want to read over and over.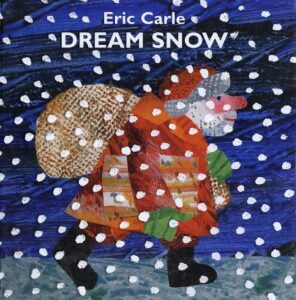 3. Snowmen at Christmas by Caralyn Buehner – It's Christmas Eve and people are snug in their beds, but something is stirring outside. The snowmen are preparing to celebrate! Under the glow of moonlight, all the snow families are slipping away to gather in the town square for a night of caroling, dancing, and an exciting visit from the snowman Santa Claus.
The Snowmen books are all favorites but the Christmas one is top of the list.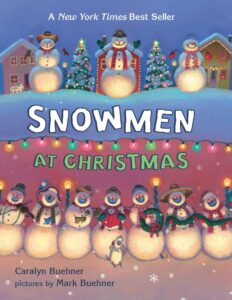 4. The Jolly Christmas Postman by Allan Ahlberg – The Jolly Postman brings a batch of wonderful letters for Christmas, including notes from the Big Bad Wolf and all the King's men. Open this book, take out the letters, and discover what favorite characters would write to each other–and reimagine best-loved tales together.
This is one of my children's favorite books each year. The little letters you can pull out of each pocket are so charming.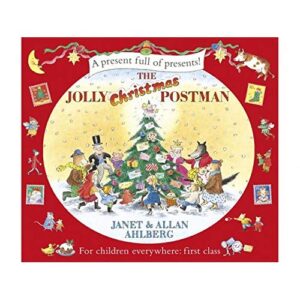 5. Finding Christmas by Lezlie Evans – Squirrel, Mouse, and Hare are getting ready for Christmas. While Mouse is out looking for the perfect gift for Hare, she finds Swallow sick in the snow. The three friends bring Swallow home and try to nurse the bird back to health. Squirrel and Mouse realize their Christmas gifts will help Swallow get well. As they give up their presents to help Swallow, they find the Christmas spirit.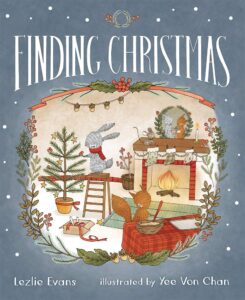 6. The Story Orchestra: The Nutcracker – adapted by Katy Flint – Follow Clara on a magical Christmas adventure in this musical retelling of The Nutcracker ballet—push the button on each beautiful scene to hear the vivid sound of an orchestra playing from Tchaikovsky's score. 
My daughter got this for Christmas a couple years ago and absolutely fell in love with it. The arrangements are beautiful AND each button only plays a short snippet so you're not committed to listening to a really long tune as soon as they hit the button. It's really magical to read with the music.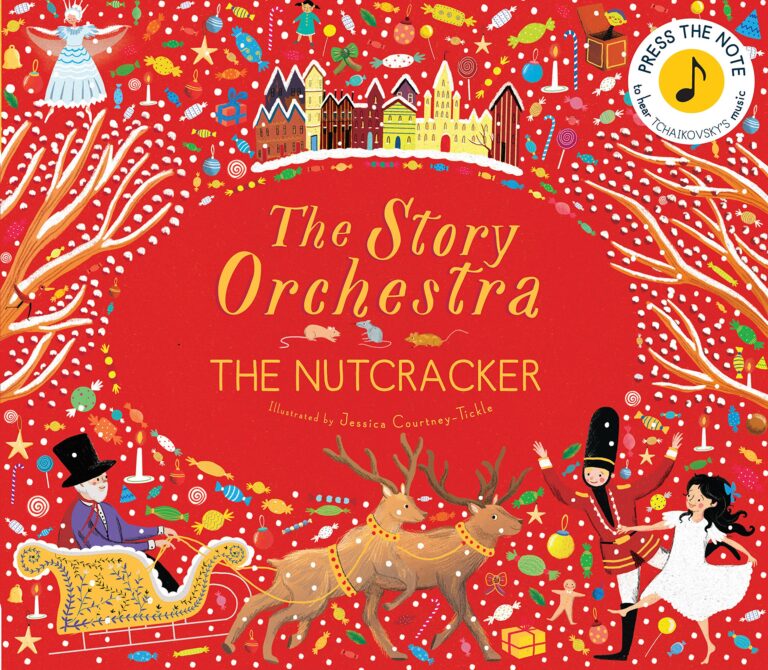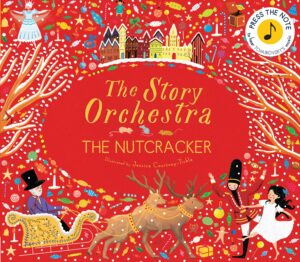 7. Here Comes Santa Cat – by Deborah Underwood – Christmas is coming and Cat has a hunch he's not on Santa's "nice" list. Which means? No presents for Cat. So he tries to be good, but children, it seems, aren't wild for his brand of gift-giving. Still, Cat might surprise himself, and best of all, he may just get to meet the man in the red suit himself—and receive a holiday surprise of his own.
This book is both sweet and hilarious. We LOVE all the Cat books but this is definitely our favorite.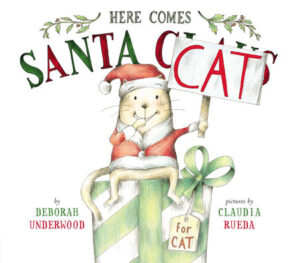 8. Bear Stays Up for Christmas – by Karma Wilson – Bear's friends are determined to keep Bear awake for Christmas! So they wake Bear up and have him help them find a Christmas tree, bake cakes, hang up stockings, and sing Christmas songs. Bear stays up — by discovering that giving is one of the best Christmas presents!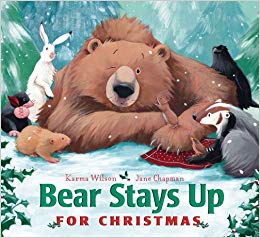 9. Mr. Willowby's Christmas Tree – by Robert Barry – Christmas is here and Mr. Willowby's tree has arrived. There's just one big problem: The tree is too tall for his parlor. He cuts off the top so it will fit, and soon the top of that tree is passed along again and again to bring holiday cheer to all the animals in the forest.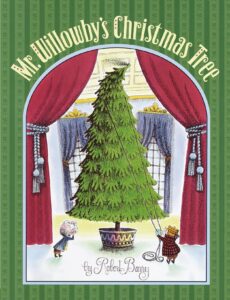 10. Olive, The Other Reindeer by Vivian Walsh – Olive looks a lot like a dog but…she thinks that she is a reindeer. Knowing that it is the time of year when all reindeer help Santa Claus she decides to hop on a bus to the North Pole. Santa has a feeling that Olive is just what his sleigh pulling team needs. And he is right! Olive saves the night with her unusual 'reindeer' abilities; Olive is good at fetching sticks, smelling trouble and being sweet.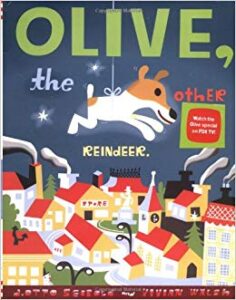 11. How Do Dinosaurs Say Merry Christmas? by Jane Yolen – From decorating the tree to wrapping presents, little dinosaurs love to celebrate Christmas-and everything about it. With ornaments on the branches and carolers singing at the door, the spirit of Christmas is finally here and filling the hearts of families everywhere. But when the stockings are hung on the chimney, and the cookies are left out for Santa, how can little dinosaurs go to sleep? It's so exciting! How can they possibly calm down and behave?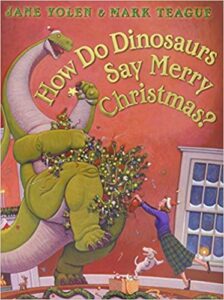 12. A Christmas for Bear by Bonny Becker – One frosty night, Bear hears a tap, tap, tapping on his front door. "Merry Christmas!" cries Mouse. Mouse is there for a Christmas party, and Bear has never had one before, but he's certain that pickles (preferably from France) must be an essential component, along with the reading of a long and difficult poem. The problem is, whenever Bear comes back from the kitchen with more treats, Mouse has vanished — only to be found, small and gray and guilty-eyed, scurrying under the bed or rifling through the closet. Will there be even a tiny present involved? "Hogwash!" scolds Bear.
I absolutely adore this Christmas tale with Mouse and Bear. I just relate to that grumpy bear on a deep level.
13. Toot and Puddle: I'll Be Home for Christmas by Holly Hobbie – Toot goes to a family reunion in Scotland, promising Puddle that he'll be back in Woodcock Pocket in time for Christmas. However a huge snowstorm strands him far away from home on Christmas Eve.
Life goal: Find you a friend that loves you as much as Puddle loves Toot.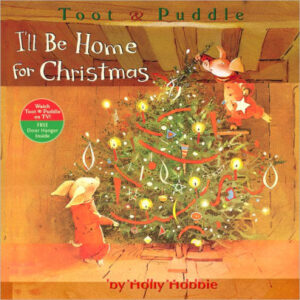 14. The Night Before Christmas by Clement C. Moore
This pick is tricky because there are so many versions of the Night Before Christmas that we LOVE! And you must have at least one version of this book in your collection. Some of our favorite versions are illustrated by Holly Hobbie, Gyo Fujikawa, Daniel Kirk, Sara Gianassi, Jan Brett, Charles Santore, Jessie Wilcox Smith. and Robert Sabuda. Not gonna lie, I could probably come up with 24 versions of this that we love if you want to read one every night!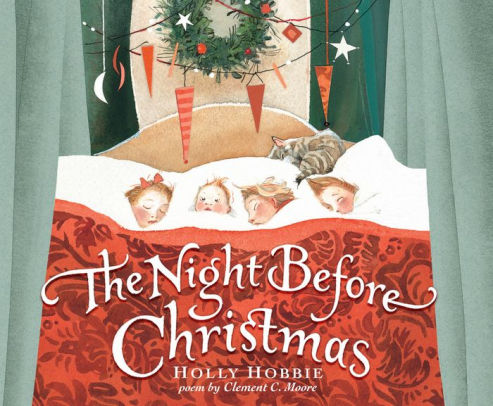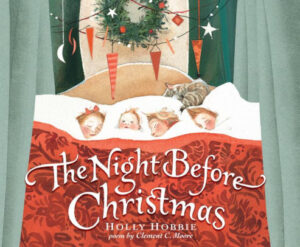 15. Santa Mouse by Michael Brown – In this charming holiday story, meet a tiny mouse with no name who is blessed with a large imagination and a generous spirit. He lives a very lonely life in a very big house. Yet he dearly loves Christmas and one Christmas Eve he surprises Santa Claus with a most unusual present.
Heidi went to great lengths to track down a copy of this book last year and guess what they just reissued?? HA! I can see why though because it's DARLING. We're both new converts to darling Santa Mouse. Here's hoping they re-release the other books in the series eventually too.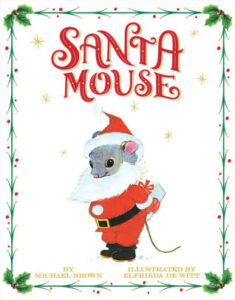 16. Gingerbread Man Loose at Christmas by Laura Murray – Everyone in class is busy practicing songs and making goodies for their trip to town to thank community helpers, and the Gingerbread Man has made a gift for someone extra sweet. But before he can deliver his gift, whipping wind and swirling snow come to town, too. Slushy sidewalks are no place for a cookie, but this Gingerbread Man won't let a little bad weather stop him!
We already know and love Gingerbread Man from his other picture books so it was easy to fall in love with his Christmas tale! One of my favorite things about the Gingerbread Man books it hey have really great tier 2 vocabulary words!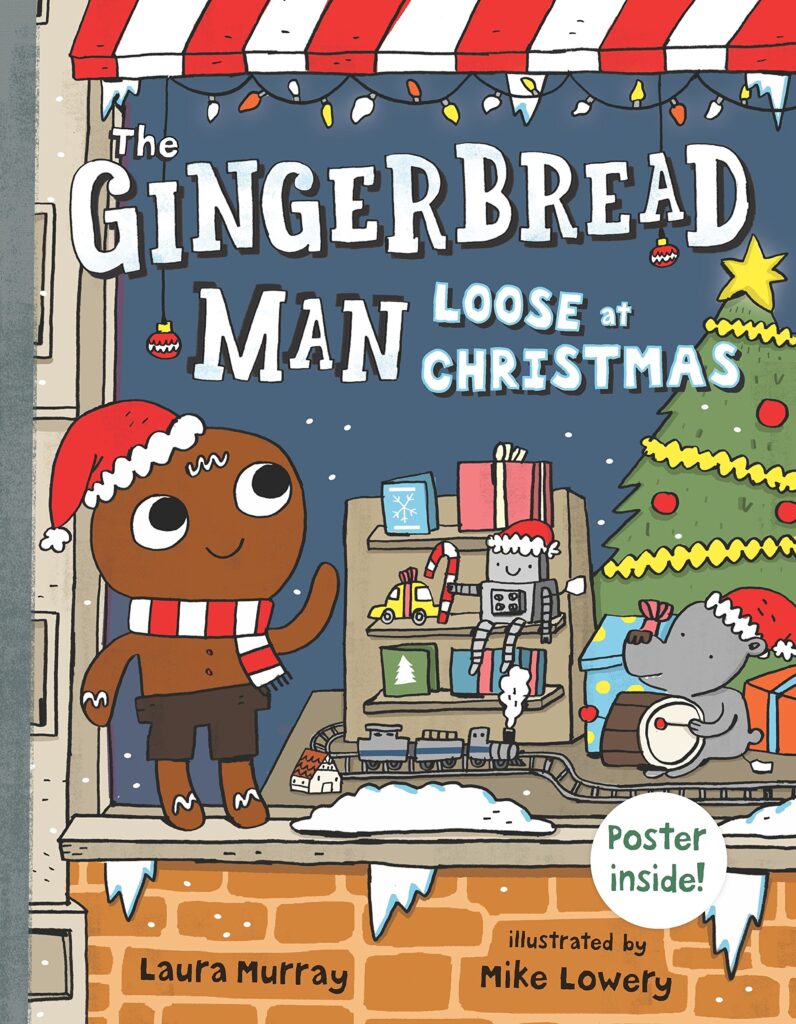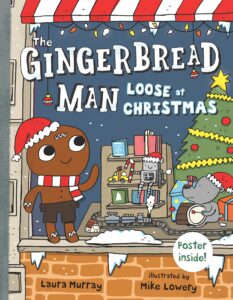 17. The Little Reindeer by Nicola Killen – When a jingling sound wakes her from her sleep, a little girl's dreams come true when she meets a lost reindeer in the forest. They set off on a magical adventure and it becomes a Christmas never to forget.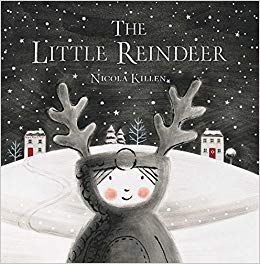 18. Polar Express by Chris Van Allsburg – A young boy, lying awake one Christmas Eve, is welcomed aboard a magical trip to the North Pole . . . Through dark forests, over tall mountains, and across a desert of ice, the Polar Express makes its way to the city atop the world, where the boy will make his Christmas wish. 
We couldn't skip this classic! It's just such a magical story.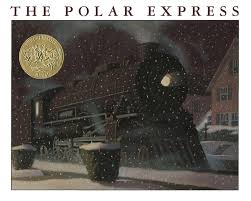 19. Olivia Helps with Christmas by Ian Falconer – Christmas is coming, and Olivia is incredibly busy. She has to wait for Santa, make sure dad sets up the tree, wait for Santa, watch mom make the Christmas dinner, wait for Santa, oversee the care with which the stockings are hung and, of course, OPEN HER PRESENTS! Do you see how hard it is to be so helpful during the holidays! 
20. When Santa Was a Baby by Linda Bailey – Santa's parents think their little one is absolutely wonderful, even though he has a booming voice instead of a baby's gurgle, loves to stand in front of the refrigerator, gives his birthday presents away, trains his hamsters to pull a matchbox sleigh … and has an unusual interest in chimneys.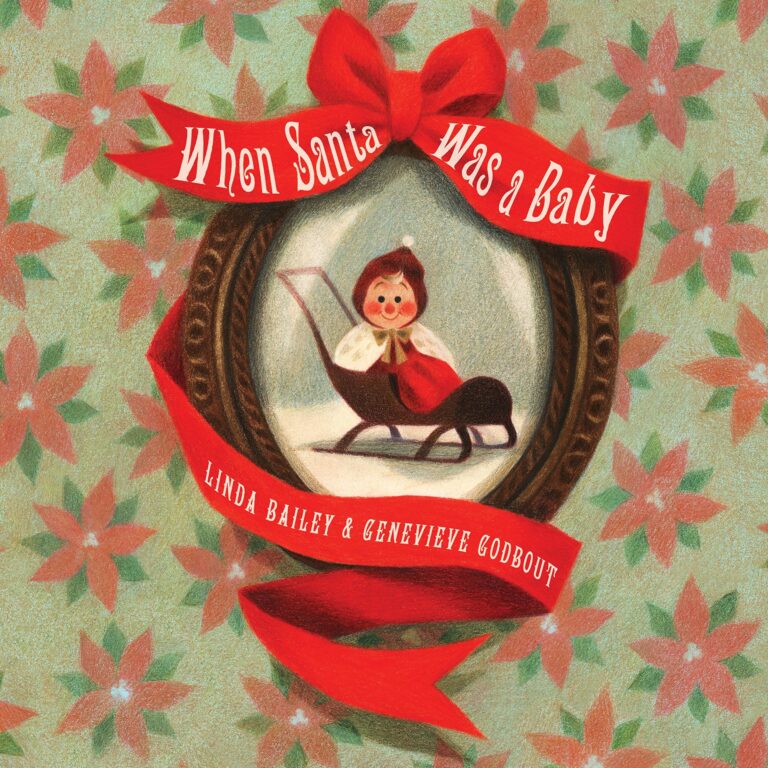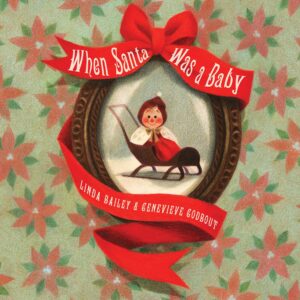 21. How to Catch Santa by Jean Reagan –Two sibling narrators give clever tips for "catching" Santa (be crafty! be clever! be gentle!) on Christmas Eve. Filled with humor and holiday warmth, this is a jolly read-aloud for the whole family to enjoy!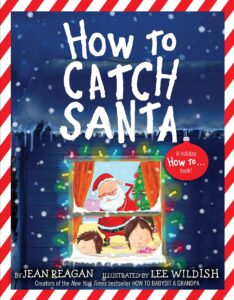 22. Santa Rex by Molly Idle – Christmas season has arrived, and nothing says holiday cheer quite like candy canes, hot cocoa, and DINOSAURS! Cordelia is celebrating her favorite winter holiday with her Cretaceous buddies and everything is just peachy–as long as nobody topples the Christmas tree. Oops…too late! This year, will Santa Rex bring her everything she asked for?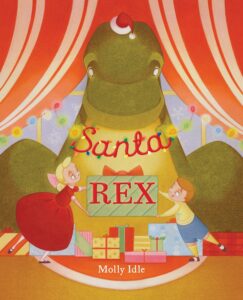 23. Jingle Bells (Little Golden Book) by Kathleen N. Daly, illustrated by J.P. Miller – A bear family takes some of the village animals out for a spin in the sleigh—and ends up helping Santa deliver his toys!
The text of this one isn't that exciting (just the words of the song) but the charming illustrations win me over every read.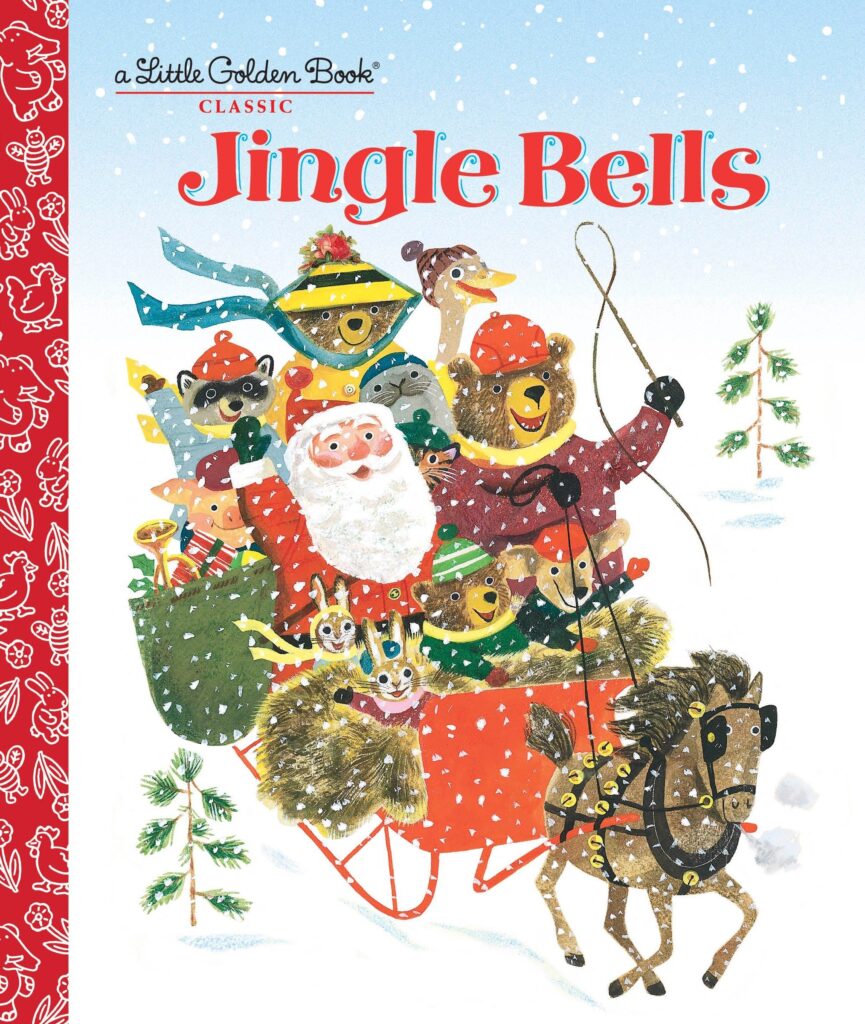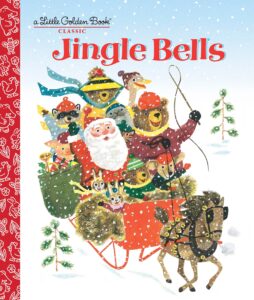 24. Pick a Pine Tree by Patricia Toht – A family visits a pine tree lot to pick out the perfect tree. Rhyming, instructional text accompanies the family as they transport the tree, set it up, unpack decorations, and find friends to help decorate it.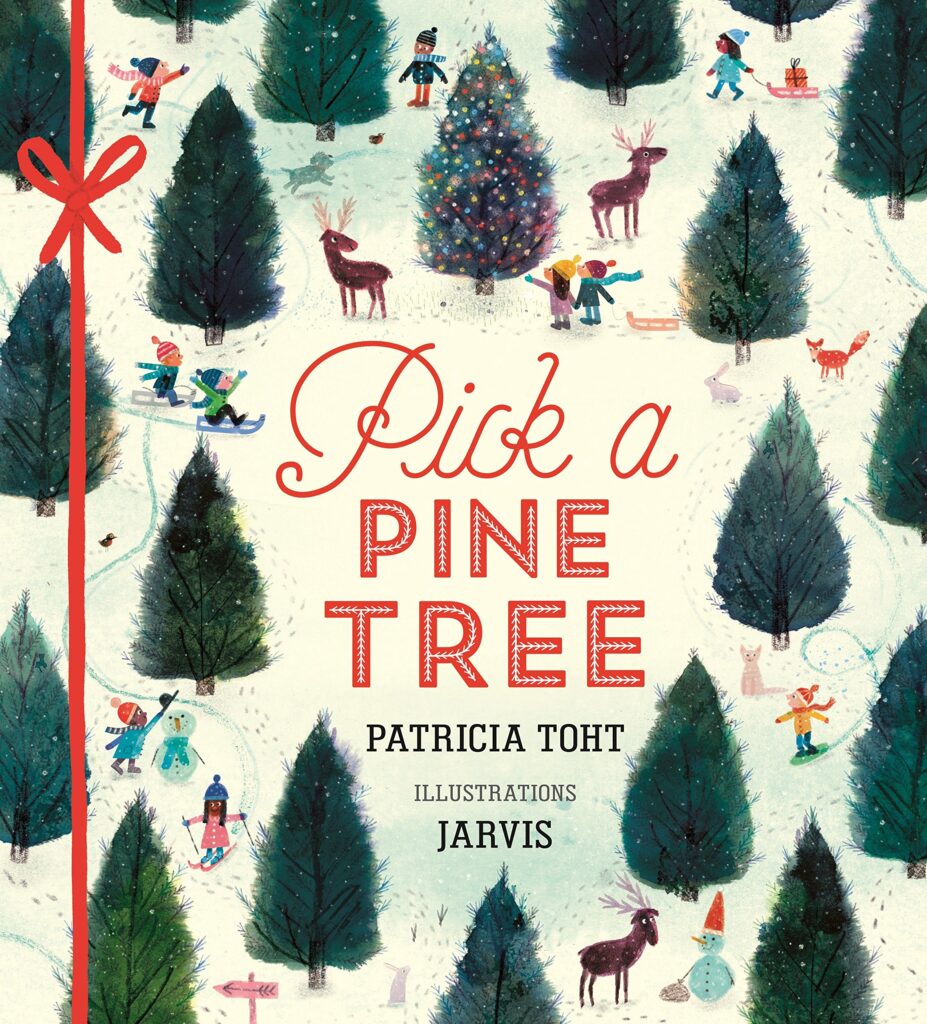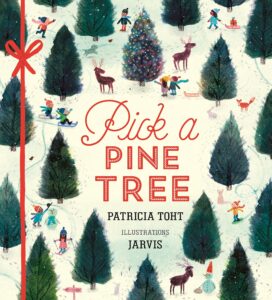 While this is by no means a comprehensive list of all our favorite Christmas books, it hopefully gives you a good starting place to work on your collection! Want to see the books all in once place? Click here to see the whole list on Amazon.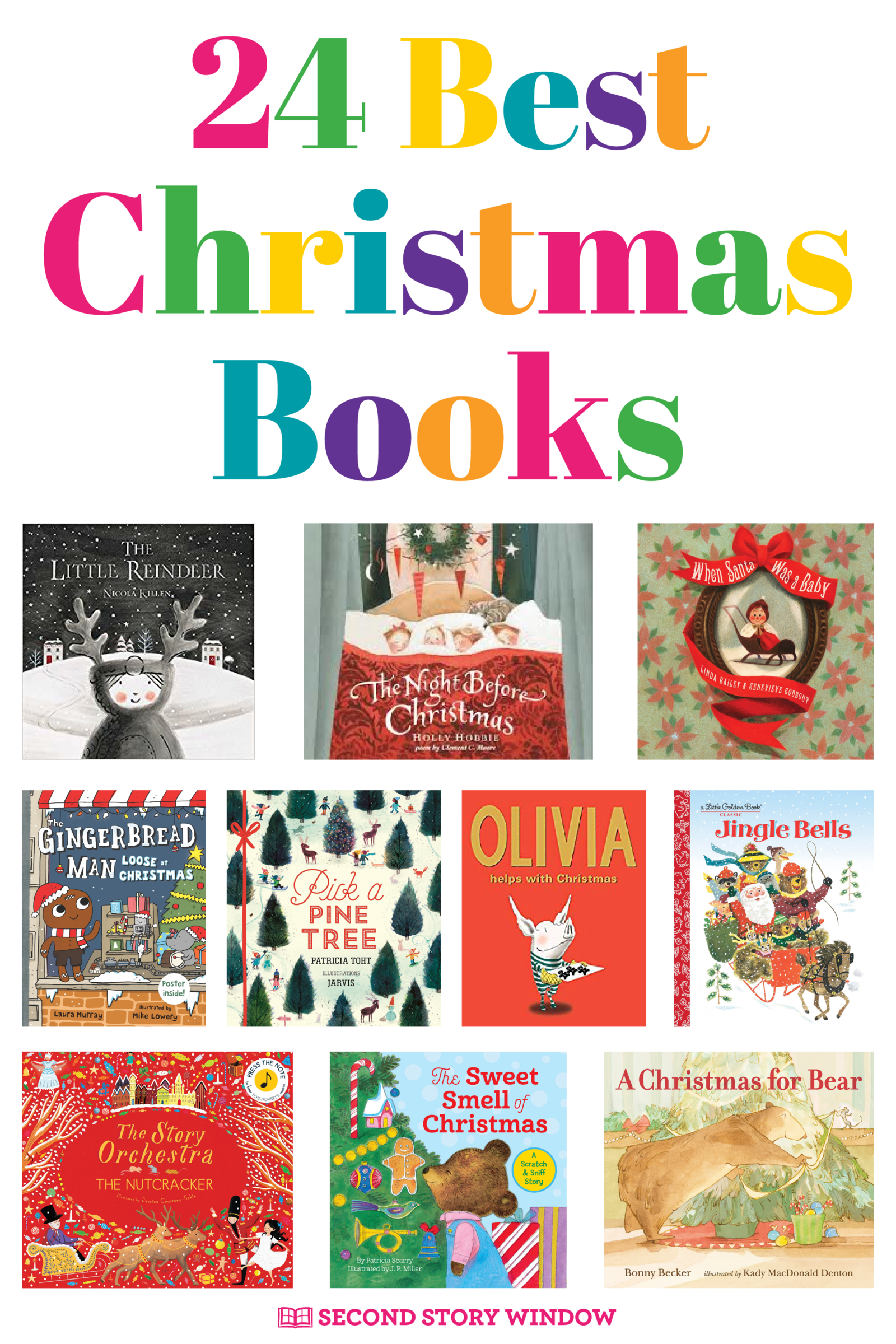 You may also be interested in: