Is it just me or are seasonal books just more fun? I love reading something that puts me in the spirit of whatever season I'm in! I know my students will enjoy some seasonally appropriate Valentine books as well. And don't worry, they're not all mushy gushy!
We've talked before about how we love reading early chapter books aloud to our class to help them get excited about different book series. You can read more about why we read early chapter books aloud here.
Enjoy this list of Valentine's Day early chapter books for 1st-3rd graders! For reference, we've included the Lexile level (as reported on Amazon so it may not be 100% accurate but should give you an idea).
This post contains affiliate links.
1. Nate the Great and the Mushy Valentine by Marjorie Weinman Sharmat (Lexile Level: 490)
Nate the Great hates mushy stuff. He spies a big red paper heart taped to Sludge's doghouse. Who left Nate's dog a secret valentine? Nate will solve the case, and then there will be no more mushy stuff. At least that's what he thinks. . . .
2. Junie B. Jones and the Mushy Gushy Valentine by Barbara Park (Lexile Level: 560)
February 14—Valentime's Day, as Junie B. calls it—is just around the corner. Junie B. can't wait to see all the valentimes she'll get. But she never expected a big, mushy card from a secret admirer! Who is this secret mystery guy, anyway? Junie B. is determined to find out.
3. My Weird School Special: Oh, Valentine, We've Lost Our Minds by Dan Gutman (Lexile Level: 640)
It's the week of Valentine's Day, and A.J.'s class is getting a foreign exchange student! His name is Pierre, and he's from France. But what happens when Pierre challenges A.J. to a duel (or at least a thumb war) over Andrea? One thing's for sure: when L-O-V-E comes to Ella Mentry, it spells the weirdest Valentine's Day story in the history of the world!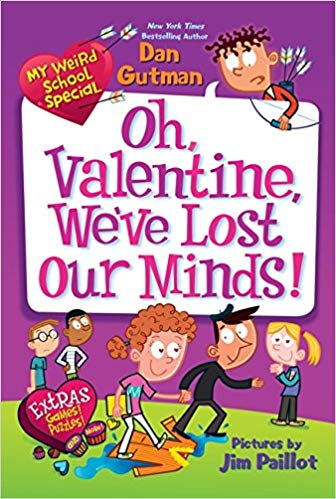 4. The Alien Next Door: The Mystery Valentine by A.I. Newton (Lexile Level: 640)
Valentine's Day is right around the corner, and Harris explains the holiday and its traditions to Zeke. When Zeke gets an anonymous valentine, Harris is excited to help him figure out who sent it, but Zeke is confused at the customs of Earth, and his efforts to get a girl to notice him by doing what Harris tells him to don't go quite right. Will Zeke be able to turn things around and show his valentine his feelings?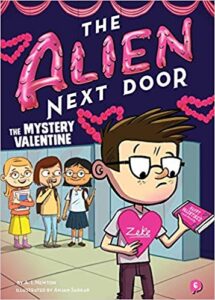 5. Cam Jansen and the Valentine Baby Mystery by David A. Adler (Lexile Level: 630)
It's Valentine's Day, and Cam is at school when she learns her mother is about to give birth. Cam and her best friend, Eric, rush to the hospital with his mom. There, in the waiting room, something valuable disappears. Click, click! Cam starts to unravel the mystery. Will Cam solve it before her Valentine sibling is born?
6. Nancy Drew and the Clue Crew: Valentine's Day Secret by Carolyn Keene (Lexile Level: 510)
It's Valentine's Day, but things are not all hearts and flowers for Nancy! While she and her best friends, Bess and George, are making their own stuffed animals at Farmer Fran's Barnyard Buddies, someone slips a mean valentine into Bess' animal's pocket. What's worse than a mean valentine? Bess thinks it came from George! Now the two are in their worst fight ever – and Nancy's caught in the middle! How can she sew Bess and George's friendship – not to mention the Clue Crew – back together?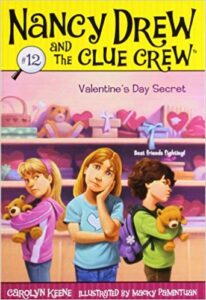 7. The Bailey School Kids: Cupid Doesn't Flip Hamburgers by Debbie Dadey (Lexile Level: 600)
The third graders from Bailey school go wild with lovesickness shortly after a new cafeteria cook distributes a special batch of Valentine cookies, and Eddie vows to find out if she's been secretly cooking up love potions for lunch.
8. Juliet the Valentine Fairy by Daisy Meadows (Lexile Level: 660)
Where's the love? Jack Frost and his goblins have stolen the magical objects that make Valentine's Day so special. Now sweethearts are sad, and friends and families are fighting! Even Rachel and Kirsty aren't getting along. When Juliet the Valentine Fairy asks the girls for help, they can't say no. But can Rachel and Kirsty put aside their differences and bring the sparkle back to Valentine's Day?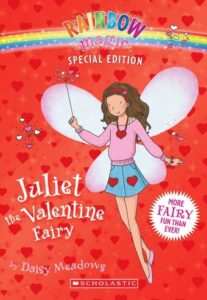 9. Heidi Heckelbeck and the Secret Admirer by Wanda Coven (Lexile Level: 630)
The Brewster Science Fair is approaching, and Heidi and Stanley are busy working on their project. But when Heidi finds treats in her cubby and her desk, she realizes that she has a secret admirer! Who can it be? Heidi starts to investigate, and she eventually turns to her Book of Spells for help. Will she discover her admirer's true identity?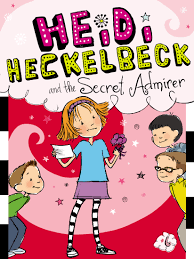 10. Owl Diaries: Warm Hearts Day by Rebecca Elliott (Lexile Level: 570)
It's almost Warm Hearts Day! Everyone is busy making gifts for their loved ones. Eva LOVES crafting, so she creates all sorts of fun gifts and treats for her friends. She is excited to give out her homemade gifts at the big party at the Old Oak Tree. But then Eva realizes she forgot to make gifts for her family! Will she be able to make the gifts in time?
11. Geronimo's Valentine by Geronimo Stilton (Lexile Level: 520)
Okay, I'll admit it: I'm a bit of a cheesy mouse from time to time. What can I say? I'm a romantic! That's why Valentine's Day is one of my favorite holidays. This year I had a date with a very special rodent– Petunia Pretty Paws! But then I got a call from my private investigator friend Hercule Poirat. He had a mystery to solve, and he desperately needed my help. The most beloved, romantic, and famous painting in New Mouse City had been stolen! Now I had to help Hercule AND impress Petunia at the same time. Holey swiss cheese, what was a gentlemouse to do?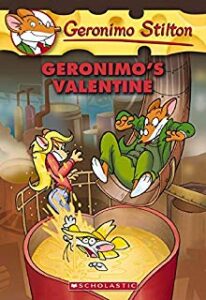 12. Valentine's Day Disaster by Geronimo Stilton (Lexile Level: 540)
It was Valentine's Day in New Mouse City, and I couldn't wait to celebrate! I had sent valentine cards to all my friends and family members. But when I opened my mailbox on the morning of February 14th, it was empty! Had everyone forgotten about me? Was I destined to spend Valentine's Day alone in my mousehole, sobbing, with only my pet fish to console me? It was starting to look like a true Valentine's Day disaster!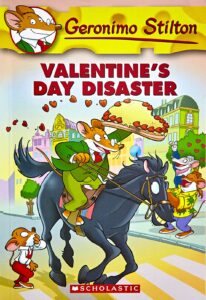 13. A to Z Mysteries: Secret Admirer by Ron Roy (Lexile Level: 550)
It's Valentine's Day in Green Lawn! But Dink, Josh, and Ruth Rose just aren't feeling the love this year. Valentine's Day was so much more fun when they were little. Then they each start getting messages and clues from a secret admirer! Can the kids figure out who wants to be their Valentine?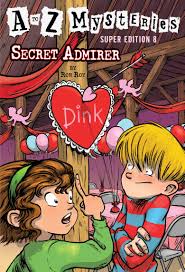 14. The Critter Club: Ellie's Lovely Idea by Callie Barkley (Lexile Level: 570)
Valentine's Day is coming up, and to raise money for a charity called Puppy Love, Ellie suggests that she and The Critter Club girls sell singing telegrams. The girls have a lot of fun writing and performing the songs, but all the holiday spirit makes Ellie wish someone would send her a singing telegram! Will Ellie get her wish?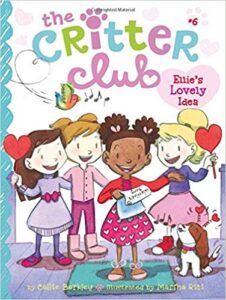 15. Anne's Kindred Spirits: Inspired by Anne of Green Gables by Kallie George (Lexile Level: 530)
(Well this isn't technically a Valentine's Day book but I love it SO MUCH and what's more perfect for love day than a book about friendship??) Anne is nervous and excited to meet Diana, a neighbor girl who she just knows will be a kindred spirit. She's even more excited when she learns that she's invited to her very first picnic! Until Marilla's precious brooch goes missing and it looks like it's Anne's fault. That is, Marilla is upset and Anne's picnic adventure is now in jeopardy. Ultimately, the misunderstanding with the brooch is resolved and Anne is able to go to the picnic. Anne and Diana's friendship blossoms and Anne's bond with Matthew and Marilla grows stronger.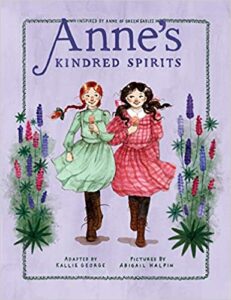 We hope this will help you find the perfect early chapter book for your developing reader or to read aloud to your class this February! Want to see all the books in one place? Click here to see the list on Amazon!
Want a printable list you can take with you to the library or bookstore? Put in your e-mail address below to get a pdf you can print or screenshot!