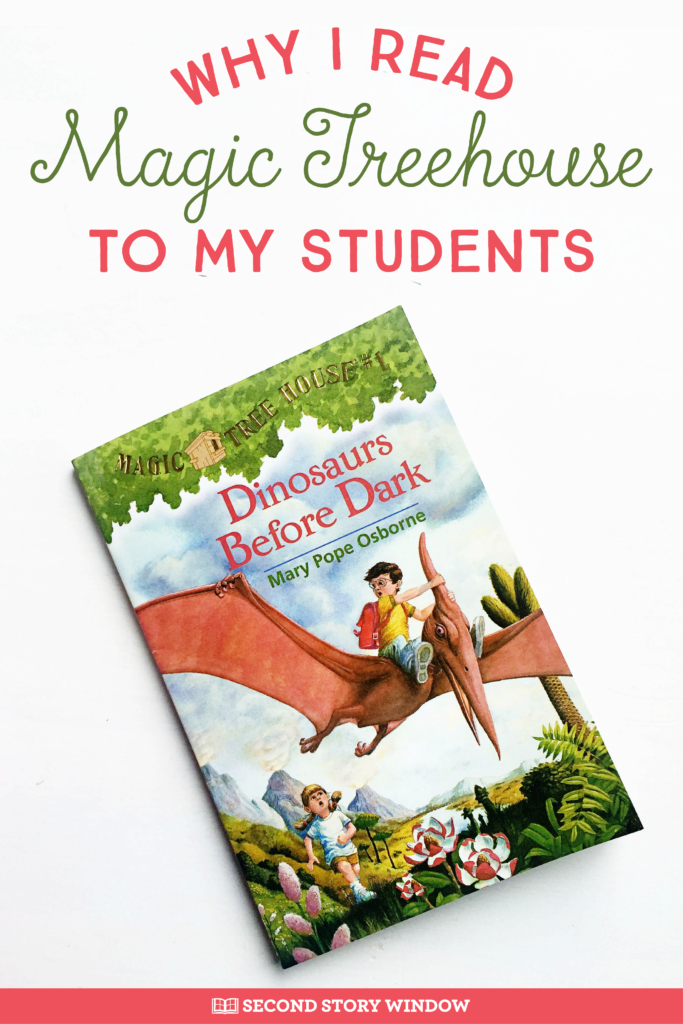 When I was in 2nd grade, Mrs. Green read aloud to us every day.  It was one of my favorite parts of the day.  I fell in love with books because of that time.
My first favorite was a book she read us (this post contains affiliate links): A Little Princess by Frances Hodgson Burnett.  I was transported!  During my elementary years, I had the privilege of hearing Where the Red Fern Grows, The Westing Game, Charlotte's Web, From the Mixed Up Files of Mrs. Basil E. Frankweiler, The Trumpet of the Swan, Tales of a Fourth Grade Nothing, Night of the Twisters (twice!), and many more I can't remember.
So when I started teaching 2nd grade, I did the logical thing.  I busted out one of my childhood favorites: Little House in the Big Woods.  Never mind that this was a book I didn't read until 4th grade.  Never mind that Laura Ingalls Wilder's books aren't big on plot.  This was a classic!  They were going to love it!
Of course they didn't love it.  They were bored out of their 7-year-old heads.
But I kept trying with the books I had loved as a child.  The Mouse and the Motorcycle won some kids over, but nothing really sparked the excitement I had felt listening to A Little Princess.  (Of course, the same time Mrs. Green was reading us the book, PBS was airing episodes of the 80s mini-series.  So the book's turn-of-the-century language and my lack of schema regarding Victorian London weren't as much of a barrier as they should have been.)
A couple years later–a new class, a new school–it was again read aloud time.  We'd finished The Witches the day before and I'd forgotten to pick out something new.  I snagged a Magic Treehouse book from the class library.  Of course the kids loved it!  They talked about the story, they played Jack and Annie at recess, they checked the book out at the library and followed along while I read aloud.  Kids who had already heard the story added details to our conversations.  My students fell in love with reading!
---
After that, I used our read aloud time for other early chapter books.
Before long, I developed a seasonal rotation.
I always started the year with a Junie B. Jones book. I know the series has its haters, but I think it's the perfect book for beginning the year.  2nd graders aren't stupid–they know Junie B.'s antics (and baby talk) aren't things to be copied.  And they get such delight out of waiting for her to get entangled in uproarious mischief.  Junie B. is the perfect bridge to teaching kids how to talk about books because she's such a vivid character (a rarity in early chapter books) that they can get a lot of depth out of her stories.
Once we're settled in, I'd start a Ghostville Elementary or A-Z Mysteries (I never could get the kids to like Cam Jansen).  In November it was two of my favorites: Thanksgiving Turkey Trouble from the Ready, Freddy series and then Thanksgiving on Thursday from Magic Treehouse.
In December, we read Genies Don't Ride Bicycles from the Bailey School Kids series and if there was time I'd squeeze in Horrible Harry and the Christmas Surprise or one of The Littles books.
In the winter, we got through Jigsaw Jones, Fantastic Mr. Fox (a sure-fire hit), and The Fairy's Mistake by Gail Carson Levine (one of the all time favorites–especially with the boys!).
After that, I made decisions based on that particular class.  Some years I read Ramona or Clementine or Gooney Bird Greene.  One year I read the entire Spiderwick Chronicles series because it jived so well with that class of mostly boys.  (I had a teenaged student come back to visit me a few years ago.  He told me that listening to that book had gotten him to love reading. Sniff sniff. I'm not crying, you're crying!)
I loved to wrap-up the year with The Boxcar Children.  Those end-of-the-year 2nd graders are just at the perfect age to appreciate that book.
I also make sure to fit in the first Secrets of Droon and Flat Stanley because I noticed an interesting pattern.
After I read the kids a book from a series, that series was more popular with the students.  Those were the books that got picked for silent reading time and the ones that came back with the kids from the library. I decided to make the most of this ability to influence popularity.
My class library was full of those I Can Read books, you know the ones that are longer than a picture book, but with chapters that cover a whole story.  The ones on levels J-K-L.  I had a ton of Henry and Mudge, Frog and Toad, and Amelia Bedelia that just weren't getting any love.  I decided to begin the school year by choosing those books as read-alouds.  I wish I'd made that connection earlier!  Of course, after that, they were chosen much more often by the students.  After reading Morris Goes to School on the first day of school, that book became such a favorite pick that my copy was falling apart.
---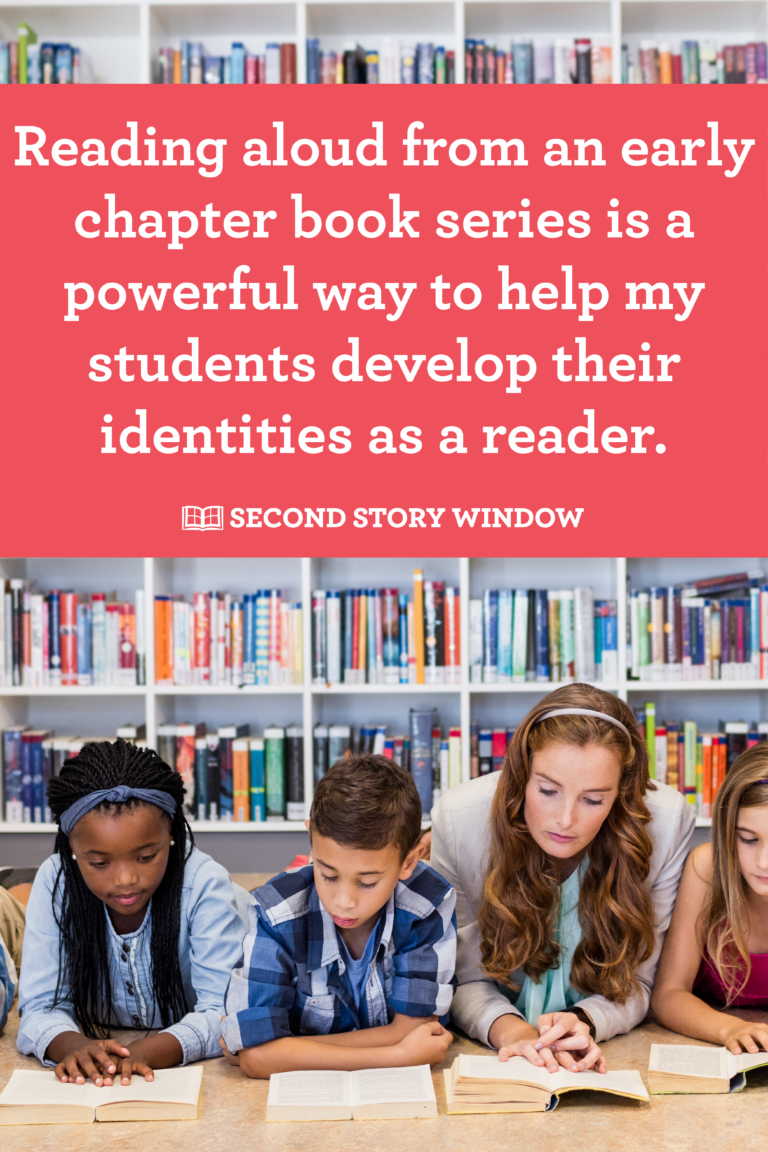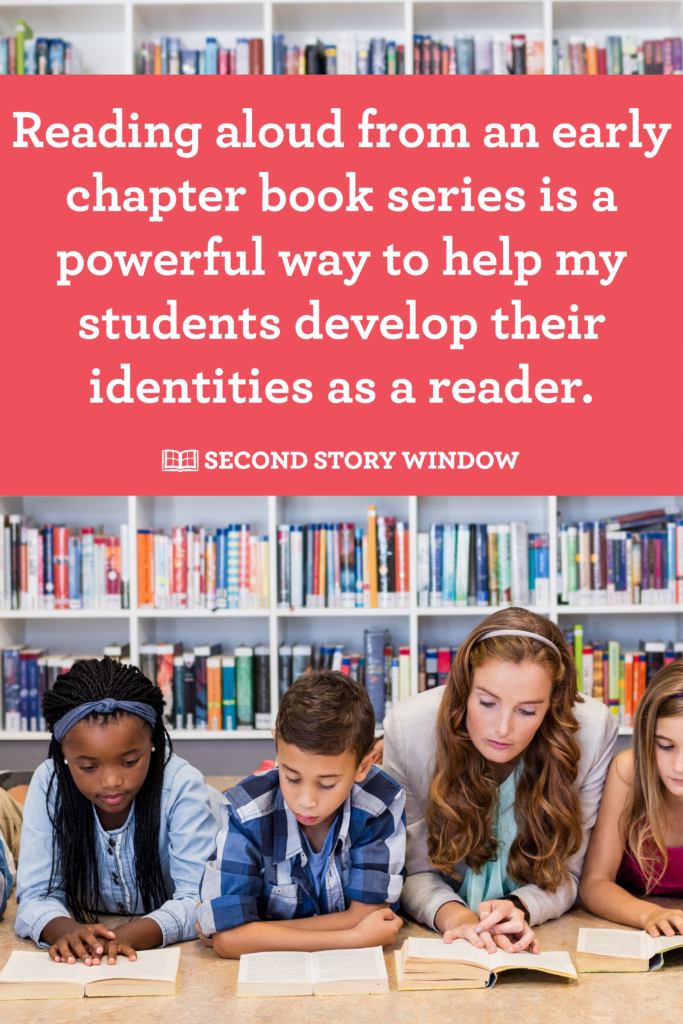 Choosing grade-level books for read-aloud had an unanticipated benefit for my struggling readers.  These little ones yearn to fit-in with their peers.  No matter how label-free I try to keep things, they know they're behind.  But when I read aloud Magic Treehouse, it makes the story accessible to them.  They can join in playing Jack and Annie at recess.  They can contribute to the Magic Treehouse conversations at lunch.  Reading aloud an early chapter book, gave my low-readers a way to access the class culture.
I love Pippi Longstocking. I love The Lion, the Witch, and the Wardrobe.  And I think every child should have the privilege of hearing those stories.  And because my school is amazing, I know the students will hear them in 3rd and 4th and 5th and 6th grade.
But for my little 1st and 2nd grade friends, I think reading aloud from a series or author of early chapter books is a powerful way to help these young learners build identities as readers.