Chunk Spelling – Word Families Word Work Curriculum and Activities
The Chunk Spelling method offers hands-on practice, a predictable routine, an easy method of differentiation, and tons of flexibility for implementation.
Transform your word work into word play with our Chunk Spelling curriculum. Say goodbye to random spelling lists and hello to meaningful, developmental spelling instruction! This engaging method teaches students how to use "chunks" (rimes or word families) they know to spell new words.
With the chunk spelling method, students:
❤️ learn strategies that will help them spell or read any word
❤️ make connections among words in many ways
❤️ internalize basic spelling patterns
❤️ are engaged in the process, exercise choice, and experience ownership
❤️ are challenged at their individual levels
❤️ master words and spelling patterns that can be generalized to other words.
❤️ quickly and efficiently transfer spelling words to their writing
❤️ use multisensory methods to connect to words
Each week students work with one word family chunk and a beginning soundboard to create as many words as possible. Next, they brainstorm "big" words that also contain the chunk. Example: the word caterpillar for the word chunk -at. After compiling everyone's words together into a class chart (a great discussion opportunity), students choose a set of words to work with for the week. Then they use the tri-fold activity menu to practice the words either in class or as homework. The Chunk Spelling method offers hands-on practice, a predictable routine, an easy method of differentiation, and tons of flexibility for implementation.
What's Included:
800 pages of materials for 86 word families so you can choose your own scope and sequence!
NEW: one card per chunk for easy printing if using for one student only
Lesson plans that include all words for each chunk and a list of possible "big" words
Printable soundboards (consonants and blends/digraphs)
Pocket chart materials
Weekly spelling homework (double-sided tri-fold menu style – 1 per chunk)
Photo support cards of less-common words for vocabulary building and ELL students (4 per chunk)
And a comprehensive teacher's guide!
​​✅ Download the preview to see a sample week of materials and a list of the included spelling chunks!
Students love brainstorming words and the ownership that comes with choosing their own spelling lists. This engaging routine is hands-on and collaborative, a great way to build skills while building classroom community!
This powerful routine is easy to implement and requires very little prep each week. After a few weeks, you'll find it almost runs on its own! And differentiation is built right into the system!
Word Families Include:
Short vowel word families (examples: -ad, -ot, -ip)
Short vowel ending blend word families (examples: -end, -unk, -amp)
Short vowel ending digraph word families (examples: -ack, -ish, -ill)
Long vowel silent e word families (examples: -ale, -ate, -ine, -oke)
Long vowel team word families (examples: -ain, eed, ight) 
Long vowel CVCC patterns (examples: -old, -ing, ank, -ink)
Sounds of oo word families (examples: -ook, -ool, -oom, -oon)
Soft c/g word families (examples: -ace, -age, -ice)
R controlled vowels (examples: -ar, -ore, -orn)
Open syllable diphthongs (examples: -ay, -ow, -ue)
Abstract vowel word families (examples: -oy, -ow, -aw, -out) 
Supports Common Core Standards (CCSS):
✅  RF.1.2, RF.1.3, L.1.2 – "Use conventional spelling for words with common spelling patterns."
✅  RF.2.3, L.2.2 – "Generalize learned spelling patterns when writing words."
✅  L.3.2 – "Use spelling patterns and generalizations (e.g. word families) when writing words."
WHAT TEACHERS ARE SAYING
⭐️⭐️⭐️⭐️⭐️ "What a fantastic spelling program!  This program is well laid out and provides a TON of options for word families!  I love how easy it is to implement- the whole class can study the same pattern but each student is challenged at their own level. I am obsessed with your homework menus!!!  What a great idea- the kids (and parents) love the spelling activities.  It really helps parents to keep the word study fun each week." – Heather S.
⭐️⭐️⭐️⭐️⭐️ "This is absolutely amazing.  I am using this with a student with learning difficulties.  We worked on the -at chunk this week.  This was the FIRST time she has ever made a 100% on her spelling test.  She was so, so, so proud of herself and so was I!  She was beginning to use initial sounds and recognize sound-symbol correspondence that she DID not have previously!" – Mandi G.
⭐️⭐️⭐️⭐️⭐️ "I don't even know where to begin…this might be the best purchase I've made on TpT.  The lesson plans are clear and very helpful.  The soundboards are very attractive and versatile. Once the chunks are cut, it is very low prep.  The homework offers variety.  Thank you for the time and effort put into making this wonderful resource." – Shanice D.
"Easy to implement and the students really enjoy the independence it gives them. I like the way it gets them thinking about how words are made and develop their strategies beyond just 'sounding it out'." – Iiane G.
___________________________________
Bundle & Save! 
Purchase the Chunk Spelling and Worksheets Mega Bundle to get this pack plus no-prep weekly printable activity packets.
You may also like…
Please Note: There is some overlap between this bundle and the 1st Grade and 2nd Grade Word Play Phonics Curriculum bundles. If you're interested in a comprehensive curriculum (this spelling bundle AND word sorts, games, word family poems, lesson plans, and more), you should choose the curriculum grade level of your choice or the Phonics All Access Pass.
___________________________________
Copyright © Second Story Window
Permission to copy for single classroom use only.
Please purchase additional licenses if you intend to share this product.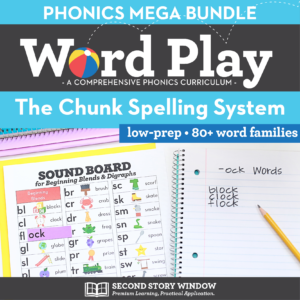 Chunk Spelling – Word Families Word Work Curriculum and Activities