Word Family Worksheets, Spelling, Word Work Activities Science of Reading BUNDLE
Total Pages: 1000+
File Size: 283 MB
Take the stress out of planning your next word family lesson with our Word Families Worksheets MEGA bundle! Designed with busy teachers in mind, our no-prep worksheets make word work and spelling activities a breeze. With over 1000 pages of engaging and interactive word family worksheets, your students will have plenty of opportunities to practice their phonics skills and improve their reading fluency.
This Science of Reading MEGA bundle includes worksheets for all the major word families, making it an easy way to target specific skills and tailor your lesson plans to your students' needs. Perfect for both classroom and homeschool use, this Word Family bundle is a must-have resource for any teacher looking to make phonics lessons fun and effective. Get ready to transform your students' reading skills with our easy-to-use, no-prep word family printables today!
Included in this word families MEGA bundle: 
⭐️ 65+ word family worksheet sets
⭐️ 15+ pages per set
Each page includes clear directions and examples to guide students to complete an activity that gets them thinking about—and using—a different word family. These printable activities follow the Science of Reading and will be the PERFECT addition to any classroom! Your students will improve their literacy skills as they master the concept of word families.
❤️ Set the stage for reading success with this collection of word work activities that gives students practice reading and writing words. Each set provides students with multiple opportunities and extra practice to develop a deep understanding of an essential word family. Having the knowledge of word families is a great way to enable young readers to quickly read and spell hundreds of words.
This print and go spelling and word family activities resource is great for:
✅ Literacy centers
✅ Homework
✅ Literacy small groups
✅ Morning work
✅ Word work activities
✅ Exit tickets
✅ And more!
This mega bundle of word family chunk spelling activities and worksheets includes sets of words for these chunks:
ab
ace
ack
ad
ag
age
ail
ain
ake
all
am
ame
an
ash
at
ap
ar
are
ark
ate
aw
ay
eat
ear
ed
ee
eed
ell
end
ent
et
ew
ice
ick
ide
ig
ight
ill
im
ime
in
ine
ing
ink
ip
it
ite
oat
ob
ock
og
oil
oke
old
one
oom
oon
op
ore
orn
ot
out
ow (diphthong)
ow (long o)
ub
ug
ump
un
unk
And any we add in the future!
✅ Check out the preview for a closer look at what is included with these Science of Reading word work activities all about word families! 
What teachers are saying…
⭐️⭐️⭐️⭐️⭐️ "This resources is incredible! I use this as independent practice for my intervention groups. I would absolutely recommend." – Jacob K.
⭐️⭐️⭐️⭐️⭐️ "This resource is nothing short of amazing! Very comprehensive. Thank you." – Natalie M.
⭐️⭐️⭐️⭐️⭐️ "Love Love Love these products! They are so practical and helpful in the classroom! Thank you!" – Theresa K.
___________________________________
You may also like…
_____________________________________________________
Copyright © Second Story Window
Permission to copy for single classroom use only.
Please purchase additional licenses if you intend to share this product.
=====================================================
Connect with us! • Second Story Window • Facebook • Twitter • Pinterest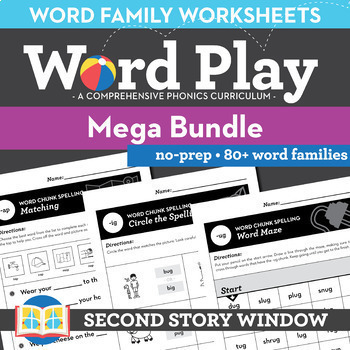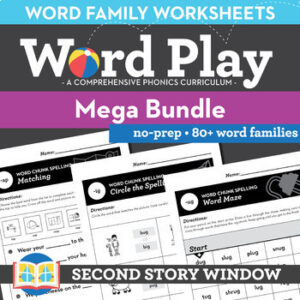 Word Family Worksheets, Spelling, Word Work Activities Science of Reading BUNDLE