Ready to start your morning routine with meaningful and engaging morning work for your students? This bundle expertly spiral reviews the language arts and mathematics standards. With 540 pages of daily practice, this BUNDLE is perfect for first grade, second grade, and third grade students.
These PRINT & GO math spiral review and ELA spiral review pages will significantly help your students improve their ELA and math skills. Using this math and ELA morning work is a great way to provide your students with DIFFERENTIATED and meaningful yet predictable work.
Setting up your morning time with these activities is a great opportunity for students to learn while you are busy at the start of the school day. You can set up your morning work routine from the very beginning of the year with these morning tasks and they can be used throughout the entire year.
What is included with this BUNDLE of daily math and ELA pages?  
180 horizontal math and ELA review pages
detailed answer key
3 editable cover designs
Google Slides
Seesaw – Click & Assign
180 horizontal math and ELA review pages
detailed answer key
3 editable cover designs
Google Slides
Seesaw – Click & Assign
180 horizontal math and ELA review pages
detailed answer key
3 editable cover designs
Google Slides
This purposeful morning review activity is one thing we will never teach a day of school without because we've seen incredible results with our own students for years in our elementary classroom!
Use this low prep and powerful math spiral review and ELA spiral review for:
✅ Homework
✅ Centers
✅ Meaningful independent work.
You will LOVE using these math and ELA bell ringers because…
❤️ There are multiple grade levels included, making it the perfect way for you to differentiate for students with different needs.
❤️ Daily Spiral Review is one of the most effective ways to help students move their learning from short-term to long-term memory.
❤️ Our Spiral Review includes both math & ELA content because studies show that mixing different content challenges the learner but leads to more flexible understanding and the ability to implement knowledge in varied situations.
⭐️ What makes our morning work special?⭐️
Horizontal (easy to project!) pages
Detailed answer key
High quality, non-distracting design
Both Math & ELA content
Carefully planned content designed to build independence in students
Expertly spiraled content that constantly reviews and increases in difficulty
Key features designed to help students deepen their understanding
Includes cursive handwriting skill practice!
3 unique, editable cover options (each in color and b&w)
Google Slides for each week that can be assigned though Google Classroom
Seesaw (Click & Assign) for 1st and 2nd grade
What are teachers saying about this BUNDLE of quality morning work?
⭐️⭐️⭐️⭐️⭐️ "Absolutely in love with these!!!! The files are so organized which makes it so easy to figure out what exactly I need. The actual worksheets have the perfect amount for morning work to get their brains going first thing. Highly recommend these!" – Nicole B.
⭐️⭐️⭐️⭐️⭐️ "This resource is wonderful. I use it as morning work and the students may work together if they find a concept challenging. It was easy to print and it is easy to understand." – Andrea R.
⭐️⭐️⭐️⭐️⭐️ "These are great for aligned, grade-level review. I use them in my multi-grade sped class and have found kiddos really thriving and becoming more independent as the year has gone on!" – Rachel A.
*** Check out this blog post about different ways to set up a morning work routine.
___________________________________
Bundle & Save! 
Purchase the Morning Work All Access Pass to get this resource and all our other morning work for a great discount.
You may also like…
_____________________________________________________
Copyright © Second Story Window
Permission to copy for single classroom use only.
Please purchase additional licenses if you intend to share this product.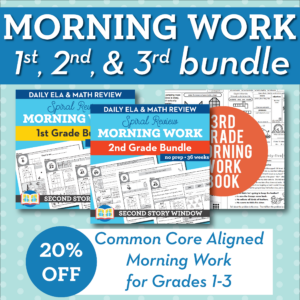 Morning Work BUNDLE Grade 1-3 Math & ELA Spiral Review