4th Grade Morning Work • Spiral Review Morning Work Fourth + Google Slides
Our 4th Grade morning work expertly spiral reviews the 4th Grade language arts and mathematics standards to help your students retain their skills. Includes 180 days of review, answer key, and google slides. *PLEASE NOTE: This is a growing bundle! Details in the description!*
Get a full year of expertly spiraled daily review of the 4th grade math and ELA standards. These no-prep pages pack a powerful punch to help your students learn new skills and retain their knowledge.
___________________________________
Please note: This is a GROWING BUNDLE. That means the bundle currently contains 50 pages and will grow to 180 pages when complete. We will release new pages frequently so please check back often.
___________________________________
Daily Spiral Review is one of the most effective ways to help students move their learning from short-term to long-term memory. Every time our students retrieve information from their memories it becomes easier to recall that information in the future. Our Spiral Review includes both math & ELA content because studies show that mixing different content challenges the learner but leads to more flexible understanding and the ability to implement knowledge in varied situations. We space out how frequently students see certain content to help deepen their understanding.
This is a bundle of:
4th Grade Term 2 (growing)
4th Grade Term 3 (coming soon)
4th Grade Term 4 (coming soon)
While we call it morning work, this powerful no-prep spiral review can be used at any time of the day. Teachers use and love this review as bell ringers, exit tickets, homework, and more! No matter where you work this into your daily schedule, your students will reap the benefits of this important practice.
Our spiral review morning work features:
Horizontal (easy to project!) pages
Detailed answer key
High-quality, non-distracting design
Both Math & ELA content
Carefully planned content designed to build independence in students
Expertly spiraled content that constantly reviews and increases in difficulty
Key features designed to help students deepen their understanding
Includes cursive handwriting skill practice
You will love how easy it is to implement this daily routine. The print-and-go resource is carefully designed to help build independence in students. Taking some time to review the pages together as a class will only make the skill retention stronger.
Need paperless practice? These skill sheets are also available for Google Slides!
The 4th Grade Spiral Review Morning Bundle overview:
180 pages of Math and ELA spiral review (currently 50! )
Answer Key
Google Slides
3 editable cover options
___________________________________
You may also like…
___________________________________
Copyright © Second Story Window
Permission to copy for single classroom use only.
Please purchase additional licenses if you intend to share this product.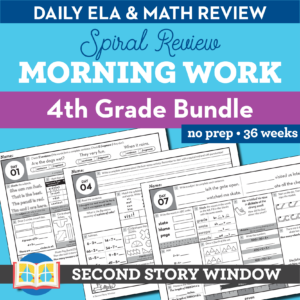 4th Grade Morning Work • Spiral Review Morning Work Fourth + Google Slides