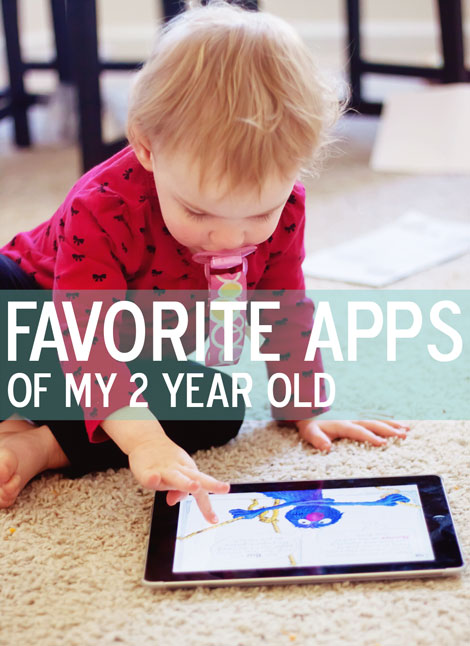 Adelaide at 20 months
My 2 year old, Adelaide, loves our ipad. We got it last summer when she was 17 months old and she was interested in it immediately. I was amazed at the incredible apps there are out there, even for a child as young as she was at the time. Of course, you have to decide if your child is ready to use this type of technology and how much time you will allow her to use it. On a side note, this thing has paid for itself time and time again on airplane rides and car trips!
Here are a few of our favorite apps for Adelaide at 26 months old. These are apps for the ipad but I know a lot of them are also available for android devices.
Animals
Adelaide loves animals so we have a whole folder of apps that are just animal related.
Peekaboo Barn($1.99) – this was Addie's first favorite app and she played it for AGES. She doesn't play it as much now, but that's likely just because she played it to death. She loved the animal sounds. There is a lite version of this, which we started with to be sure she liked it.
ABC Wildlife! ($2.99)- The Little Explorer apps are all really great, and there are several of them. I love that it uses real photos and videos of animals. Each animal also has an interactive element like "cutting" through the bamboo (with your finger) to find the panda, etc. My only complaint is the videos are from You Tube. Sometimes they're dumb and they usually take a little bit to load, which Addie has no patience for. Still, a really great app.
Old MacDonald ($1.99)- For each verse of the song there's a page and you can do several interactive things on each page like the duck jumps in the pond and the cow does a flip, etc. Some of it is really silly like a chandelier falling on a pig, but that makes it funny and Addie picked right up on the humor and silliness.
I Hear Ewe (Free) – This is like that old "see and say" toy we used to have when we were kids. It's very simple, Addie pushs one of the animal icons and the app says, "This is the sound a _____ makes: _____" But it's still fun!
Educational
By "educational" I mean specifically apps that cover the very basic toddler educational categories: alphabet, numbers, shapes and colors.

Make it Pop ($1.99) – This is probably MY favorite kids app ever. It's well designed and clever, just what I like. Addie's favorite part of the app is the letter balloons that float through the city sky line. When she taps the balloons they pop and say the letter. There is a fun element of the birds flying through the sky. You can move them and tap them and they fly away or pop a balloon. She gets a kick out of that. She also likes the colored fireworks. When she taps them they go off and say/show the color word.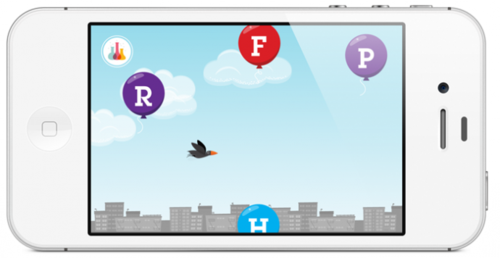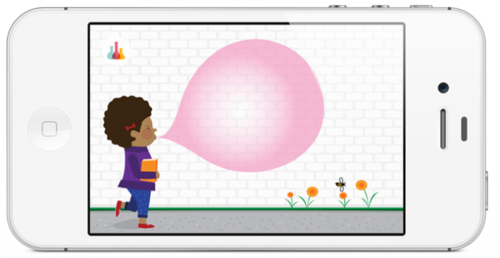 Eric Carle's My Very First App ($1.99) – We only have the colors and animal homes sets for the app so far, but you can by additional sets. She only recently has gotten good enough at matching to appreciate this game but now she's good at it. Matching the animal to it's home is a bit complex for her age, however. Still a solid app, and love the Eric Carle illustrations.
Books
We don't have a lot of these yet because we generally just read real books. But there is definitely a place for these digital book apps and these are the ones Addie loves.
The Monster at the End of This Book…starring Grover! ($3.99) – I cannot recommend this app enough. It was one of Addie's first favorites and it is really fantastic. She loves Sesame Street, especially Grover, so that makes it even better. I read this book as a child so I have a soft spot for it too. The book is all about Grover not wanting to go to the end of the book because he's scared of the monster. On each page he tries to prevent it from being turned by building a brick wall or tying it down. Addie loves to knock over the brick wall and pop open the knots in the rope and then listen to Grover howl in protest. It really is such a darling app.
Another Monster at the End of This Book($4.99) – Round 2 but Elmo's part of the sequel. He encourages the reader to continue through the book even though Grover begs them to stop. The addition of Elmo is definitely a hit with Addie. And she loves knocking over the wall of blocks.
Peekaboo Goes Camping Book ($1.99) – On each page of the story, she tries to find were Peekaboo is hiding. It's pretty simple. She was more interested in it when she was younger. She loves that little Peekaboo creature (animal?) though, he's so cute! The illustrations are all really adorable.
Puzzles & Blocks
Adelaide has recently become REALLY good at putting together puzzles, even hard ones. And like I mentioned earlier, she learned how to do to matching games too. So these are some of our most used apps these days.
Other Fun Apps
These ones are just plain fun.
Toca Hair Salon ($1.99) – The first Toca Boca app we got (for free, at that, see the note at the bottom) and Addie was nuts for it. It's silly and fun and interactive. Toca Boca makes really fantastic apps. If you want to try this one for free, download the little Christmas version and you get a pretty good idea of what the real app is like.
Toca Store ($1.99) – Play store with a friend (or yourself, Addie has no problem being the shopkeeper and the customer!
Press Here ($1.99) – This app is SO interactive and clever. The design is just like the awesome book, but it's got a ton of different things you can do, all by pressing on a dot. Addie loves the fireworks one where dots fly up and when you touch them they explode like fireworks.
Wheels on the Bus HD ($1.99) – Addie loves the wheels on the bus song so we got the app. It's just like the Old MacDonald song app. My complaint is it adds new verses to the song that are really silly but leaves out Addie's favorite verses: the babies go "wah-wah" and the mommies go "shh-shh." She still likes it though.
Toca Doctor HD ($1.99) – Another that we picked up free. It's actually like a bunch of tiny puzzles you go through to fix the ailing patient (setting a broken bone, giving a shot, pulling out a splinter, etc.) She gets a real kick out of it. There's a lite version of this one too.
Elmo Calls ($.99) – It's just like video chatting with Elmo. As you can imagine, Addie is a big fan. She especially likes that she can see HERSELF talking with Elmo!
Backyard at Twilight: A Stella and Sam Adventure ($2.99) – The Stella and Sam stories are so cute. The illustrations and voices are darling. I've picked up two of the apps for free and Addie likes to "read" them both. This technically is a book app but since the words to the story aren't on the screen, I'm not categorizing it as a book app. There are a few different activities in each story. This one has a bug hunt, firefly pictures, and a connect the stars game.
Talking Ben the Dog (free) – My Dad downloaded this on his tablet awhile back and Addie LOVES it. I actually haven't downloaded it because I like that it's something special she likes to do with Grandpa. Whenever we video chat with them she asks him for Ben and then growls.
A Note About Buying Apps
It can get pricey buying lots of apps! I buy them just a couple at a time when we need knew ones. I look for free ones or lite versions to start. When I find a deal on itunes gift cards (often for 15% off) I buy one and apply it to my account so when I buy an app, I really got it for 15% off. Also, a lot of the paid apps are offered for free occasionally. I got a lot of these apps (Another Monster at the End of This Book and some of the Toca ones, for example) for free on special days. So keep your eyes and ears open for that, and follow Toca Boca and Night and Day Studios on twitter because that's where I heard about those. If you follow me on twitter or facebook I'll share when I come across free specials on apps.
I am not being compensated for mentioning any of these apps. As always, all opinions are my own!
What apps do your kids love? Be sure to include their age(s)!