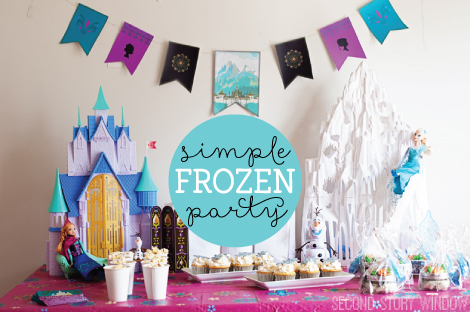 I don't think I'll be alone in saying that my daughter is in love with Frozen. (It seems like I should just type, "duh!" after that statement.) This is the first time she's really gotten into a movie like this. I have always been against character parties if at all possible (I really downplayed the character aspect of her Sesame Street party.) But I finally realized that this party is for Adelaide and if a Frozen party would make her little heart sing, then by golly, we were having a Frozen party.
Of course the first problem was that Frozen stuff was sold out EVERYWHERE. That made party planning a little tricky. But thanks to some internet detective work and some awesome ideas from other blogs, we came up with a Frozen party that not only Adelaide and her friends loved, I really loved it too.
Invitations
I spent way too freaking long on these invitations. Really, I wish I could go back in time and slap myself. They turned out cute but I appreciated them waaaay more than the kids did. Something with the characters plastered all over them would have excited them much more than this invitation that took me hours.
Nevertheless, these invitations did turn out fun. I fell in love with these vintage Arendelle travel posters that I found online. You can download the pdfs for free here. Fonts are Showcase and Nevis Bold. I imported the pdf into Illustrator and designed the invitation there. I was VERY inspired by the Frozen invitation designed by Jennifer Pebbles for her daughter's 4th birthday. She hasn't posted about the rest of the party yet but I'm dying to see it!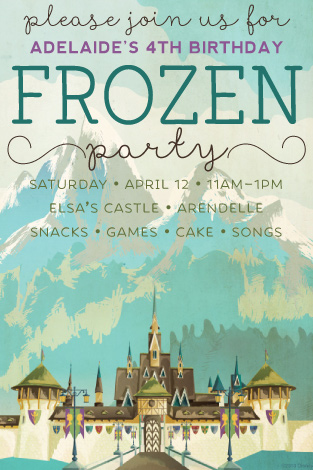 Decor
I went LOW KEY on the decorations. It was hard to find any, for starters, and we had missed out on the chance to buy clearance winter items a month or two before. So it was time to get creative while taking on the least amount of projects as possible.
I decided to focus the majority of the decorations on the table. I attempted to print the above mentioned vintage Arendelle travel posters for decor but the quality was no good for printing more than an 8.5×11 and even that was iffy. (Sad because I think these would have made an awesome setting for the party.) Luckily I found a blog with an darling free printable bunting that incorporated one of the travel posters. Win!
I saw a party table that used the Frozen castle toys from Mattel and decided that would be perfect because it didn't involve a lot of crafts on my part and would be a very loved birthday toy as well. But everything Frozen was sold out or being sold for WAY over retail price. I finally found it for close to retail price at YoYo.com (with the new customer discount code for 20% off) but it has since come down in price most places. I tracked down the dolls from Target and Walmart but I won't lie, it took some stalking. Hopefully they're a little easier to find for retail price these days.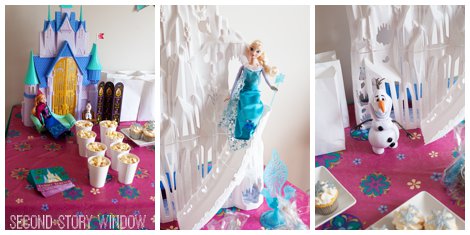 We found the table cloth and napkins (on sale!) at a local party store. The rest of the table contained the sack lunches, popcorn, cupcakes and party favors. That's IT!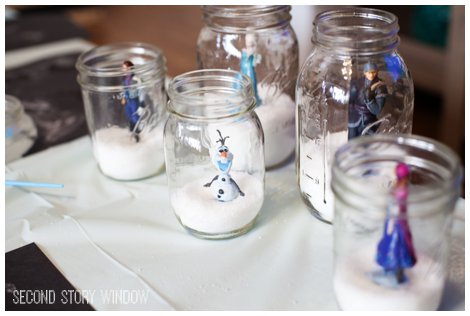 I put together this little Frozen scene on the kids table where we did several of the activities. It's just mason jars with epsom salt and Frozen figurines. Those toys came from the Disney Store at Christmas time and have been in and out of stock since then. I got the idea for this set up here. If I were to do it again I would have got bigger jars and one with a wide enough mouth to fit Sven!
We put out some Frozen balloons and a huge Olaf balloon. I ordered the Olaf balloon online and had it inflated at a local store. I thought it was better to order it just in case it was sold out at the store, which it turned out to be.
Food
I'm pretty much only writing this section to tell you this: I didn't do anything fancy for food. I love a party table full of yummy desserts and themed food but it just didn't make sense for a bunch of 3-5 year olds and it really took off a lot of stress off the party to go simple. The lunch sacks were just carrots, apples, juice box, and sandwich.
The cupcakes were white with white buttercream frosting and silver fondant snowflakes from Lady Cupcake's Corner (locally but she ships fondant toppers!) And we popcorn is Angie's kettle corn.  The bags were too big for the lunch sacks so we put them in white cups because we're fancy like that.
Favors
I'm never very excited when Addie comes home from something with a big bag full of candy or junky toys. So I kept that in mind when I put together the favor bags for her party. We started with "snow" playdough in a mason jar. We used this recipe and added a bunch of glitter. I wanted to include a snowflake cookie cutter but at this time of year it was impossible to find them at a reasonable price. I didn't put any fancy tags on it but you could do something like this.
We found blue rock candy suckers at the party store and chocolate "carrots" (Olaf noses) in the Easter section at Target. I also put in a sheet of Frozen stickers that we found at the party store.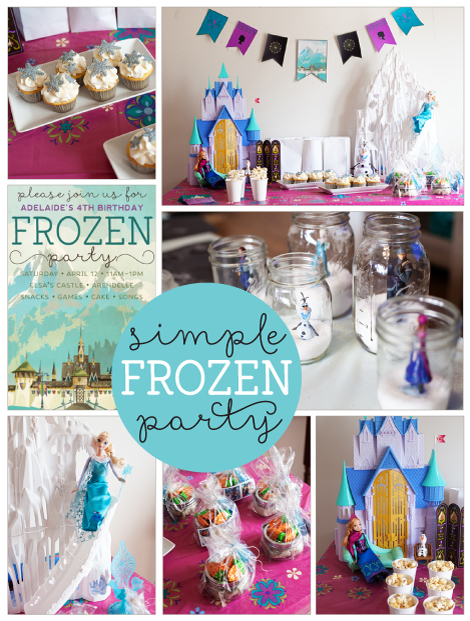 —