My recent post about Addie's favorite apps has been extremely popular. The comments are full of great app suggestions I wanted to try out. So here's the first installment of our feature Addie's Apps. Let me tell you about three new apps Addie is trying out.
This is one of the apps that was recommended over and over on the comments of this post. I would categorize it as educational. Addie was interested in it right away. It has 4 activities: matching, puzzles, dot to dot, and stickers.

In the matching activity, a spaceship shows up to a line of aliens and you choose the one whose belly matches the spaceship. There is color, shape, letter, and number matching as well as a listening option for each of those. On the listening option you have to tap the spaceship to hear what color/shape/letter/number it wants and then choose the correct alien. I think Addie could do this higher level activity except she's too impatient to press the "play" button and just starts trying out different aliens until one works. My complaint is that while there are 8 content variations for the matching game, the game itself is the same each time. It would be nice if there was a different activity involved for matching. That would make the activity more interesting.
The puzzles are silly and fun. You can have it be 4, 6, or 8 pieced. Addie's a pro at puzzles so we always have it on 8. Even still it's so easy she can solve it right away. The puzzle and pieces are so large that the pieces overlap the board so Addie usually "stacks" them in one corner before solving. I always think that's so funny!
The dot to do is really fun. Addie sometimes has trouble understanding that she needs to find the one and start there but once she starts she can easily finish it. There is a "please help" icon that you can select before playing that will highlight the next number that needs to be tapped. Addie always turns that off though so she doesn't usually use that help. I think this is a good way to subtly teach counting.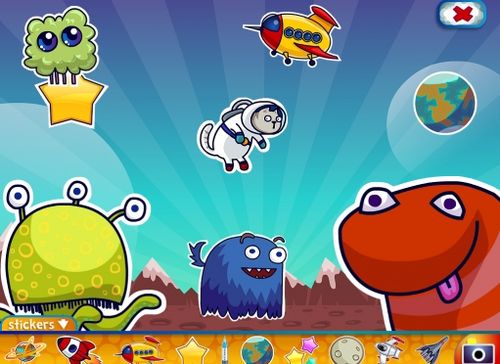 The stickers activity is different space scenes that you can add space "stickers" too. Seems pretty simple but Addie enjoys it. You can take a picture of your creation when you finish. That's why I have a camera roll full of Alien Buddies sticker scenes.
Overall, Alien Buddies is a really solid app that your kids will enjoy. I originally didn't buy it because the alien theme didn't sound like something Addie would like but it's cutesy enough that she gets a kick out of it.

This is another app that was raved about in the comments of our last post so we tried it out. Addie loves monkeys and thinks this game is so cute. The activities are counting, color identification, letter identification, shape identification, puzzles, matching (Addie loves matching games!,) and spot the difference. I like that it rotates through the activities on its own and Addie doesn't have to choose which one she wants to do. This is good because she plays ones that she might not choose on her own.
We love all the Toca apps. I picked this one up the other day during their 50% off sale (follow me on twitter or facebook to hear about these sales!) This is like the Toca store app in that it's an app + imaginative play in one. Addie LOVES it. She doesn't really get the idea of setting up her dolls around the ipad yet, but she still loves it. She sets out the table cloth, lights the tea lights, sets the plates and cups and gives everybody a treat and fills the cups. She loves when refilling the cups ends up with a little spill so she can clean it up. Really, this is a darling app.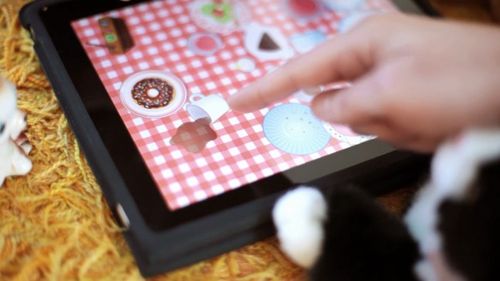 Above two images from the Toca website.
Any apps you'd liked to see reviewed in the next roundup? Don't forget, you can always find some more app ideas on our little apps pinterest board!

Please note: I was given a complimentary copy of Alien Buddies to review but the opinions are my own.