We've had the opportunity to try out some really great apps recently!
Photo courtesy of Wee Society
Wee A B See (now called Wee Alphas)– Another animal themed ABC app. But this one? This one is spectacular. The design is AMAZING (something you know I care a lot about, even in kids apps.) For each letter there is a darling illustration and the letter is hidden within it. When it's found it turns orange. Each illustration also has a hidden motion as well like the elephant "whistling" peanuts into the air or the squirrel sneezing. The corresponding rhymes are always clever. At the end there's a place to practice tracing and writing the letters. This app was a hit for both of us!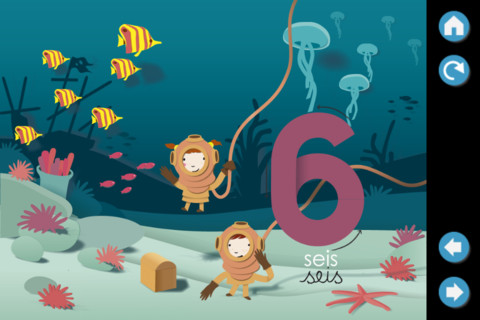 Numberland– Addie is so into all things ABC and 123 lately so this one sucked her in right away. Each number is reinforced visually as well as audibly and there are objects to count as well. Each scene is really intricate and charming and involves some interactive element. I really appreciate the Montessori method being incorporated through number rods and spindle counting. There's also a place to practice writing the numbers. My one complaint? While I love the fact that this app can teach numbers in a couple of languages, I wish it wasn't so easy to switch the languages. Lately Addie seems to always be playing the app in French, which is great, but I'd like her to master English first! It would be ideal if there was a way I could turn off that feature until she's ready for it.

PrestoBingo Shapes– We just got this one yesterday because it looked so great. I can't say no to good design! The colors and style are really fresh and fun but still totally kid appropriate. In each scene there are a bunch of hidden shapes (say, trapezoid) and you try to find them all. Some of them are really tricky to find which can be frustrating. Occasionally I can't even spot them all! You can't really do anything else with the app until you find them all and advance to the next screen. It would be nice if they built in a hint system when you get stuck. There is a lite version of this one.
Bug Games– This is a darling app from Busy Bee Studios. I picked it up as one of the App Friday deals recently. The app has 5 little games that are really fun. The Ant Tunnel Construction activity seemed too complex for Addie but she totally figured it out. The Cricket Chorus is one of her favorites. The crickets sing nursery rhymes in 3 part harmony! Addie likes to turn on the singing and then get up and dance (or order me to sing along.) Spider Connect is a little shape dot-to-dot that reveals an object when you finish. In Busy Bee Phonics you can build short words with letters. There's also a sticker activity which is fun. Really great app, especially for the price.
What apps are your little ones playing recently?
See our other app recommendations.
See what apps we're pinning on pinterest.
Follow us on Facebook or Twitter where we post deals on apps.
Disclosure: I was given a copy of Wee A B See but was not required to blog about it. All opinions, as always, are my own.