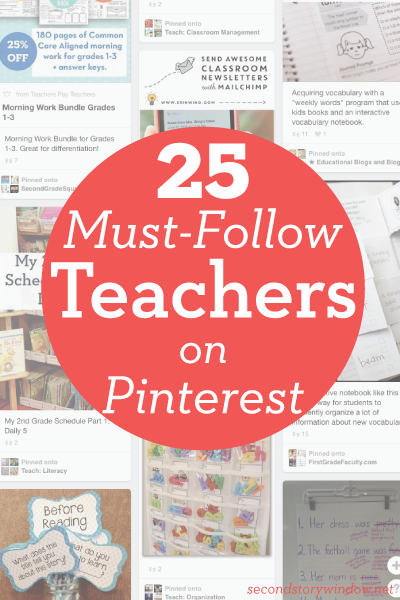 Last year, Erin Wing and I put together a list of our absolute favorite teacher pinners on Pinterest. We looked for pinners who shared a lot of high quality content, especially content with great images. We came up with a pretty impressive list of teacher pinners. I'm excited to finally share our list with you. I hope you find some new favorites to follow!
1. Emily from Second Story Window 
That's me! I pin anything education related but with a focus on PreK-3rd Grade content. Right now I'm pinning to my Back to School board like crazy!
2. Erin from Home Literacy Blueprint
Erin pins tons of amazing content, but her literacy pins are my favorite! Check out her popular board New Teachers.
3. Michael from The Thinker Builder
I am such a fan of Michael's blog. His focus is on helping teachers build readers and writers who think boldly and deeply. His Fresh Ideas for Teachers board has awesome content.
4. Malia from Playdough 2 Plato
Malia is a former Kindergarten teacher who pins fun early learning ideas for teachers and moms alike. I especially love her Stem Laboratory Board.
5. Angela Watson from The Cornerstone
Angela is so inspiring! Her blog is full of practical ideas to make teaching more effective, efficient, and enjoyable. That's exactly the same kind of content she pins on pinterest. Check out her board The Best of Cornerstone for Teachers.
6. Jennifer from Cult of Pedagogy
Cult of Pedagogy is an awesome resource because Jennifer posts content that is relevant to ALL teachers, no matter what they teach. You'll love her Classroom Instruction board.
7. Mary from Teaching With a Mountain View
Mary's boards are so organized and fun. You'll love her Classroom Management board!
8. Ari from The Science Penguin
Ari knows how to make science FUN! I'm a big fan of her K-2 Science Ideas board.
9. Linda from Teach 4 the Heart
Linda always finds the most inspiring content out there for teachers. Check out her Teaching board!
10. Bonnie Kathryn from Kinders and Beyond
Bonnie Kathryn is a new find for me but I love her boards! Her Teacher Tips board is especially awesome.
11. Emma from Clever Classroom
You will love all of Emma's boards! They are so organized and packed full of content. I especially love her Educational Blogs and Blog Posts board.
12. Emily from Education to the Core
Emily always posts content that catches my eye right away. Her Education to the Core board is a favorite for sure.
13. Patty from Deep Space Sparkle
While art is something I love, I'm always looking for guidance for how to teach it. Patty's boards will blow you away with all the colorful and inspiring content. Check out her Art Resources for Educators board.
14. Becky from This Reading Mama
Becky is a homeschooler but she shares amazing literacy content that's completely relative to the classroom as well. Check out her Struggling Readers board.
15. Meg from the Teacher Studio

Meg's boards are full of tips and ideas for grades 3-5. Check out her Best Math Ideas Ever board!
16. Linda Kamp from Around the Kampfire
So many fun teaching ideas on Linda's boards! Love her Reading board!
It's becoming more and more important to use technology in the classroom when you're able and Jen curates great content to help you do just that. Check out her Technology in the Classroom board.
18. Jenny from Luckeyfrog's Lilypad
Jenny shares great content for the classroom teacher, including some awesome boards on science and social studies. Check out her Reading board.
19. Laura Candler from Teaching Resources
Laura takes great care to make sure her boards have only the best content! I love her Primarily K-2 board.
20. Kellie from Learning Sprouts
I stumbled on Kellie a few months ago and just fell in love with her pins! Check out her Open Ended Mathematics Board.
21. The Wise Guys
The Wise Guys share awesome content for intermediate grades (3-6). Take a look at their Wisdom for Teachers board.
22. Jessica from What I Have Learned
Jessica's boards are great for elementary teachers. Check out her Close Reading board.
23. Jennifer from Simply Kinder
I love how Jennifer shares awesome ECE ideas that are academic, fun, and developmentally appropriate! Take a look at her Classroom Environment.
24. Greg from Mr. Elementary Math
I love Greg's boards because they're all about MATH! I love following teachers like Greg who are experts in their field. Check out his K-5 Math board.
25. Shelley from The Write Stuff
Shelley pins great content for literacy, classroom management, and organization. I'm a fan of her Happy Learners board.
—–
These are just some of the amazing teacher pinners we have found on Pinterest. There are lots more!
Tell us: who are your favorite teachers on Pinterest?