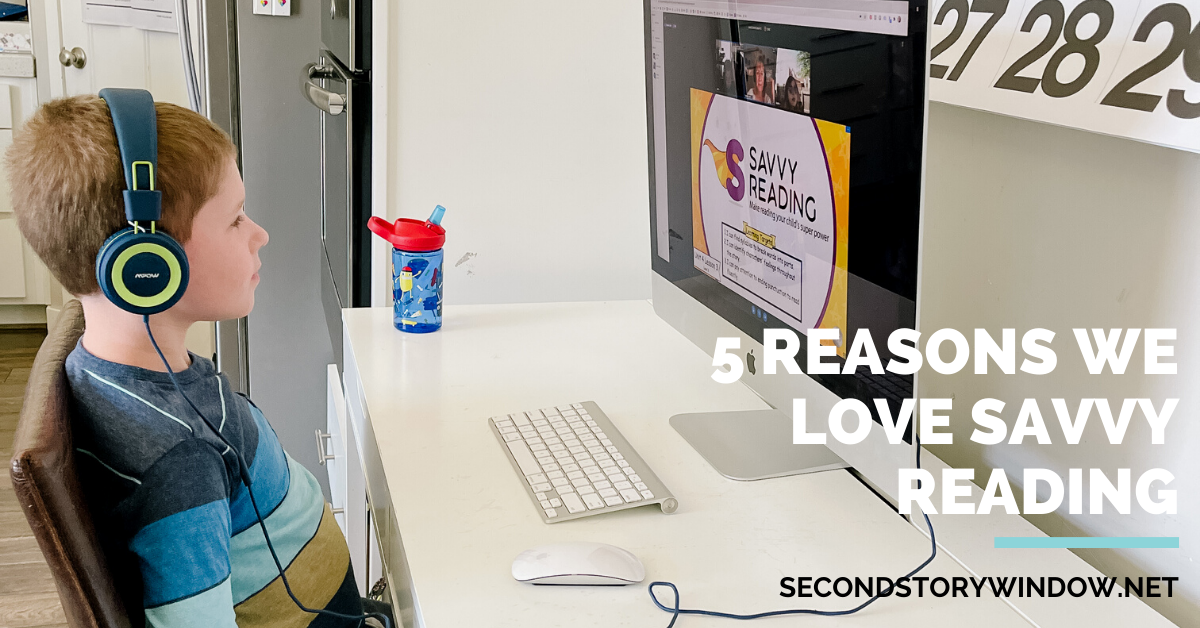 Last year, I started using Savvy Reading for my 7-year-old son while we were homeschooling. I wanted him to sign him up for a fun online class with other kids and decided to give Savvy Reading a try. Now that we've been using it for many months I am ready to give you a review! (Spoiler alert: we both love it.)
Per their website, Savvy Reading provides consistent reading practice, led by a live coach, in a fun and interactive online setting that engages elementary grade level readers and builds skills and confidence. Sessions are 25 minutes long, 4 days a week. Group and individual sessions are available but we've only done the group sessions.
1. There's a social aspect. Savvy Reading is a small group class (though individual sessions are an option!) with 2-4 other kids. My son is a social butterfly and loves his little buds in his Savvy Reading class! It's fun to hear them chatting with each other before the class starts. And it's fun for him to be with kids from all over the country (and potentially outside the country too!)
2. It's instructor-led and requires no parent help. We have had a few different coaches since starting and they have all been awesome. And I really love that I don't have to be part of the class at all. My son logs on by himself when it's time and never needs anything from me.
3. Classes happen 4 days a week. I feel strongly that lots of practice is one key to successful learning, especially when it comes to reading. Savvy Reading is part of our (almost) daily routine and I love how much practice he gets each week. It's really a bargain when you look at the amount of instruction time vs. the price. And they have times available throughout the day so no matter where you live you can sign up for a time that works with your schedule. We're going to continue doing it next year after school. And the classes run year-round.
4. It's FUN. Even though my son is doing this almost every day, he never complains about logging on to Savvy Reading. In fact, he's been disappointed when there's been a conflict that kept him from class here and there. You'd think it would get old but it really hasn't! The curriculum is engaging enough that the kids are just having a lot of fun the whole class. I think 25 minutes is the perfect amount of time because it's just enough to get some learning done and have some fun but not long enough to get bored. They also offer "rewards" for participating in lessons and your student can use the rewards on some fun prizes like sticker painting books and board games.
5. It works! I am picky about curriculum so I went into this experience with a bit of skepticism. I watched several of the Savvy Reading classes in the first month to make sure I liked the content before I committed to a year-long subscription. After observing, I felt like they had designed a really strong and engaging standards-aligned curriculum. Lessons start with built-in review so if your student misses a session or two, the curriculum can handle that. Then they practice sight words / high-frequency words. Each week they have a weekly phonics concept. In the lesson, there are engaging interactive read-alouds (a great way to model reading fluency skills, something you know we are passionate about around here) and comprehension skill practice. I love getting the weekly e-mail sharing about what my son learned in his class this week.
You can save $25 off your first month AND every month you are a member if you sign up with use code EMILY at checkout.
Just so you know, I do earn a small percentage if you sign up, at no extra cost to you. I originally wrote this post just to share something we are really enjoying, so this review is unpaid and unbiased. But I am excited that I am able to share an amazing discount with you!
P.S. Teacher Friends: Savvy Reading would also make an excellent side-hustle. The hours are flexible and the curriculum is done for you. Learn more about signing up to become a Savvy Reading coach.