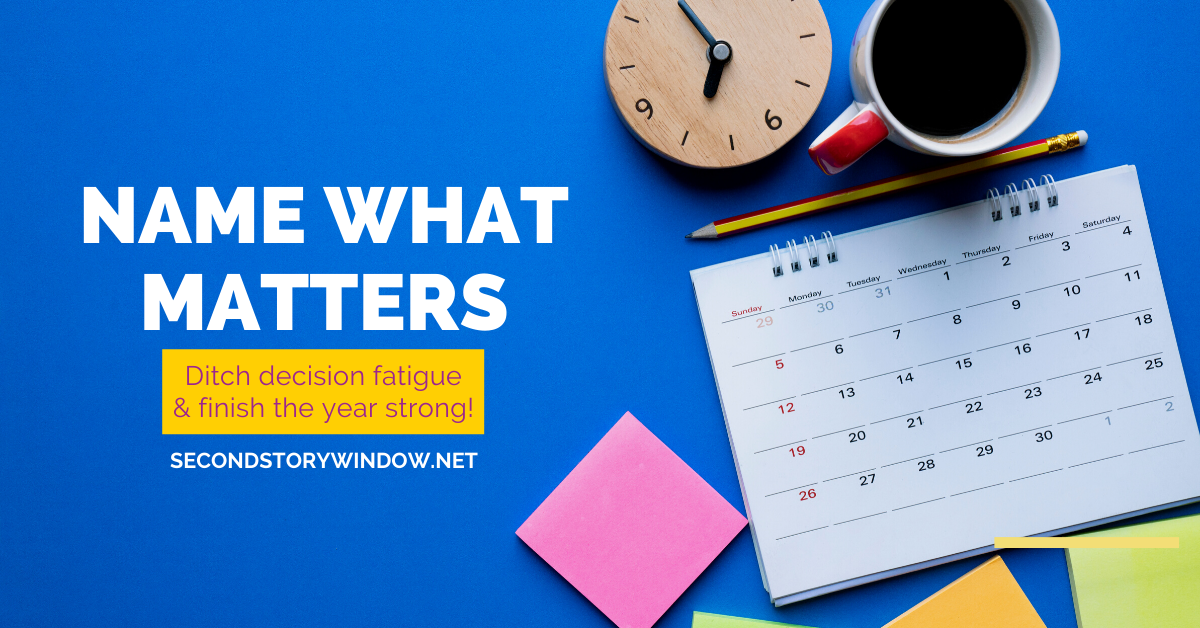 As someone frequently overwhelmed by decision fatigue, the end of the school year often made me feel like I was drowning. So much to think about, so little time.
But that was until I became a Lazy Genius. (Have you heard of the Lazy Genius, Kendra Adachi? I don't know her personally but also think she might be my BFF…)
Anyway, thanks to her, I now know the key to escaping overwhelm is simple: Name What Matters.
When we Name What Matters in a season of time, we can focus on things that move the needle, and let go of the rest.
So, ask yourself, at the end of perhaps the craziest school years in your career, what MATTERS for you right now?
Only you know what matters right now. But we brainstormed a few ideas to help you discover what matters so you can focus your energy and get stuff done!
Examples of Naming What Matters at the end of the school year in action:
Knowledge and Skill Retention – This year I've worked harder than ever to help my students soar. What matters to me the rest of this year is helping them retain that hard-earned knowledge! I'm making spiral review a part of my daily schedule to increase student skill retention as we head into the summer. I'll use cumulative reviews to check for any gaps in knowledge. And I'm adding in some phonics games to our routine as a fun way to review skills. 
Focusing on Fluency Skills – I know how important reading fluency skills are so I'm going to make that my focus for the remainder of the year. Helping my students build their fluency skills will help increase reading comprehension as well! I'm introducing fluency mini lessons and making room in our routine for repeated readings.
Connection – With all the end-of-year stress, I want to improve my relationship with my students. Connecting with my class is just as important as teaching content right now. One way I'm going to connect with my students is through morning messages in morning meeting. And I'll keep things happy and engaging by throwing in frequent brain breaks in our day. Reading aloud to my students every afternoon at the end of the day will draw us together as a class.
Decide what matters. Let go of what doesn't.
I'd love to hear what you decide matters to you in this season!