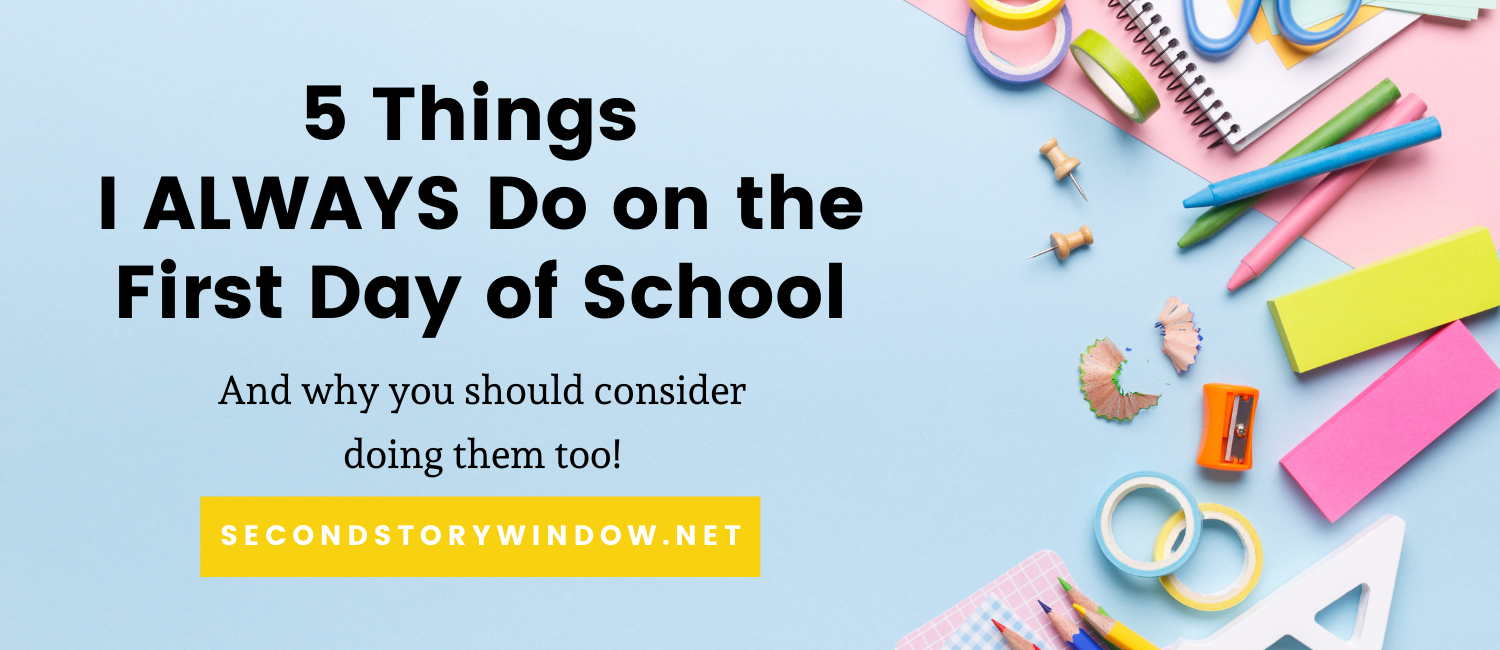 The first day of school is a mix of excitement and anxiety, both for students and the teacher! Putting in the effort to carefully plan the first day of school helps me start the first day with confidence and calm. After many first days of school, I have a list of non-negotiable tasks that I ALWAYS do on the first day of school. Maybe you will add these items to your own first day of school list or maybe they will help you think of some other tasks that are important to you!
Plan a low-stakes, engaging, arrival activity. Students need to be engaged in an activity as soon as they arrive at your classroom. And we absolutely do not want to start the first day of school with an academic task. Many students arrive nervous for the first day and we want an activity that has no barrier to entry for anyone. For me? That's a pile of pattern blocks on each table. Why is this the perfect first day arrival activity? There are no rules I need to establish before they use this item and it's a completely open-ended task! And, maybe most importantly, it requires no guidance from me. This is important because we all know how crazy the first day of school is! Kids can sit down and immediately get engaged in the activity with their tablemates.
Teach bathroom procedures first thing. We spend the majority of the first day learning procedures and routines and there is probably no routine as important as bathroom routines. And think of your sweet, nervous students. There is nothing worse than needing to potty and not knowing when/where/how to get there!
Do something to get to know students and build classroom community. One way I've done this is by sending home an introductory letter before school starts asking each student to bring 3 items from home to introduce themselves (and I was sure to specify that these items must fit in a backpack!) I split up the sharing time into at least 2 sessions during the first day of school so that the class can give the sharers their full attention. If something like that won't work for your school community, try something else like our All About Me Posters that can be completed in class and shared.
Teach the most important morning task. I do this so that on day 2 they will know what to do the moment they arrive. For me, that routine is morning work. We do a page together in the afternoon on the first day of school. We'll be doing this task every morning of the school year and I want them to be independent with it as soon as possible so it's a high priority for me to thoroughly introduce it from the start.
Start the first classroom read-aloud chapter book. This is one of my favorite times of day in the classroom and a big part of our classroom culture, so I want to start our first chapter book read aloud on the very first day. I like to do this at the end of the day while students are finishing up classroom jobs and others are gathering at the rug. I usually choose Freckle Juice for my first read-aloud of the year!
This is just a tiny glimpse of my carefully planned First Day of School routine. If you want to read all about my First Day of School plans and get a copy of my minute-by-minute first day script, head over to my 1st Day of 2nd Grade post!