Isn't practicing an important concept so much more fun when you can do it with an engaging, seasonal activity? We created this free beginning digraph turkey center as a companion to the phonics program we've been working on and we want to share it with all of you!
Speaking of our phonics program, we have been so busy working on it that we haven't shared here on our blog what we've been working on! Word Play Phonics for 1st and 2nd grade is a differentiated word study program that incorporates weekly word sorting, chunk spelling, phonics poetry, phonics games, daily decoding, and lessons. This is a teacher-friendly, low-prep, engaging program that both students and teachers will love. Click here to learn more about our phonics program.
Now back to the turkey digraphs! This is an independent literacy activity, perfect for centers.
There are 4 turkeys for the digraphs : ch, sh, th, and wh. Students take a feather and look at the picture on each one. They identify the beginning digraph of the word and add the feather to the corresponding turkey. (Picture key is included for teachers.)
We also included a recording sheet for students who might be ready to write the words they sorted. A lot of kids working on digraphs won't be ready to write a word like wheat but some will.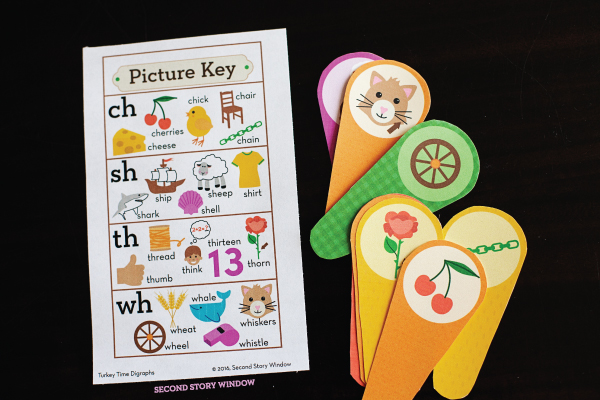 After completing the center, there is a digraph skill practice sheet. Students use the color code at the top to color each picture based on the beginning digraph. (Answer key is included for teachers.)
This is a great companion or review activity for our 1st grade Word Play phonics program. It also correlates with Words Their Way Sort Letter Name Alphabetic Sort 17. 
Click below to download the free Turkey Digraph center and a free 1 week sample of our Word Play phonics program!