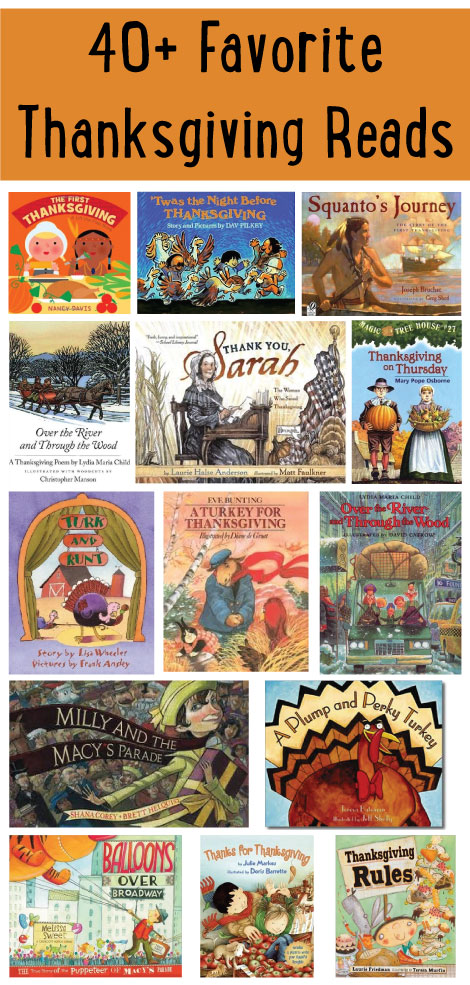 November has perfect reading weather, don't you think?  So let's dig into this feast of books! We have lots of books here so I broke it up into categories First up….
The Historical Perspective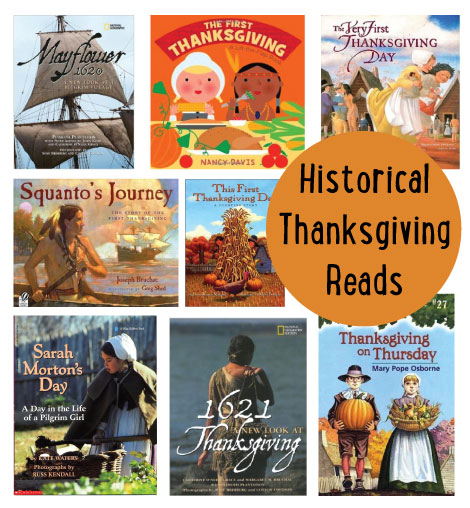 We celebrate Thanksgiving because of the first Thanksgiving, so it seems like a good place to start our book recommendations.
You perhaps wouldn't think that books about a 400 year old celebration would include photographs, but there are several that do just that.
I've used the Kate Waters books in my 2nd grade classroom for several years.  The photos were shot in and around Plimoth Plantation in Plymouth and give a good feeling for the daily life of children in this era.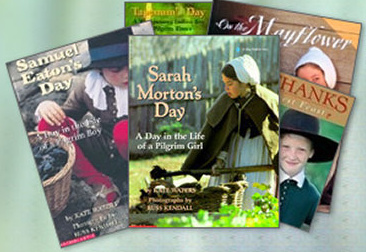 National Geographic has also published a couple Thanksgiving books, so you know the photos are beautiful!
Mayflower 1620 A New Look at a Pilgrim Voyage by Peter Arenstam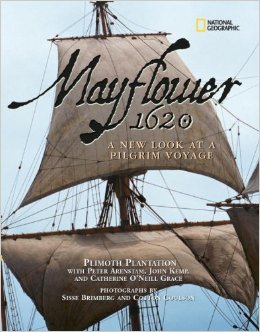 1621 A New Look at Thanksgiving by Catherine O'Neill Grace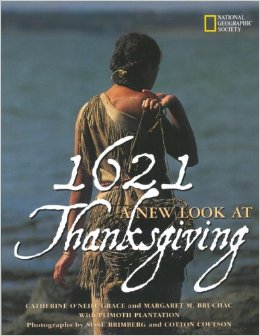 Please note that all of these photography books are very text dense.  It can be overwhelming to use these as read alouds.
Squanto's Journey by Joseph Bruchac
This is another long one, but it's not a story that's often told and it should be.  It deals with Squanto's kidnap as a child and enslavement is Spain, his eventual return to his land–only to find his people wiped out from a plague.  He later played a huge role in the success of the Plymouth colony.
Thanksgiving on Thursday by Mary Pope Osborne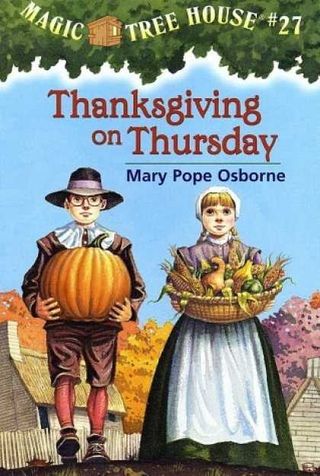 I read this one aloud to my 2nd graders every November.  I felt it gave my kiddos a good flavor for the hardships the Pilgrims endured, but it didn't get maudlin.  And the kids loved the joke about "exercising arms."
The Very First Thanksgiving Day by Rhonda Gowler Greene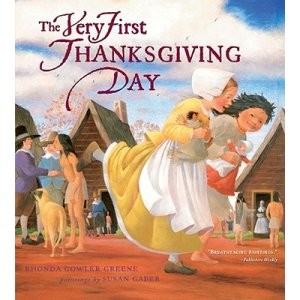 This rhyming story starts a the Thanksgiving feast and works its way backward to the Pilrgim's arrival in the New World.  The illustrations are lovely and there are only about 3 lines of text per page, so it's not too cumbersome to read.  The rhyming and the backwards pacing of the plot make this a better read for kids already familiar with the Thanksgiving story and not as an introduction.
This First Thanksgiving Day: A Counting Story by Laura Krauss Melmed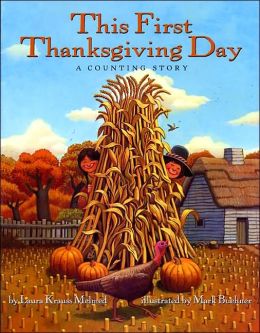 This story counts from 1 to 12 as the children–Pilgrim and Wampanoag–help prepare for the first Thanksgiving.
The First Thanksgiving: A Lift-the-Flap Book by Kathryn Lynn Davis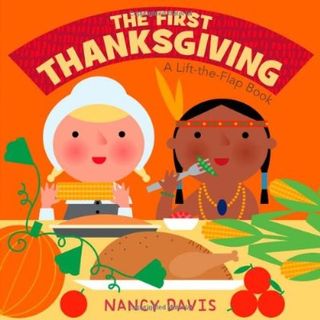 This is a board book, but it was a good introduction to the history behind Thanksgiving for my preschoolers.  Cute pictures, simple text–just what you'd expect from a board book.  It's not 100% historically accurate, but what do you expect from a board book (or most picture books for that matter!).  Just a word of warning that the flaps on this are not sturdy.  They'll be pretty thrashed after a couple readings.
This is the Feast by Diane Z. Shore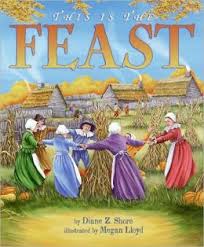 Okay, technically this isn't a "favorite read" but I wanted to talk a little about it. This book follows the Pilgrims through their fist year in Massachusetts culminating in the harvest feast. I've seen this book on a lot of "favorite Thanksgiving book" lists and on Amazon it's got all 4 and 5 star ratings, but I have to say, "I don't get it."  This just does not appeal to me.  The pictures are okay.  They're historically accurate as well as I can tell, but nothing great.  The text is a cumulative tale following the This is the House that Jack Built pattern, but it quickly becomes a convoluted, rhyming mess.
This is the corn, a treasure of maize, black, yellow, red, and blue nuggets ablaze.  These are the fields, stubbled, unclaimed, cleared by Patuxets before the plague came, and found by the Pilgrims exploring ashore far from the baskets of nuggets galore that colored the gray, weary days of despair.  "Thanks be to God for the lives He has spared."
I read someone's review that said this book good for vocabulary.  I would argue that it isn't.  Each page is loaded with tons of unfamiliar words–too many for young reader to attend to in one sitting (in the above passage, I count at least 11) and the labored rhyming scheme obscures any sort of context support.  A strong background understanding of the history surrounding the first Thanksgiving is necessary in order to get at the meaning of this text.  It may work well with upper grades, but I would say skip if you're looking for a book for little ones.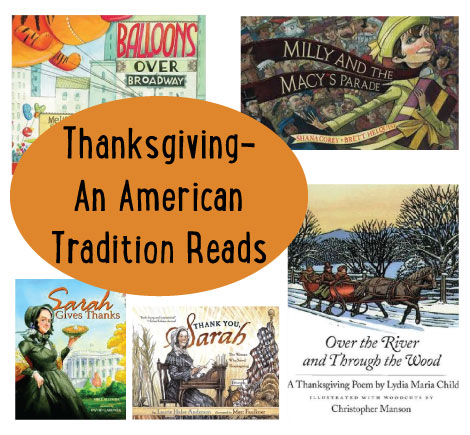 An American Tradition
Did you know that Thanksgiving wasn't always celebrated in America?  Abraham Lincoln made it a national holiday at the suggestion of Sarah Hale.  In the darkest days of the Civil War, Sarah Hale (who also wrote Mary Had a Little Lamb) recognized the unifying effect a national day of gratitude could have.  Four presidents ignored her, but Lincoln listened.  I knew I liked him!  This story is the subject of 2 picture books (that I'm aware of).
Thank You, Sarah by Laurie Halse Andersen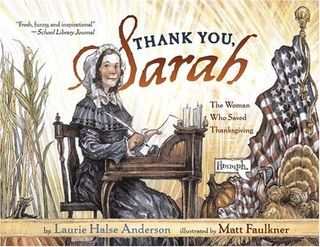 Sarah Gives Thanks by Mike Allegra is a newer book about Sarah Hale's legacy, but I haven't seen this one in person so I can't tell you if it's good or not.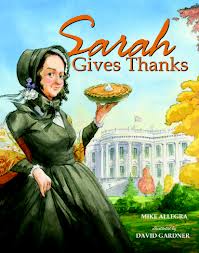 Over the River and Through the Wood by Lydia Maria Child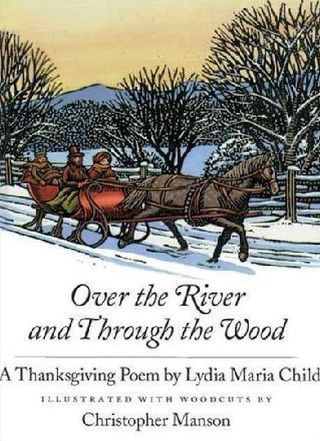 We all know the song, right?  But did you know Lydia was an abolitionist, women's rights activist, as well as a novelist and journalist? Apparently she was one of the first female writers in the United States to make her living exclusively from her writing. This is one of the books used in our November Vocabulary curriculum!
Thanksgiving and determined women seem to go hand-in-hand!
Milly and the Macy's Parade by Shana Corey (and illustrated by fellow BYU grad Brett Helquist!!)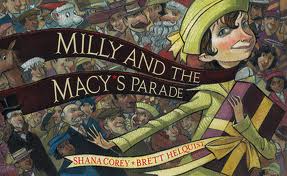 This is a fictional spin on the creation of the Macy's parade. Milly is an immigrant who visits her father at his job at Macy's.  It's the immigrants–homesick for lost cultural traditions–who give the parade its beginning.
Balloons Over Broadway by Melissa Sweet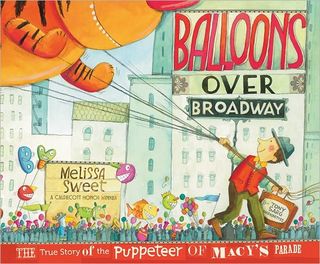 This is the biography of a man you've never heard of–Tony Sarg.  He was the puppeteer who dreamed up the giant Macy's balloons.  Nowadays it's just not Thanksgiving until I've seen a 50 foot Garfield being towed up the street!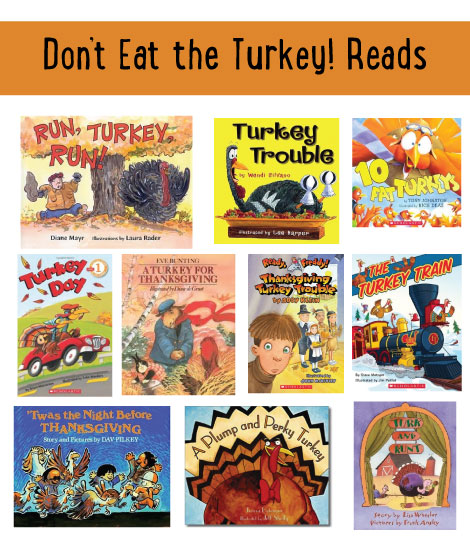 Turkey Turkey Everywhere, But Not a Drumstick to Eat!
Have you noticed how many Thanksgiving books employ the trope of a turkey trying to escape his inevitable dinnertime fate?  The books are so funny, though, I don't really care!
Turk and Runt by Lisa Wheeler
The turkeys at Wishbone Farm are a little confused about what it means to be chosen as the Thanksgiving turkey.  Most of them think it's a great honor, but little Runt knows what's really up.  Luckily he's there to save the day! This is one of the books used in our November Vocabulary curriculum!
The Great Turkey Race, The Amazing Turkey Rescue, and The Silly Turkey Party by Steve Metzger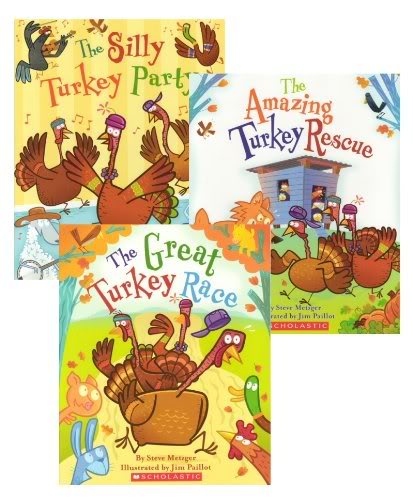 These are very silly stories and a lot of fun to read, but they're hard to come by nowadays.  Maybe Scholastic can hook you up?  Cassie, Wing, and Ollie are the main turkey characters who have various adventures while trying to escape Thanksgiving.  At one point they even impersonate Hollywood producers. Can you go wrong with turkeys in sunglasses?  I think not!
If you can't find these books from Stever Metzger, this one is still easy to come by.
The Turkey Train by Steve Metzger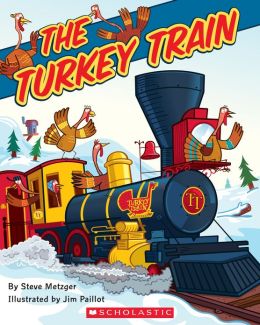 No sinister plots in this one.  Just some turkeys taking a train to play in the snow.  Not much plot, but it has trains and therefore my preschoolers love it!  Thankfully it's short.  Having read it everyday for the past 2 weeks I can guarantee that it's a quick one!
A Plump and Perky Turkey by Teresa Bateman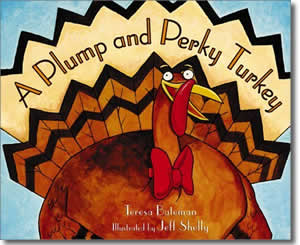 This was always a favorite one to read to my 2nd graders!  The townsfolk rig an art festival to lure a turkey into their Thanksgiving dinner.  Too bad the turkey outsmarts them all! This is one of the books used in our November Vocabulary curriculum!
'Twas the Night Before Thanksgiving by Dav Pilkey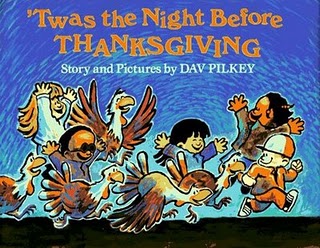 This is one I go back and forth with.  The kids in the story go on a field trip to the farm the day before Thanksgiving where they learn what's going to happen to the turkeys after they leave.  So, they take the cute little birds home with them (by stuffing them under their shirts) and everyone has a vegetarian Thanksgiving feast.
Sure my students enjoyed this book, but more than the other "Turkey Escape" themed books, this one ruffles my feathers (pun intended).   The kindly farmer is portrayed as having this hidden cruel–almost bloodthirsty–demeanor and the turkeys are sweet puppy-like characters.  My 2nd graders didn't seem affected by the story, but I'm not going to read it to the preschoolers in case they can't recognize that this is fiction and it's okay to eat turkey.
Turkey Trouble by Wendy Silvano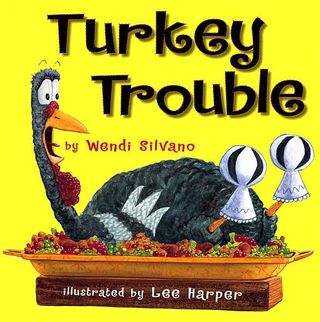 This one is becoming a teacher staple.  Turkey tries all sorts of disguises to hide from Farmer Jake, but nothing seems to work until he dresses up as a pizza delivery man.  The sequel Turkey Claus is also an enjoyable read.
A Turkey for Thanksgiving by Eve Bunting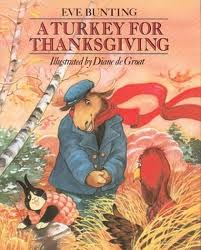 This is one of my all-time favorites.  A little wordy, but worth the read!  Mr. Moose insists on having Turkey for Thanksgiving.  Unfortunately, the panic-stricken turkey doesn't realize that moose means to have him as a guest.  I liked to read this to my 2nd graders after the other turkey books.  The whole time the kids are certain Moose has something nefarious planned.  They get a big kick out of this book when they find out the twist!  I set this out with my Thanksgiving books and it's one that doesn't get chosen until I read it aloud, then it's the most popular book in the box! This is one of the books used in our November Vocabulary curriculum!
Turkey Day by Grace Maccarone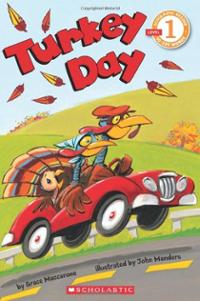 This is a Level 1 Scholastic Reader, so the text is minimal, but the illustrations are very fun.  The turkeys are coming–by boat, bus, plane, dancing shoes–to the big Turkey Day feast!  A cute read for the little ones.
10 Fat Turkeys by Tony Johnston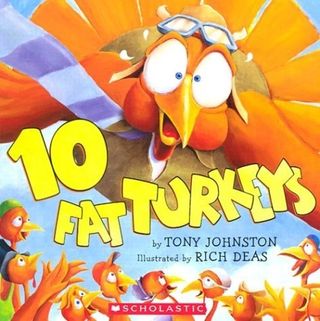 Just a silly story about 10 turkeys on a fence.  It's fun to read aloud "Gobble, gobble, wibble, wobble…" and the illustrations are very funny.
Run, Turkey, Run! by Diane Mayr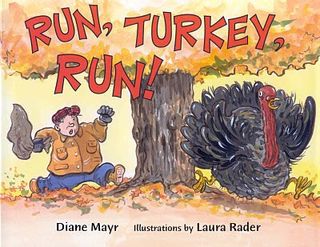 The farmer has designs on poor turkey.  Turkey does what a turkey can and runs for his life.  Another short read and the kids LOVE chiming in on the "Run, turkey, run!" refrain.
Thanksgiving Turkey Trouble (Ready, Freddy! 15) by Abby Klein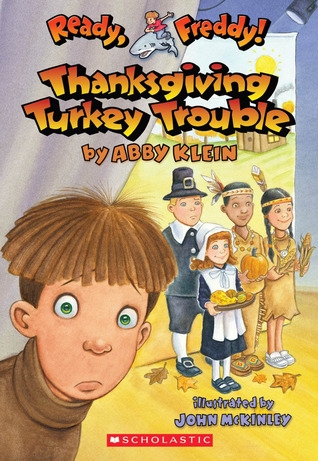 This is one of my favorite read-aloud chapter books and I always read it to my 2nd graders in November.  Freddy is the star of a series of early chapter books (think Magic Treehouse level).  He's in first-grade and dealing with all the drama that first grade can bring.  In this book, he's chosen as the turkey in the Thanksgiving play.  He's so embarrassed–and the other kids laugh at him so much–that he's ready to run away.  Thankfully a wise grandfather shows him that a little confidence can go a long way.  There's definitely some humor here, but I felt like my students connected with the story at a deeper level.  They can all understand the pain of being teased and it opened up some good conversations.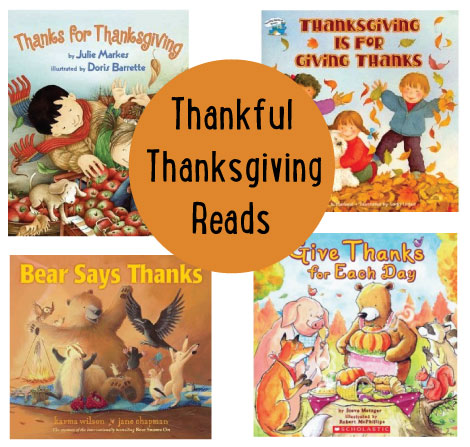 A Thankful Thanksgiving
The whole point of this holiday is to express gratitude, right?  So here are some books that help little ones do just that.
Give Thanks for Each Day by Steve Metzger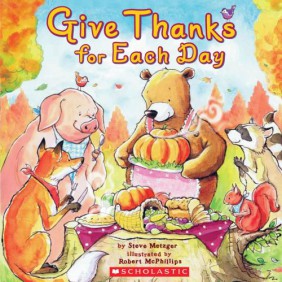 This has a completely different tone than Steve Metzger's turkey books I listed above.  This one points out simple pleasures that we should be grateful for: lights in the dark, mom's hug when she comes back, ice cream, stories…all the best things in life!  Cute illustrations of animal characters and a short read.
Bear Says Thanks by Karma Wilson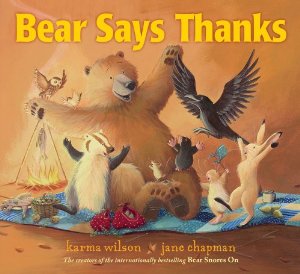 You can't go wrong with the Bear books!  In this one, Bear want's to make a feast for his friends, but his cupboards are bare.  His friends don't mind bringing snacks to share and in the end Bear realizes that he can contribute too–by sharing his stories.
Thanksgiving is for Giving Thanks by Margaret Sutherland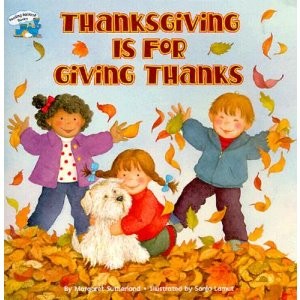 So many wonderful things to be thankful for!
Thanks for Thanksgiving by Julie Markes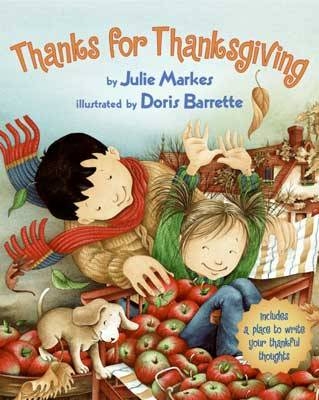 I love the illustrations in this one.  Another reminder that the simplest blessings are often the most important.  This book includes a back page for writing what you're grateful for each year.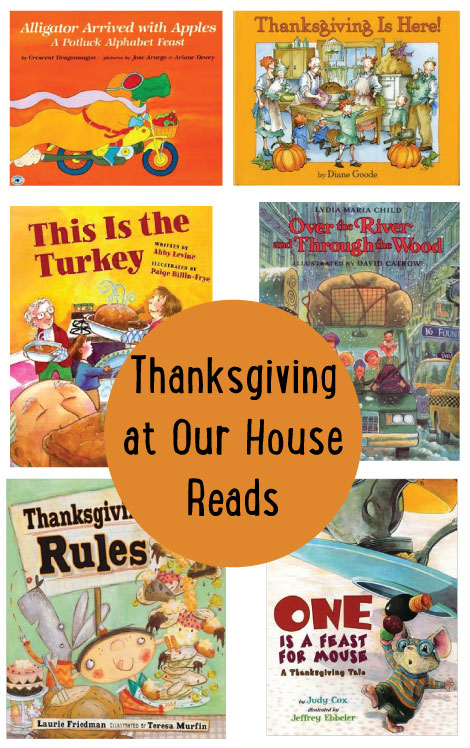 Thanksgiving at Our House
The families might be different, but so many of the traditions are the same!
This is the Turkey by Abby Levine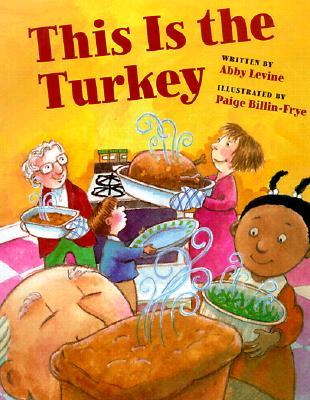 A cumulative tale in the style of The House that Jack Built.  It follows Max from the grocery store, where he picks out the Thanksgiving bird, to the preparations on the big day and what happens when that turkey accidentally ends up in the fish tank.
Thanksgiving is Here by Diane Goode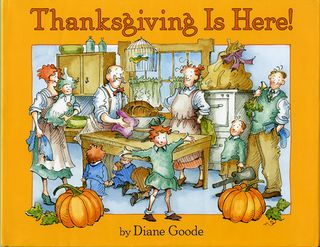 Thanksgiving is always great at Grandma's house.  Aunts, uncles, cousins, dessert–what more could you want?  I love Diane Goode's illustrations and this book is just the right length for a quick storytime.
Thanksgiving Rules by Laurie Friedman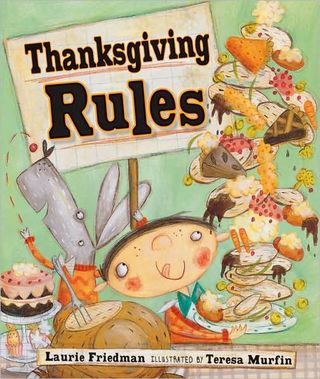 If you want the perfect Thanksgiving, Percy has the rules for you to follow.  Rule 1: Smile and say "Pumpkin Pie."  The rules and the accompanying illustrations are light hearted, but it's a fun read for the 6 and up crowd.  Also, the rule-listing premise of the book makes it an enjoyable change from some of the traditional Thanksgiving fare.
Over the River and Through the Wood by David Catrow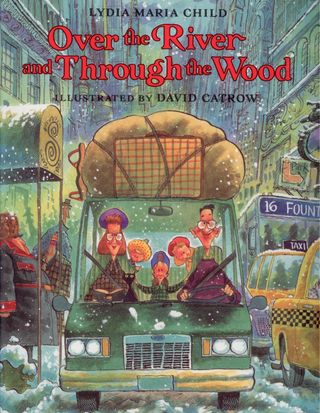 If your kids are familiar with the traditional version of this poem, then they'll get a huge kick out of this updated spin on the classic.  Trying to get to Grandma's in Thanksgiving traffic can be a headache–especially when the baby crawls out the window of the car and ends up in the middle of the parade.  The "dappled gray" of this story is a snow speckled gorilla and the ringing bells belong to a marching band.  The illustrations are clever and charming and don't worry, thanks to Grandmother's cap everything ends up A-okay for Thanksgiving dinner.
Alligator Arrived with Apples: A Potluck Alphabet Feast by Crescent Dragonwagon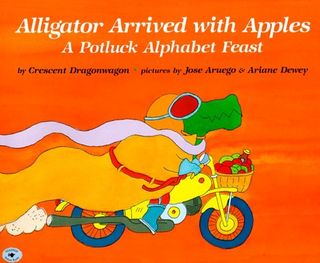 This is a new one to me.  I was looking for a Thanksgiving Alphabet book that wasn't T is For Turkey (which is fine, but I feel like it's a huge info dump so it would be a lot for preschoolers).  This has some crazy language, "Elephant Eclipsed Everyone with his Elderberry Elixir," but I think the pictures will carry the story well enough that the kids will be okay with it.  I don't understand why nearly every word is capitalized, however, or the lack of an animal beginning with R.  I guess we'll see how it goes!  "We ate soe much there are no scraps.  It's time for our Thanksgiving naps!"
One is a Feast for a Mouse by Judy Cox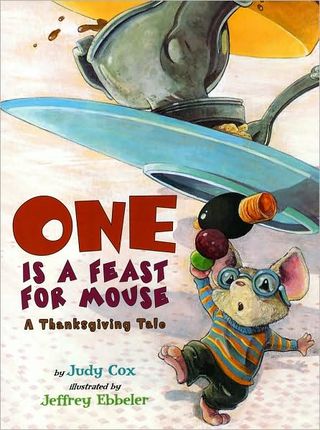 After Thanksgiving is over, the scraps seem like a feast for a little mouse.  Greed quickly gets the better of him and he tries to take ALL the leftovers.  At the end he realizes that a one pea is plenty for him.  This isn't overly wordy, but there's a fair amount of text on each page.
>>>>>>>>>>>
Talk about a banquet of books!  These are just the Thanksgiving books I recommend.  You should see what I have that didn't make the cut.  Perhaps I have too many books??
Nah!
In fact, looking at pictures of books for this post I came across some that I'd like to add to my collection.  Have any of you read these?  Are they too wordy?  Too boring?  Absolutely wonderful?  Please let me know if I should I get them or pass.
Three Young Pilgrims by Cheryl Harness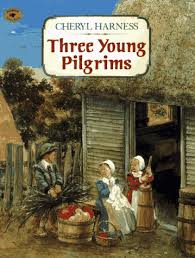 The Thanksgiving Bowl by Virginia Kroll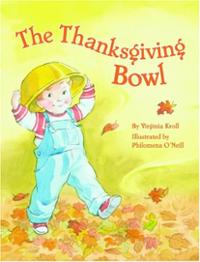 Give Thanks to the Lord by Karma Wilson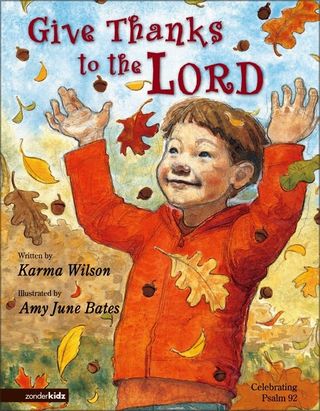 Mary's First Thanksgiving: An Inspirational Story of Gratefulness by Kathy-jo Wargin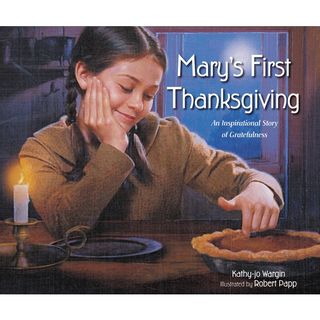 Thanksgiving Treat by Catherine Stock
P.S. We use some of these books in a Thanksgiving bundle for our picture book based vocabulary curriculum, the Jargon Journal!