This time of year is so perfect for cozying up with a sweet read aloud book. I love having lots of seasonal books available to read aloud and for my students to read.
Check out this list of our favorite cozy books for fall!
This post contains affiliate links.
Apple Cake: A Gratitude by Dawn Casey
Absolutely love the darling illustrations from Genevieve Godbout! In this simple rhyming story, a child says thank you for the gifts nature provides, from hazelnuts in the hedge to apples from the tree, eggs from the hens to milk from the cow. Eventually, the family has enough ingredients to make something special… a delicious apple cake!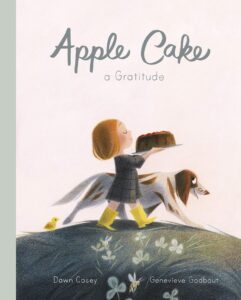 Thankful by Eileen Spinelli
Celebrate everyday blessings, practice thankfulness, and observe the wonderful acts of service that keep us going each and every day. Eileen Spinelli, bestselling and award-winning children's author, charms with rhymes and whimsy in Thankful, perfect for any young reader and their family.
Thanksgiving in the Woods by Phyllis Asdurf
Every year a family and their friends gather in the woods to celebrate Thanksgiving among the trees. Everyone brings something to share and the day becomes a long celebration of family, faith, and friendship. Told in a gentle, lyrical style, this picture book includes warm illustrations of people gathered around bonfires and long tables adorned with candles and food, singing songs and sharing laughter.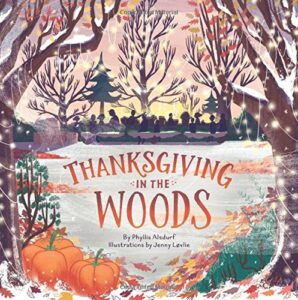 Fletcher and the Falling Leaves by Julia Rawlinson
As the leaves fall from his favorite tree, Fletcher worries that something is terribly wrong. But then winter comes, and with it a wonderful surprise.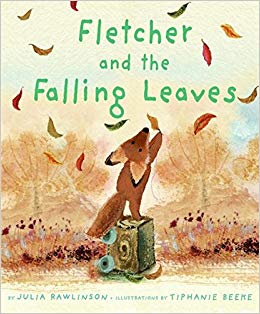 Bear Says Thanks by Karma Wilson
Bear has come up with the perfect way to say thanks—a nice big dinner! When Bear decides to throw a feast, his friends show up one by one with different platters of delicious food to share. There's just one problem: Bear's cupboards are bare! What is he to do?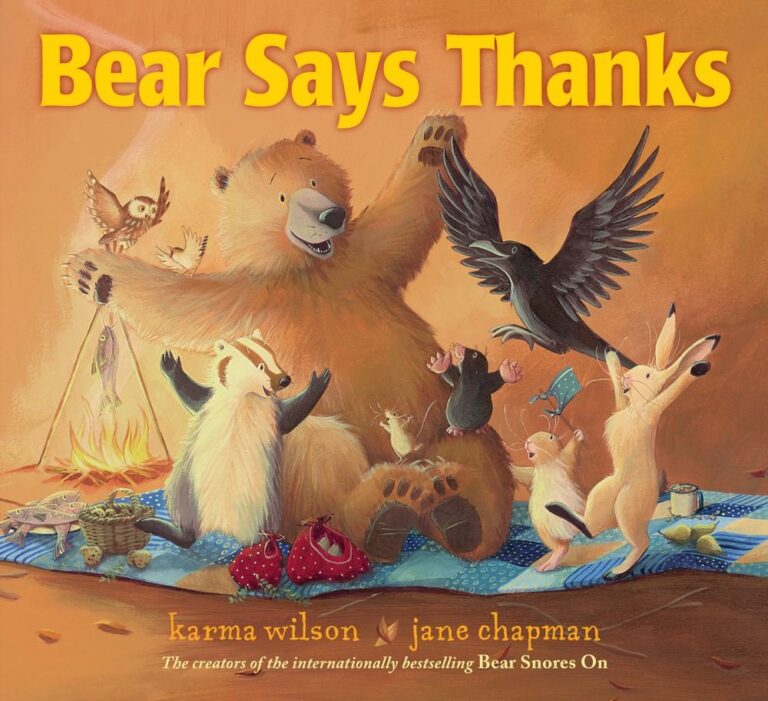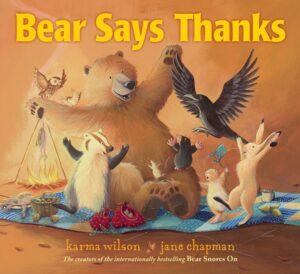 Goodbye Summer, Hello Autumn by Kenard Pak
Join a young girl as she takes a walk through forest and town, greeting all the signs of the coming season. In a series of conversations with every flower and creature and gust of wind, she says good-bye to summer and welcomes autumn.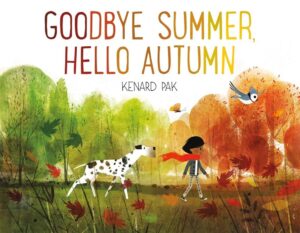 In November by Cynthia Rylant
In November, the air grows cold and the earth and all of its creatures prepare for winter. Animals seek food and shelter. And people gather together to celebrate their blessings with family and friends.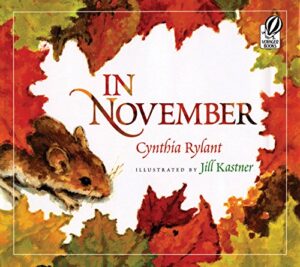 Porcupine's Pie by Laura Renauld
Porcupine can't wait to share Fall Feast with her woodland friends, so when everyone she greets is unable to bake their specialty due to a missing ingredient, Porcupine generously offers staples from her pantry. When Porcupine discovers that she, too, is missing a key ingredient, the friends all work together to create a new Fall Feast tradition. Porcupine's Pie will inspire children ages 4-8 to act generously. A recipe for "friendship pie" can be found at the end of the book.
Fall Leaves by Loretta Holland
Part poem, part silent stage, this luminous picture book puts autumn on display and captures the spirit of change that stays with us long after fall leaves. Unlock the secrets of this busy and beautiful time of year as the natural world makes way for winter.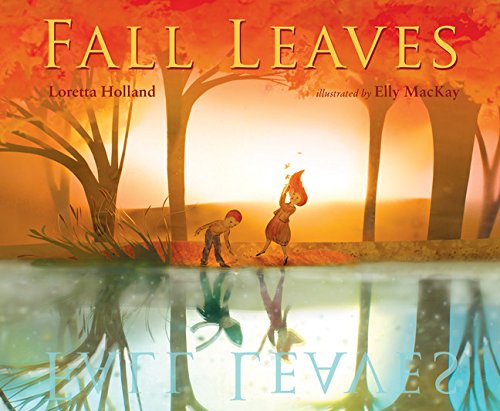 Sleep Tight Farm by Eugenie Doyle
A captivating exploration of how a family gets a farm ready for the snow of winter, Sleep Tight Farm lyrically connects each growing season to the preparations at the very end of the farm year. This beautiful and informative book paints a fascinating picture of what winter means to the farm year and to the family that shares its seasons, from spring's new growth, summer's heat, and fall's bounty to winter's well-earned rest. All year long the farm has worked to shelter us, feed us, keep us warm, and now it's time to sleep.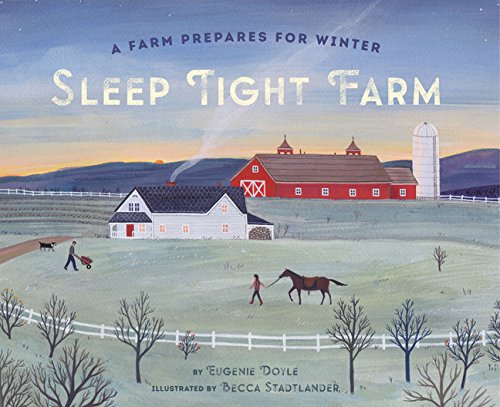 Because of an Acorn by Lola Schaefer
Because of an acorn, a tree grows, a bird nests, a seed becomes a flower. Enchanting die cuts illustrate the vital connections between the layers of an ecosystem in this magical book. Wander down the forest path to learn how every tree, flower, plant, and animal connect to one another in spiraling circles of life. An acorn is just the beginning.
Hocus Pocus, It's Fall! by Anne Sibley O'Brien
Fall is a season of transition: apples are picked, and animals prepare for winter. Summer days are coming to an end, and there's a hint of winter in the air.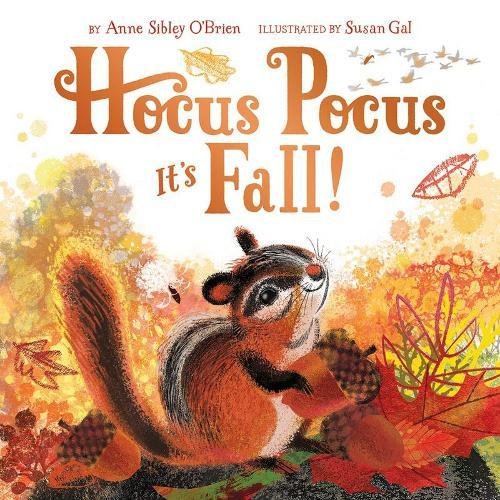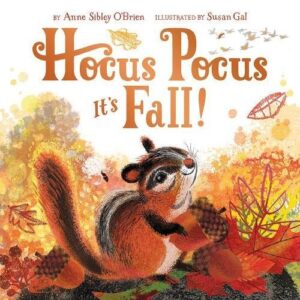 The Little Yellow Leaf by Carin Berger
As all the other leaves float off and fly past, Little Yellow Leaf thinks, I'm not ready yet. As the seasons change all around, Little Yellow Leaf holds on to the tree. Still not ready. Will Little Yellow Leaf ever be ready?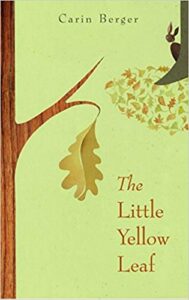 Autumn by Gerda Muller
Gerda Muller's beautiful 'seasons' board books are loved the world over. Beautifully illustrated, and with no words, children and parents can imagine their own story or simply spend time spotting characters and details in the lively seasonal scenes.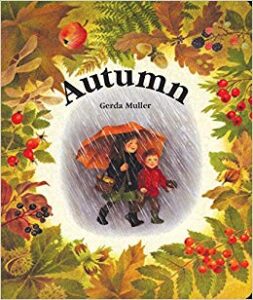 By the Light of the Harvest Moon by Harriet Ziefart
As the harvest moon shines down, the wind picks up, sending orange, yellow, and crimson leaves dancing, until they settle in a pumpkin patch. One-by-one, leaf people emerge to celebrate the autumnal equinox.
Woody, Hazel and Little Pip by Elsa Beskow
This delightful Fall story describes the woodland adventures of two acorn children who get carried away by the blustery wind. Mr Squirrel and Hazel, the youngest Hazelnut child, go off in search of them and encounter a grumpy troll and the Chestnut boys along the way. (Heads Up: This is a text heavy book!)
Leaves by David Ezra Stein
It's a young bear's first autumn, and the falling leaves surprise him. He tries to put them back on the trees, but it doesn't work. Eventually, he gets sleepy and burrows into the fallen leaves for a long nap. When he wakes up, it's spring, and there are suddenly brand-new leaves all around, welcoming him.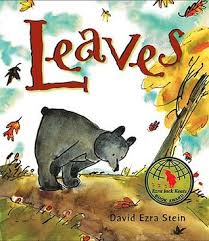 Over the River and Through the Wood by Lydia Maria Child
There are many versions of this book available but I'm partial to the illustrations from Christopher Manson and also the version by Emma Randall.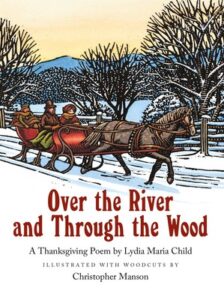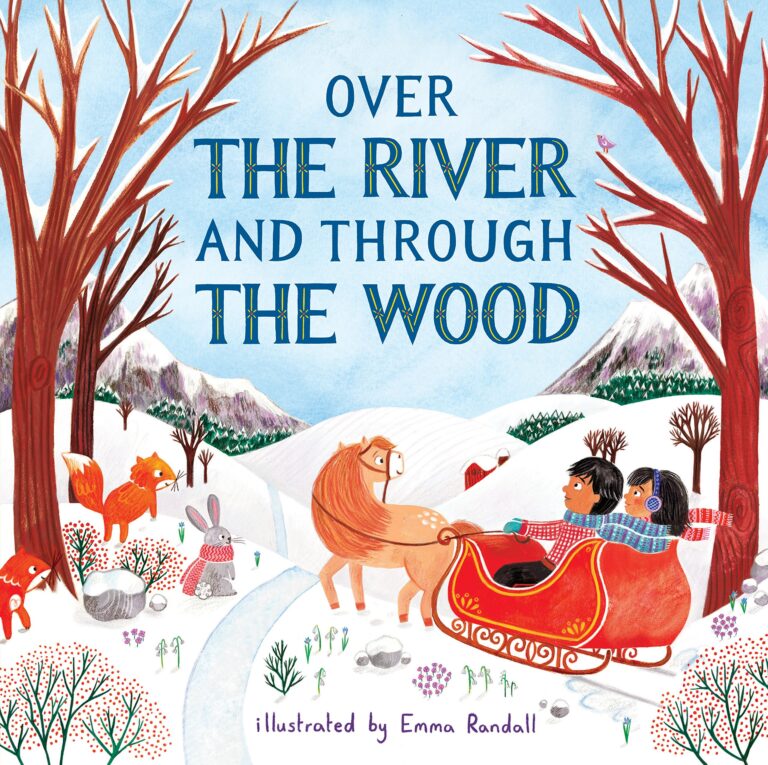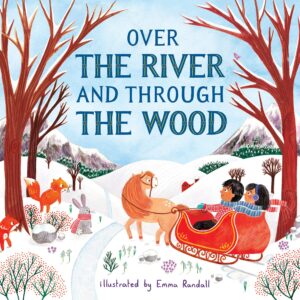 Flora's Very Windy Day by Jeanne Birdsall
When Flora and her pesky little brother, Crispin, are whisked away by a swirling and swooping wind, she gets the opportunity of a lifetime: the chance to give her brother away. With tempting offers from a dragonfly, the man in the moon, and even the wind itself, she will find it difficult to choose. But Flora would do anything to get rid of Crispin, wouldn't she?
In the Middle of Fall by Kevin Henkes
In the middle of fall, it takes only one gust of wind to turn the whole world yellow and red and orange.
Fall Ball by Peter McCarty
Bobby and his friends wait all day for school to end and for their chance to play outdoors in the fall weather. Flying leaves, swirling colors, and crisp air make the perfect setting for a game of football with Sparky the dog. The kids are surprised by how quickly it gets dark, and even more surprised when it begins to snow. But there's no need to worry―the chilly nights ahead will mean watching football on the couch with family, tucked under a cozy blanket.
Yellow Time by Lauren Stringer
Children and animals alike excitedly anticipate yellow time, when the trees release their colorful leaves to blanket the earth, crows raise their voices joyfully from the bare branches, and squirrels busy themselves preparing their nests for winter. This lyrical celebration of the beauty and fun of autumn is sure to become a perennial fall favorite.
Click here to see the whole list on Amazon!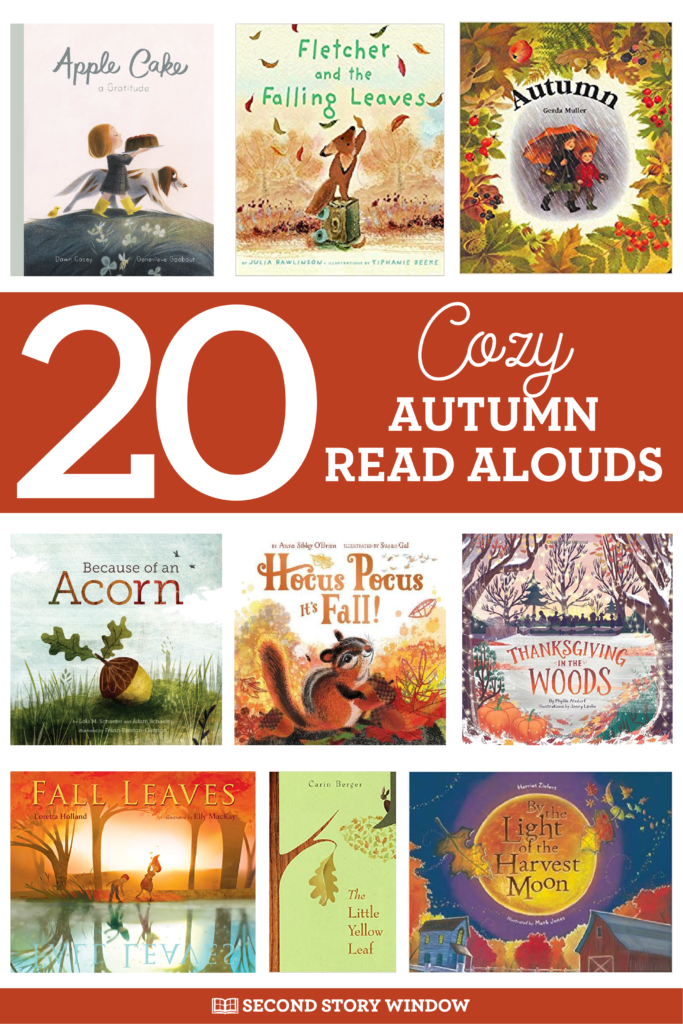 You may also be interested in: