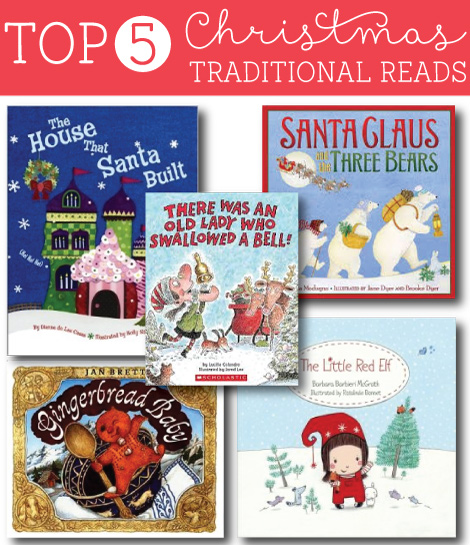 1. The House that Santa Built by Dianne de Las Casas  W
New for 2013, this is a Christmasy spin on that old favorite The House that Jack Built.  The author tries hard to work in lots of sound words: creak, clap, stomp, squeak, etc.
2. The Little Red Elf by Barbary Barbieri McGrath  WW
Adorable pictures take on the familiar Little Red Hen.  In this version, the Little Red Elf is doing her darndest to get everything ready for Christmas–all by herself.  If you don't help decorate the tree should you get to help open presents?  Probably.  It is Christmas after all.  Just don't complain if you end up with a little red hen as a gift.  I always read this to my class after reading the traditional Little Red Hen so that they get the joke.
3. Gingerbread Baby by Jan Brett   WWW
This isn't specifically a Christmas book, but with gingerbread and a snowy landscape it fits right in.  This is one of my favorite Jan Brett books and one of my favorite versions of the gingerbread man.  In this story, Matti starts to make a gingerbread man, but when he peeks in the oven, out pops a gingerbread baby.  The village chases the naughty baby through the forest.  This has a gentler ending than the traditional story when Matti makes a special house for the little cookie baby.  Like any Jan Brett book, make sure to pay attention to the pictures on the borders of the pages.
4. There Was an Old Lady who Swallowed a Bell! by Lucille Colandro  W
Packing the sleigh is one of the most important Christmas Eve jobs, and the Old Lady has a very unique way of doing it!  If you're familiar with any of Colandro's There Was an Old Lady Who… books or the traditional song, you'll understand where this story is going.
5. Santa Claus and the Three Bears by Maria Modugno  WWW
While waiting for their Christmas pudding to cool, the three bears set off for a walk in the woods.  While they're out, Santa decided their house is the perfect place for a little Christmas Eve rest.  This is new for 2013 and what you can't tell from the photo is how absolutely charming the illustrations are.  I'm a sucker for Jane Dyer's work!
Honorable Mention
The Three Bears' Christmas by Kathy Duval  WW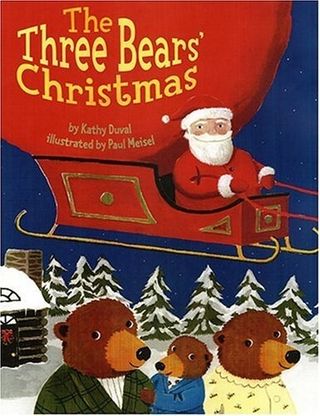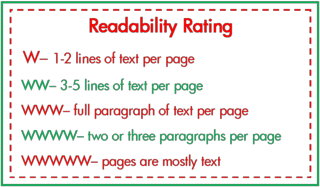 Want more Christmas book recommendations? We've got you covered!