Phonics Worksheets & Spelling Activities & Games MEGA BUNDLE Word Play Phonics
This Word Play Phonics and Spelling All Access Pass gives you all of our current phonics and spelling offerings and anything we offer in the future. Current value of this bundle is over $450. The price of this pass will increase as we add more resources.
Supercharge your phonics and spelling instruction with our 'Phonics Spelling All-Access Pass: Word Play All Phonics Mega Bundle'! Designed for teachers, this comprehensive and engaging resource provides you with all the tools you need to help your students master phonics and spelling concepts. With over 5000 spelling and phonics worksheets, activities, and fun games, your students will have endless opportunities to practice and reinforce their phonics and spelling skills.
If you love the phonics and spelling games, activities, and worksheets from Second Story Window and want to have every single word work resource that we offer, this bundle is for you! With easy-to-follow lesson plans and answer keys, this product will give your students the gift of literacy! Buy this science of reading pack now and watch your young learners soar!
What's included in the "I Want It All!" Word Play Phonics All Access Pass:
⭐️ 1st Grade Phonics Lessons (only available in bundles)
⭐️ 1st Grade Daily Decoding routines (only available in bundles)
⭐️ 1st Grade Word Family Poetry
⭐️ 1st Grade Differentiated Word Sorts
⭐️ 2nd Grade Phonics Lessons (only available in bundles)
⭐️ 2nd Grade Daily Decoding routines (only available in bundles)
⭐️ 2nd Grade Word Family Poetry
⭐️ 2nd Grade Differentiated Word Sorts
⭐️ Chunk Spelling Worksheet Bundle
⭐️ And any phonics resources we add in the future!
That's 5000+ pages of science of reading phonics materials worth $450+ dollars for an incredible deal!
Word Play Phonics is a developmental word study approach that can be easily implemented into your phonics instruction. It is a great way to differentiate instruction for your students with a program that's easy to manage. These printable activities are perfect for first grade and second grade students.
This All Access Pass includes all of the phonics and spelling activities, games, and worksheets we've created so you can mix and match resources to easily differentiate for your student's needs. Students will be given ample opportunity to practice short vowels, long vowels, CVC words, word families, spelling patterns, and more!
❤️From lesson plans to games, poems, and word sorts, we've got a wide collection of printable phonics worksheets and materials to help you build your student's phonics skills.
Types of printable worksheets and materials included: 
✅ word family phonics worksheets
✅ whole group phonics lesson plans
✅ small group phonics word sorting lesson plans
✅ phonics activities
✅ phonics games
✅ spelling activities
✅ word sorts and word games
✅ decoding and dictation activities
What are teachers saying about these phonics and spelling activities, games, and worksheets? 
⭐️⭐️⭐️⭐️⭐️ "I can't tell you how much I appreciate the thoughtfulness of the whole program. You've really "hit the nail on the head" as they say, with differentiation, developmentally appropriate lessons, gradual release of responsibility, working on stamina and accountability. I LOVE it. I'm so grateful for all the hard work you have done. You are truly rockstars!" – Shannon, 2nd grade teacher
⭐️⭐️⭐️⭐️⭐️ "This program is incredibly comprehensive and well thought out. I'm amazed at the level of detail and it's worth every penny. I'm excited to implement chunk spelling this year and feel so much more confident starting it with this amazing curriculum by my side." – Rachel, 1st grade teacher
⭐️⭐️⭐️⭐️⭐️ "After doing Words Their Way and then running into your Word Study Curriculum, I am delighted. You have added the missing pieces of spelling. My kiddos have had a great time with the sorts and now the chunks. They love the poems and can hardly wait for the next week's activities. Thank you so much for sharing such an outstanding resource!" – Tami, 2nd grade teacher
Looking for FREE worksheets? Try one full week of our phonics and chunk spelling materials! CLICK HERE to sign up for our mailing list and receive 1 week of free phonics worksheets and spelling instruction delivered to your inbox right now.
___________________________________
Copyright © Second Story Window
Permission to copy for single classroom use only.
Please purchase additional licenses if you intend to share this product.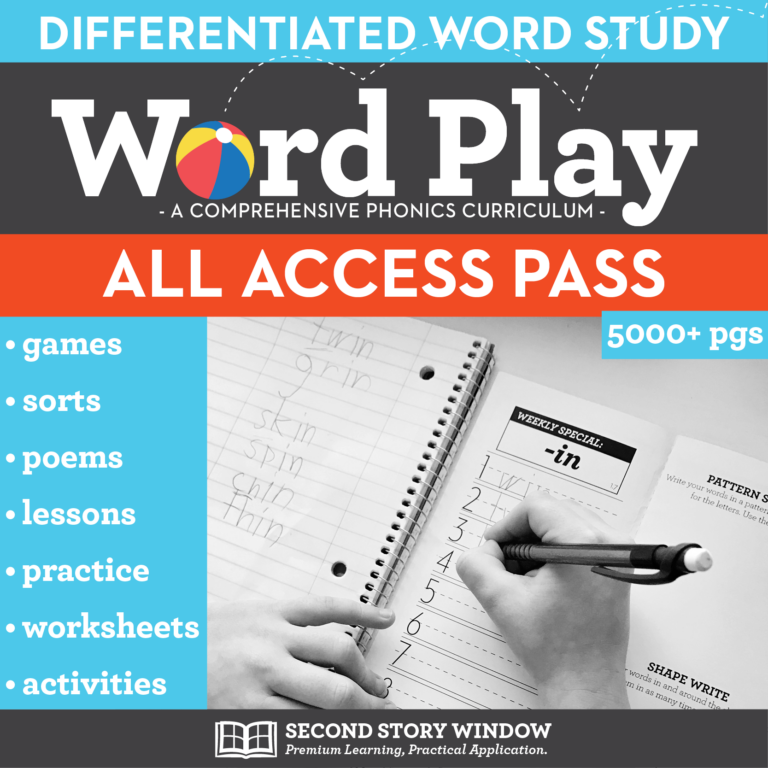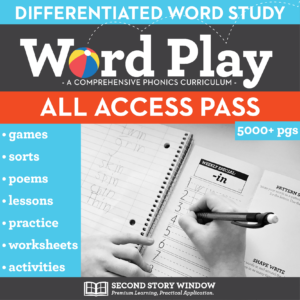 Phonics Worksheets & Spelling Activities & Games MEGA BUNDLE Word Play Phonics