2nd grade homework. 180 days of math and ELA spiral review homework. Each day contains a half-sheet with ELA on one side and math practice on the other. Copy back to back and cut down horizontally across the middle.
NEW! This product now contains both print + Google Classroom compatible versions of this product!
---
Other homework bundles:
---
2nd grade homework cycles through 5 language art areas:
Phonics — vowel and consonant practice
Comprehension — reading and responding
Grammar — nouns, verbs, adverbs, adjectives, contractions, past tense, subject-verb agreement, etc.
Writing — composition and editing
Vocabulary — context clues, glossary skills, synonyms, compound words, etc.
And 5 math areas:
Place Value — combinations to ten, using ones and tens, number patterns, expanded form, etc.
Fast Facts — computational fluency with combinations to 20
Problem Solving — addition and subtraction (one and two-step problems) with 1-3 digits, comparisons, multiplication, division, money, and writing their own problems.
Graphing — practice with pictographs, line graphs, line plots, bar graphs, tally charts, and data tables.
Review — even and odd numbers, greater than/less than, geometry, fractions, measurement, money, telling time, and place value.
2nd grade homework includes:
180 days of common core aligned math/ELA practice
Answer Key
Now includes Google Slides!
Be sure to download the Bonus file to get the ELA and Math homework combined into one file AND the digital files!
---
You may also be interested in 2nd grade:
---
Connect with us! • Second Story Window • Facebook • Twitter • Pinterest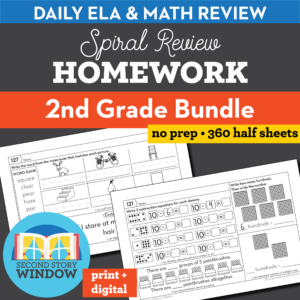 2nd Grade Homework Bundle • Spiral Review Math and ELA Homework 2nd