3rd Grade Reading Fluency Passages + Comprehension Worksheets Print & Digital
36 weeks of homework or intervention to improve third grade students' reading fluency and close reading skills! Includes a weekly fluency passages, reading comprehension activities, fluency growth charts, and Google Slides and Google Forms options.
Enhance your 3rd grade students' reading comprehension and fluency skills with this comprehensive Reading Comprehension and Fluency Practice resource! Designed with 3rd grade standards in mind, this resource includes engaging reading fluency passages and practice activities that will help your students develop their reading skills and improve their overall performance. Don't miss out on the opportunity to help your students become confident and proficient readers this school year!
Whether you're a new teacher or a seasoned educator, this Google Classroom compatible fluency resource is the perfect addition to your reading curriculum. Offered in both print and digital formats, these 3rd grade comprehension worksheets and reading fluency passages come with 36 weeks of homework, in class practice, or intervention.
3rd Grade Comprehension Worksheets and Leveled Passages Included:
⭐️4 weeks reading level J (set 2)
⭐️4 weeks reading level K (set 2)
⭐️4 weeks reading level L (set 2)
⭐️4 weeks reading level M (set 2)
⭐️4 weeks reading level N (set 1)
⭐️4 weeks reading level N (set 2)
⭐️4 weeks reading level O (set 1)
⭐️4 weeks reading level O (set 2)
⭐️4 weeks reading level P (set 1)
Each week of reading comprehension and fluency passages contains:
2 pages (copy double-sided)
1 leveled fluency comprehension passage for daily reading (alternating fiction and non-fiction)
4 days of short close reading activities
Parent Tip
Alternate question page with multiple choice close reading comprehension questions
Answer Key for multiple choice questions
Fluency growth chart tracking sheets
Fluency folder covers
NEW: Now includes digital versions for Google Slides (annotation + open-ended questions) and for Google Forms (multiple choice/short answer questions)
❤️You will LOVE how EASY these third grade reading intervention and homework passages are to use! Simply print the fluency passages you need for the week and copy them back-to-back. Students work on one page per week as they develop the skills to become fluent readers.
These reading comprehension homework passages have been set up to make this run as smoothly as possible for Mom and Dad!
✅Each page is divided into 4 sections and labeled Day 1, Day 2, Day 3, Day 4.
✅Students practice reading the weekly fluency reading passage
✅Students complete a quick close reading activity to help strengthen reading comprehension skills
❤️There are also weekly parent tips to give families ideas on how to support their third grader at home.
You could send home the same assignment or passage with each student for the week or use the different levels to differentiate. Using these 3rd grade fluency passages for reading interventions is a great way to support the needs of all your 3rd graders.
✅Check out the preview for a closer look at what is included with these fluency resources!
What are teachers saying about these reading fluency homework assignments?
⭐️⭐️⭐️⭐️⭐️ "These are perfect for fluency practice either as homework or a center activity.  It is easy to differentiate for each student." – Michelle M.
⭐️⭐️⭐️⭐️⭐️ "I use these as part of a weekly homework packet that I send home. I love the parent tips and think it's very valuable practice for the students." – Jennifer R.
⭐️⭐️⭐️⭐️⭐️ "This is a great fluency resource. I gave it to my students for homework practice. I loved the different questions it asked. Students shown growth in their reading with these." – Christina L.
Please note: the Level J, K, L, M reading passages in this bundle are different than the ones in the 2nd Grade Fluency Bundle.
_____________________________________________
Bundle & Save! 
Purchase the  to get this resource and all our other fluency passages for a great discount.
You may also like…
___________________________________
Copyright © Second Story Window
Permission to copy for single classroom use only.
Please purchase additional licenses if you intend to share this product.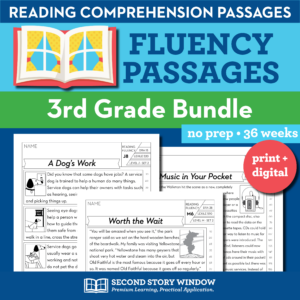 3rd Grade Reading Fluency Passages + Comprehension Worksheets Print & Digital