Reading Fluency Homework Level D Set 1
4 weeks of homework or intervention to improve kindergarten and first grade students' reading fluency. This is Level D Set 1. Estimated levels: Guided Reading D, DRA 6, Lexile 180
4 weeks of homework or intervention to improve kindergarten and first grade students' reading fluency. This is Level D Set 1. Estimated levels: Guided Reading D, DRA 6, Lexile 180
What does Level D look like?
increasing number of lines of text per page
less repetition
some words in bold for emphasis
word-solving strategies may be required to understand meaning
simple dialogue
→Save $$ by purchasing this set as part of the Kindergarten Fluency Bundle.←
Print the pages you need for the week and copy them back-to-back. Students work on one page per week at home. The assignment is set up to make this run as smoothly as possible for Mom and Dad. Each page is divided into 4 sections and labeled Day 1, Day 2, Day 3, Day 4. Students practice reading the assignment for the day and then complete a quick sight word activity to help strengthen skills. There are also weekly parent tips to give families ideas of how to support their students at home.
Each week contains:
2 pages (copy double sided)
1 leveled passage for daily reading
4 days of sight word practice
Parent Tips
Leveled Reading Fluency Passages:
4 weeks reading level D (Set 1)
=====================================================
→Need more Level D passages? Check out Level D Set 2 or get it as part of the 1st Grade Fluency Homework bundle.←
=====================================================
Connect with us! • Second Story Window • Facebook • Twitter • Pinterest
=====================================================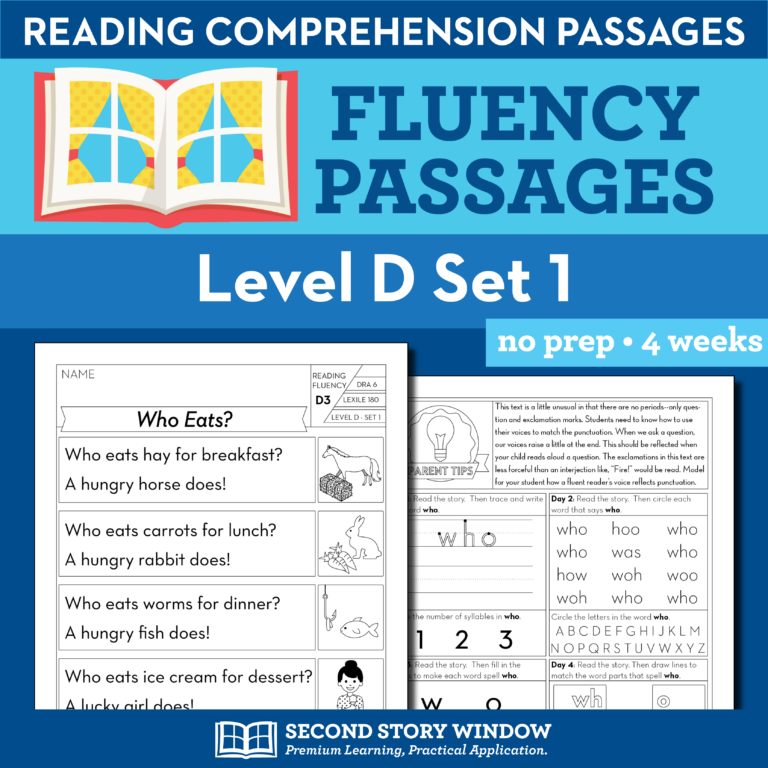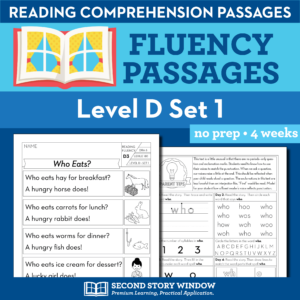 Reading Fluency Homework Level D Set 1