Looking for MEANINGFUL 1st grade homework for students that helps them spiral review the ELA standards? This resource comes with 90 pages of daily 1st grade ELA homework that can be used over 180 days. This parent-friendly, paper-saving homework is no prep and easy to use at home or at school!
Each page comes with 2 days worth of half-sheet ELA homework. Plus, each page is labeled with an "I can" statement for each topic to help grown up helpers understand the activity. This product now contains both print + Google Classroom and Seesaw compatible versions of this product!
Included with this 1st grade homework packet:
180 days (90 pages) of common core aligned ELA practice
Answer Key
Google Slides for each week
Seesaw – Click & Assign for each week
This spiral review ELA homework packet is PERFECT to use throughout the year as it covers a variety of language skills and increases in difficulty as it reviews. These first grade worksheets are a great way to give your students daily practice of English language arts skills. They can be used as homework or as daily exit tickets!
1st grade ELA homework cycles through 5 language art areas:
✅ Phonics – short and long vowel word family practice
✅ Sight words – daily high-frequency practice
✅ Vocabulary – word usage and dictionary skills
✅ Grammar – nouns, verbs, adjectives, adverbs
✅ Writing – composing and expanding sentences
Daily Spiral Review is one of the most effective ways to help young children move their learning from short term to long term memory. Every time our students retrieve information from their memories it becomes easier to recall that information in the future. These first grade homework worksheets are the easiest way to help your 1st graders remember important skills.
What makes our homework half sheets special?
❤️ Horizontal (easy to project!) half pages
❤️ Printable worksheet has a paper-saving half-sheet design
❤️ Parent-friendly details
❤️ Effective content review that is not time-consuming or overwhelming
❤️ Detailed answer key
❤️ High-quality, non-distracting design
❤️ Both Math & ELA content
❤️ Carefully planned activities designed to build independence in students
❤️ Expertly spiraled content that constantly reviews and increases in difficulty
❤️ Key features designed to help students deepen their understanding
❤️ Digital versions now included: Google Slides and Seesaw
What teachers are saying…
⭐️⭐️⭐️⭐️⭐️ "I love that this is common core aligned. I will be using this for homework for my students who have special needs. I love that their is one skill per day. This will be easy for parents to follow and support their students. So excited to use this!" – Aimee S.
⭐️⭐️⭐️⭐️⭐️ "Makes homework quick and easy!" -msnicolewalker
⭐️⭐️⭐️⭐️⭐️ "This package has made my weekly homework a BREEZE. Thanks for all the thought and effort that went into making this product. I LOVE IT." – Maestra C.
___________________________________
Bundle & Save! 
Purchase the 1st Grade Homework Math & ELA Bundle to get this ELA and math worksheet homework pack at a discounted price.
You may also like…
_____________________________________________________
Copyright © Second Story Window
Permission to copy for single classroom use only.
Please purchase additional licenses if you intend to share this product.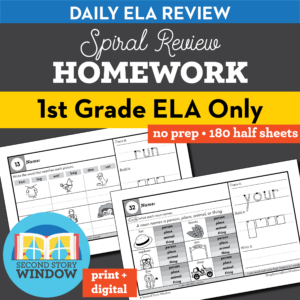 1st Grade Homework ELA Spiral Review