1st Grade Language Arts End of Year Cumulative Review Editable ELA Google Slides Activity
This resource contains 128 editable Google Slides to review 1st Grade Language Arts standards in an engaging get-up-and-move activity! Also includes black and white slides and a color answer key slide show.
1st Graders love this get-up-and-move language arts cumulative review! Easily review the important ELA concepts of 1st grade in this engaging, hands-on cumulative review activity.
We love using these Google Slides for an around the room activity.
✅ Choose any of our 128 editable slides for 1st grade language arts review. The answer sheets are formatted for up to 4 questions per topic each time you use this activity.
✅ Then either display them on devices like student laptops on each desk or print and post the questions all around the classroom.
✅ Give each student a recording sheet and let them loose to answer the posted questions in any order, at their own pace.
✅ Students can write the question number under the correct icon and then write their answer.
Here's what you get:
128 full color editable Google Slides with one review question on each slide
128 black and white editable Google Slides, perfect for printing
A slideshow that includes the answers for reviewing as a class
Student answer sheet
Teacher's Guide
❤️ Your students will love being able to get up and move while they work and the chance to work at their own pace while they review 1st grade language standards.
❤️ You'll love how engaged your students are while doing important end of year review and getting a snapshot of what your students know.
Just print (or display Google Slides on devices) and this activity is ready to go! The large variety of questions means you can do this activity multiple times. It's a great way to assess your students' understanding and help them recall previous learning information. Plus they're editable so it's easy to change any questions or add your own.
The 8 topic areas covered in these editable review Google Slides:
Blends and digraphs
Vowel sounds
Grammar
Phonemic Awareness
Parts of Speech
Spelling
Conventions
Vocabulary
TEACHERS ARE SAYING…
⭐️⭐️⭐️⭐️⭐️ "An absolute must-have to know what your students know. Used it as the pretest at the beginning of the year as well." – Francis O.
⭐️⭐️⭐️⭐️⭐️ "I love giving the students the opportunity to move while providing valuable assessment information." – Jennifer M.
⭐️⭐️⭐️⭐️⭐️ "My favorite review!!! I hung them in the hallway and it was grabbing lots of attention!" – Eileen G.
Supports Common Core Standards (CCSS):
R.F.1.2, R.F.1.3
L.1.1, L.1.2, L.1.5
___________________________________
Bundle & Save! 
Purchase the 1st Grade Cumulative Review Bundle to get this resource and our 1st Grade Math Cumulative Review for a great discount.
You may also like…
1st Grade Spiral Review Homework
1st Grade Spiral Review Morning Work
1st Grade Summer Review
___________________________________
Copyright © Second Story Window
Permission to copy for single classroom use only.
Please purchase additional licenses if you intend to share this product.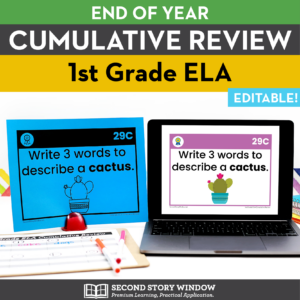 1st Grade Language Arts End of Year Cumulative Review Editable ELA Google Slides Activity