Decodable Passages Reading Fluency and Sight Word Practice Level D Set 3
4 weeks of homework or intervention to improve kindergarten and first grade students' reading fluency. This is Level D Set 3. Estimated levels: Guided Reading D, DRA 6, Lexile 180.
Ready to help your beginning readers build their decoding and fluency skills? This set of decodable passages comes with 4 weeks of leveled decodable passages with high frequency sight word practice. They are perfect for reading fluency homework or reading interventions!
With these decodable passages, your students will read a passage each day to build their fluency skills with repeated readings. These engaging decodable passages take only a few minutes a day to complete and have built in high frequency sight word practice.
Included in Level D Set 3 decodable passages:
⭐️ 4 weekly decodable reading fluency passages
⭐️ 4 weekly high-frequency word practice pages
⭐️ An extra version of each passage *without* the levels on the page
⭐️ Coming soon: Digital versions for Seesaw and Google Slides
What does Level D look like?
✅ easily decodable with many CVC words
✅ includes beginning and ending digraphs
✅ includes beginning blends
✅ engaging and worth rereading
✅ short to keep kids motivated
✅ uses high-frequency words strategically
✅ includes pictures that support comprehension
✅ are actually FUN to read!
Estimated Level Correlations: Guided Reading D, DRA 6, Lexile 180.
❤️ Your students will LOVE using these decodable passages as they build their confidence with decodable CVC words, grow their reading fluency skills, and learn new high frequency words.
❤️ You will LOVE these decodable passages because they provide you with quality reading fluency materials that can be used daily to support your students and their reading needs.
Using these decodable passages with high frequency word practice as reading comprehension homework or reading intervention is EASY!
✅ Print the decodable passages you need for the week and copy them and the high frequency sight word practice back-to-back
✅ Students work on one page per week at home
✅ Each passage and practice page is divided into 4 sections and labeled Day 1, Day 2, Day 3, Day 4 – so simple!
❤️ Your parents will LOVE these decodable passages for fluency homework assignments because they run so smoothly and can be done in only a few minutes! There are also weekly tips to give families ideas of how to support their students at home as they build their decoding and fluency skills.
✅ Check out the preview for a closer look at what is included with these reading fluency passages!
What teachers are saying about these decodable passages for reading fluency:
⭐️⭐️⭐️⭐️⭐️ "I am using this with my struggling 2nd graders. I differentiate the fluency that I send as homework, so it's nice that even my students that have difficulty with reading get fluency homework that is similar to what their peers get." – Sunny Days in Second
⭐️⭐️⭐️⭐️⭐️ "I have purchased several of these Reading Fluency Homework sets so that I can use them for homework for my special education students. These sets make it easy to match homework with my students' reading levels. As my students grow in their reading abilities, they will continue to have familiar homework at their new levels. " – Celeste D.
⭐️⭐️⭐️⭐️⭐️ "This is a great resource to use with my lower readers. I love that there are four passages that are at a similar level. This makes it easier for students to practice at their level with a variety of passages." – Karin B.
___________________________________
Bundle & Save! 
Purchase the Fluency Passages Mega Bundle to get this resource and all our other reading fluency passages for a great discount.
You may also like…
___________________________________
Copyright © Second Story Window
Permission to copy for single classroom use only.
Please purchase additional licenses if you intend to share this product.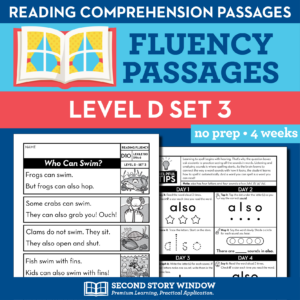 Decodable Passages Reading Fluency and Sight Word Practice Level D Set 3