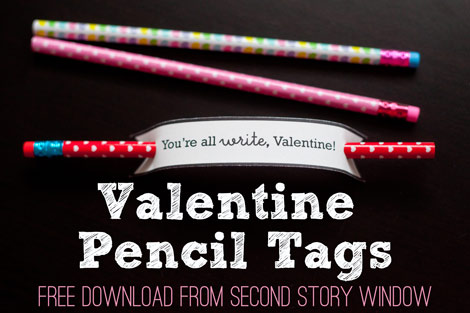 I know it's a little late in February for a new Valentine idea, but I just threw together this Valentine for something yesterday and thought I'd share the free download with you!
A couple of notes: The pencils were 8 for $1 at the Target Dollar Spot. The width of a pencil is a bit bigger than a traditional hole punch so I made circles in the right size on the tags and just punched a few holes with the punch until the circle was filled. And the pencil rounds out the hole nicely when you put it through.
This was easy, quick, and cheap! Plus it's a Valentine without candy and aren't all parents and teachers happy for another one of those ideas?
Download the pdf file for the tags below. Enjoy!


Note: These Valentines were inspired by this one and this one. See more Valentine ideas on my Valentine Pinterest Board.