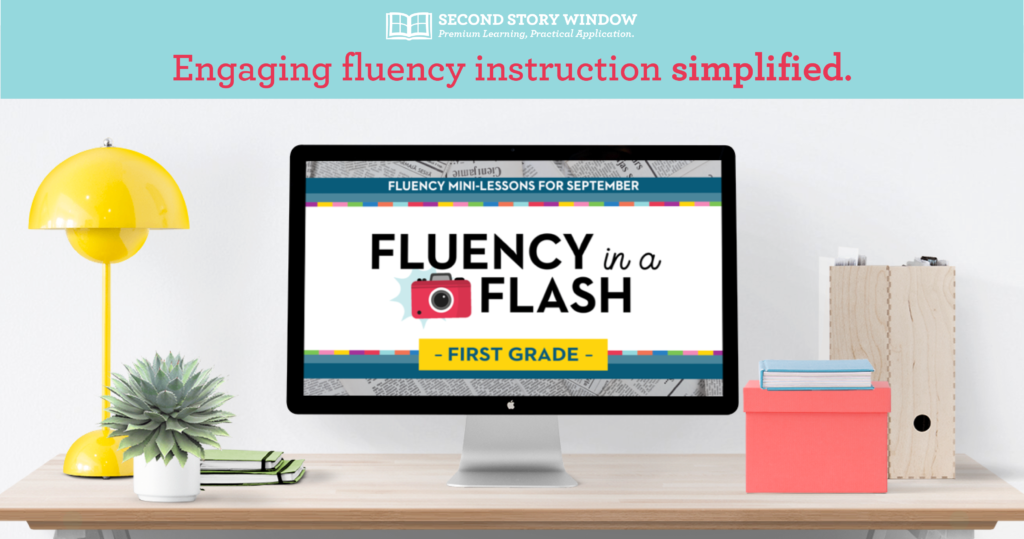 Over the last year and a half we've talked to countless teachers about fluency instruction in the classroom. When we help students recognize words effortlessly and teach them to read with appropriate expression and phrasing, we're allowing them to access texts in a more meaningful way.
Reading fluency is the key to unlocking the magic of reading.
Most teachers know how important fluency instruction is but there were a handful of things that teachers mentioned as common barriers to teaching fluency:
"I don't know how to teach fluency."
"I don't have time to teach another lesson."
"I don't want to prep materials for another lesson."
"I don't have room to store materials for more lessons."
We know exactly how this feels!
But what if you could teach fluency every day with…
content already prepared for you
only a few minutes
no preparation required
and no materials required (except a computer)?
That's why we created our new Fluency in a Flash no-prep digital fluency mini lessons for 1st and 2nd Grade. 3rd and 4th grades coming soon!
Note: At the moment, these files are only available for use with Microsoft PowerPoint. We're exploring other digital options for the future.
What is Fluency in a Flash?
Fluency in a Flash is a brief, targeted routine for practicing reading fluency daily. Each day of the week focuses on a specific fluency skill and can be completed in 2 or 3 minutes.
Simply project the day's lesson on your board and guide your students through the activity. Offer feedback on how they're reading and, if time allows, give them the opportunity to reread some or all of the day's materials.
What does a week of Fluency in a Flash for 1st and 2nd Grade look like?
Monday – Fantastic Phrases: Students practice reading sight word phrases with fluency to learn how fluent readers group words into meaningful phrases.
Tuesday – Punctuation Power: Students read the same sentence with multiple punctuation marks to learn how punctuation changes the meaning and sound of a sentence.
Wednesday – Rhythm & Rhyme: Students practice reading a short poem as a real-life opportunity to practice good phrasing and expression. They also have the opportunity to practice reading in different styles of voice to make this fluency practice extra fun. You can practice with up to 3 different styles per week.
Thursday – Syllable Slide: Students work with multi-syllable words to practice the efficient word attack strategies that help fluent readers quickly decode unknown words.
Friday – Find the Funny: Students learn how to use good phrasing, expression, and timing to successfully tell jokes. (Spoiler alert: your students will love this!)
1st and 2nd grade daily activities are the same but the content for each grade level is unique. Fluency in a Flash for 3rd and 4th grade is coming soon! Keep an eye out for another e-mail from us in the coming weeks.
Want to take a peek inside one of our fluency lessons?
Come join our Facebook group for an exclusive video peek inside!
---
Buy Early & Save!
These growing bundles are currently at a reduced introductory price! The full price will be $39.95 and we'll be raising prices as new content is added so don't delay!
Click here to buy the 1st Grade Fluency in a Flash Growing Bundle
Click here to buy the 2nd Grade Fluency in a Flash Growing Bundle
---
If you have any questions about this new program, let us know! We're so excited to get it out for you to use!