As a teacher, I really do love October. There are so many fun ways to add a little Halloween zing to your regular classroom routines.
Today we've got a fun freebie for you that puts a spooky twist on collective nouns!
Collective nouns are names for groups of people, animals, or things. Some of these are familiar to most English-speakers: a group of people, a class of students, a flock of birds, etc. Some–like a shower of rain, a troupe of actors, or a clowder of cats–are rarer, but more fun to discuss!
Terms don't need to follow the a ______ of ______ to be collective nouns. For example, army is still a collective noun even if you don't say an army of soldiers. However, for young learners, collective nouns are easier to identify if you stick with the a ______ of ______ format.
A key point for collective nouns is helping students keep the verb singular even though multiple components make up the noun. It's correct to say Six dolphins swim away, but if you use the collective noun, the verb changes to the singular: A pod of dolphins swims away. There still might be six dolphins, but collective nouns use the singular verb.
Depending on your students' ages and abilities, you may want to discuss this subject-verb agreement at length. However, if you teach younger students who are still a little shaky at even identifying nouns, you can get by with just touching on this issue, or maybe you don't even need to mention it at all. Decide what best meets the needs of your kids.
But even very young learners can have fun playing with collective nouns!
With these collective noun cauldrons, students list what's needed to make a spooky witch's brew–but these brews are special because all of the ingredients are collective nouns.
As a bonus, this is also a great activity for practicing commas in a series (kids can ALWAYS use more practice with commas!).
This free download includes everything you need to make collective noun cauldrons:
color and black and white templates
a sample list of spooky collective nouns
4-page teacher guide
---
Want to extend your collective noun lesson even further? Try adding a book! The books linked below include affiliate links, which means if you purchase we make a very tiny percentage of your purchase. Thanks for your support!
Some of our favorite collective nouns books: 
A Zeal of Zebras by Woop Studios
An Ambush of Tigers by Betsy R. Rosenthal
A Storytelling of Ravens by Kyle Lukoff
A Cache of Jewels by Ruth Heller
A Dignity of Dragons by Jacqueline Ogburn
A Troop is a Group of Monkeys by Julie Hedlund
Plus some fun Halloween-themed books:
A Tangle of Brungles by Shobha Viswanath
A Rattle of Bones by Kipling West (out of print, but cute if you can track down a copy)
Bone Soup by Cambria Evans and Bone Soup by Alyssa Capucilli are Halloween twists on the Stone Soup folktale. They deal more with the making of soup than collective nouns, but it would be simple to use one of these books as a jumping off point for this activity.
(Need even more collective noun books? Try searching "collective noun books" on Amazon.)
As always, please preview any books to ensure they're suitable for your class before reading them aloud.
As you dive into collective nouns, you'll find that some nouns have more than one variation of collective. For example, a band, a pack, or a run of coyotes are all correct. With this activity, you'll probably have a creative kid or two who want to list a noun you're not familiar with. No worries– you can typically find what you need by Googling the noun plus collective noun. For example, hyena collective noun.
But really, collective nouns don't have to be from an official source to be valid. Try making up some of your own! What would you call a group of jack-o-lanterns?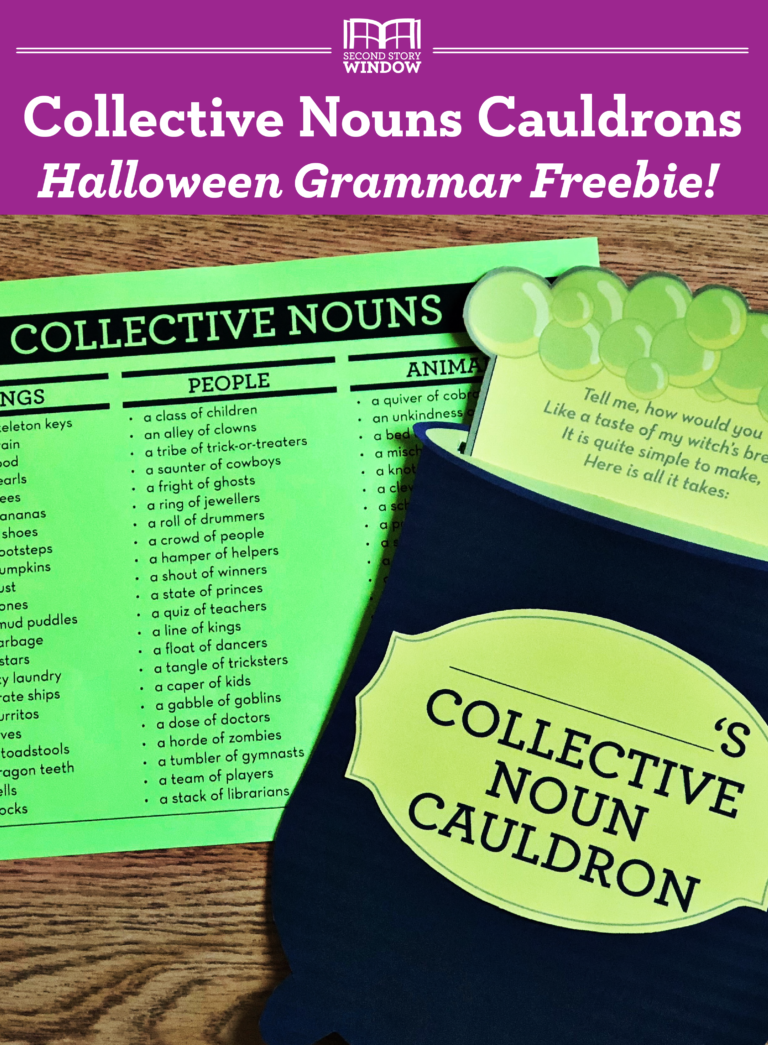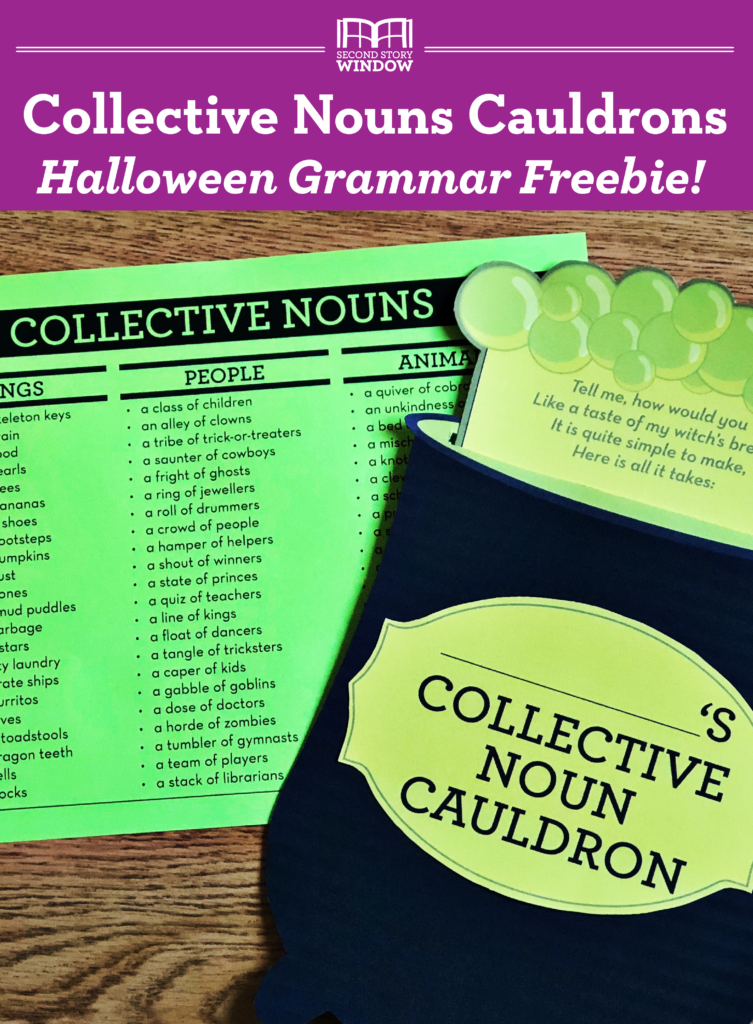 ---
Need some more Halloween activities?
Check out our Carving Out Time to Learn Halloween activities!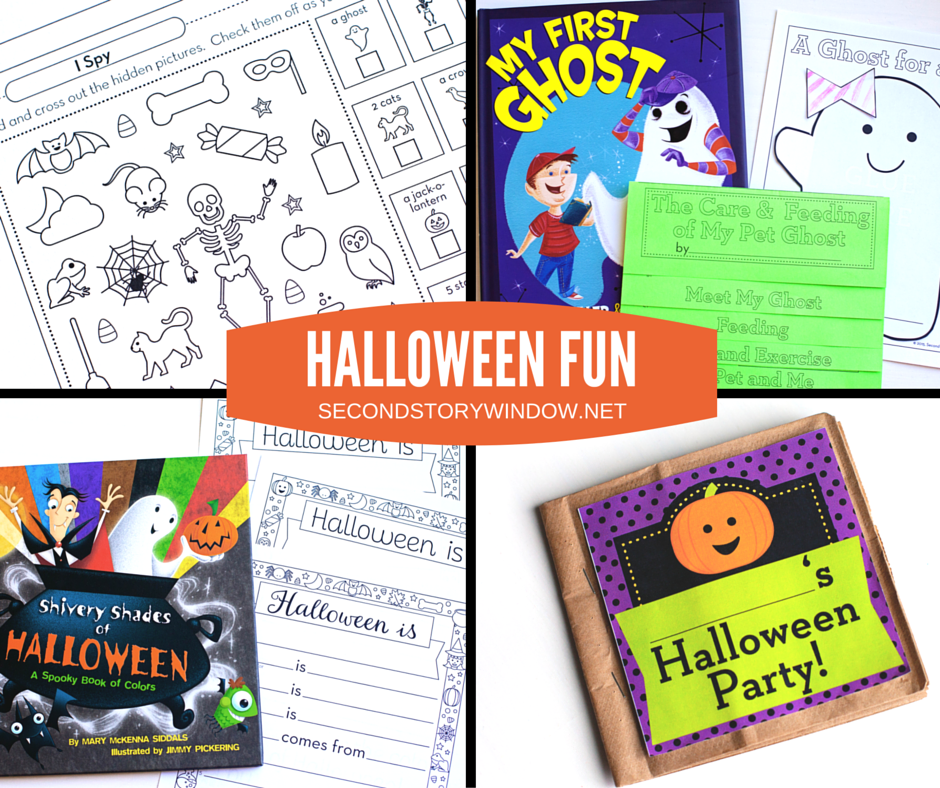 The Carving Out Time to Learn Halloween Activities BUNDLE includes:
• Differentiated NO-PREP math and literacy student work packet (60 pages, 3 different levels) that include leveled practice in abc order, plurals, adjectives, opinion writing, skip counting, addition, subtraction, multiplication, place value, and more!
• Halloween Party: seasonal party planning craftivity (14 pages)
• Shiver Shades of Halloween: color writing poetry craftivity (45 differentiated pages)
• My Pet Ghost: care manual and opinion writing craftivity (17 differentiated pages)
• More than 20 pages of teacher information, answer keys, book suggestions, and lesson ideas
Carving Out Time to Learn has everything you need to celebrate Halloween in grades 1-3 including differentiated work pages, craftivities, and book tie-ins. You students will love these Halloween activities!
And don't forget… the Halloween Brain Breaks and Halloween Vocabulary activities!