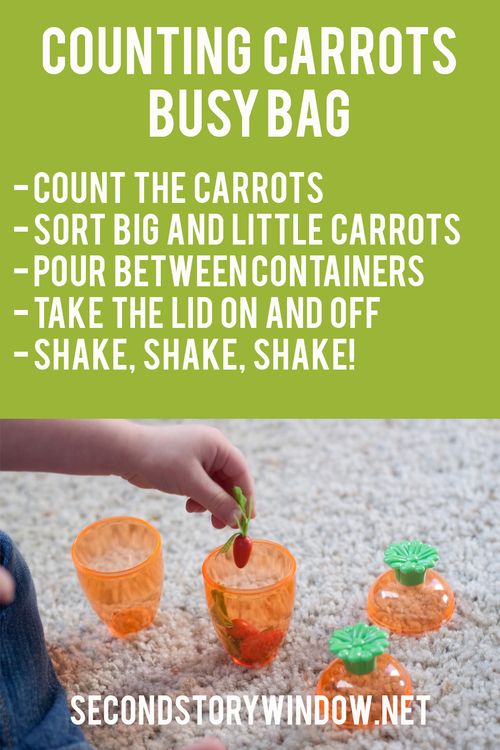 I put together this busy bag for Adelaide last spring and realized that I never shared it here! It is so simple but because it's such an open ended activity, she played with it quite a bit. At the time, she was 2 but at almost 3 she still enjoys it!
The supplies:
2 plastic carrot candy containers (see the same ones here)
12+ mini wooden easter egg ornaments (see the same ones here)
Note: I am NOT suggesting you buy the supplies from the links above. This busy bag cost less than $2 in supplies from the dollar store. I provided the links to them online so you could see what you are looking for when you go to the store.
The process:
The only prep to make this bag is snipping off the little string loops on the easter egg ornaments. That's it!
When I gave this busy bag to some friends I included in the bag the above image printed on a 4×6 photo to give them ideas. Feel free to save that image and print it at your local photo center for the same purpose. Adelaide played with the supplies in all the ways listed above without me having to show her any of them. I imagine most toddlers would react to these supplies in the same way.
As always, please supervise your children with these supplies, particularly if they are still in the stage of putting small items in their mouth.
This busy bag could truly not be easier to make. Wishing you luck on your next dollar store shopping trip!
Feeling inspired? Learn how to host your own busy bag exchange.
Looking for more busy bag ideas? See all our busy bag ideas here.
Need even more inspiration? Follow my busy bag pinterest board (my most popular board!)