#1 The Legend of Old Befana by Tomie DePaola  WWW
I cry every time I read this.  Seriously.  This book has a special spirit and the kids feel it too.  When I read the last few pages, all the wiggles are stilled and everyone is paying attention.  This is a retelling of the Italian legend of La Befana.  She's a cantankerous old woman who is disturbed one day by some passing kings.  They ask the way to Bethlehem and ask her to accompany them.  She declines, but later regrets it.  Sadly, she never caught up with the kings, but she's still trying.  Every year on Epiphany, she visits the children and leaves the gifts because she never knows which one might be the Baby she's looking for.
#2 The Baker's Dozen: A Saint Nicholas Tale by Aaron Shepard  WWW
Even though this story takes place in America (New Amsterdam), its roots are in the Netherlands.  Van Amsterdam is a baker whose fairness has made him prosper.  But he lacks generosity.  After being cursed, he realizes the error of his ways and begins to offer more than he's paid for–just as Saint Nicholas does.
As a proper Dutch girl, I always substitute Sinterklaas for "Saint Nicholas."  My wooden shoes and I have strong feelings on this subject.
#3 Cobweb Christmas by Shirley Climo   WWW
This book is based on a German folktale about the origins of tinsel.  There are different versions of this story, but this is my favorite because of the delightful illustrations by Jane Manning.  Her drawings even make me think spiders might almost be cute!
In the story, little old Tante is preparing for Christmas.  The spiders are so excited by the Christmas tree that they run up and down all over, leaving their sticky threads behind.  Kriss Kringle doesn't want Tante to be upset so he works some Christmas magic and turns the webs into silver.
#4 The Legend of the Poinsettia by Tomie DePaola  WWW
This is a sweet story that takes place in Mexico this time.  Lucida's mother is ill.  Her father is away.  She has nothing to give the Baby Jesus during the Christmas Eve mass.  A wise old woman tells her that every gift is special.  Lucida gives the only thing she has at hand–some green weeds.  As she places them at the manger, they turn a beautiful scarlet.  Some more Christmas Eve magic!
My only complaint with this story is that the old woman's lesson, "Every gift is special because it is given," is lost in the narrative.  I think the kids would get a fuller message from this story if there'd been a little more emphasis on the meaning of that one line.  Perhaps Lucida and the old woman could have discussed it a bit?
#5 Trouble with Trolls by Jan Brett WWW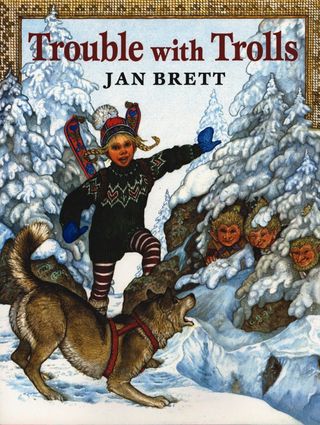 This is cheating since it's not an actual folktale, but Jan Brett works in many folktale elements, including the Scandinavian tradition of mischievous tomten trolls.
Want more Christmas book recommendations? We've got you covered!