Help your students master place value skills with this comprehensive place value worksheets bundle! These print and go worksheets and activities for place value pages are designed in a detailed scope and sequence that targets specific math place value skills in each set, growing in complexity at each level. They will make the perfect addition to your place value lessons as students learn about the ones column, tens column, hundreds column, and beyond!
With over 340 pages of targeted place value practice, these worksheets are a great way to help your students improve their understanding of place value by targeting them with the exact skills they need to improve. These place value worksheets are perfect for all learners in your classroom as they are differentiated throughout.
This printable Activities for Place Value Practice Bundle includes these practice sets:
⭐️ Set 1 – Ten Ones and Some Ones
⭐️ Set 2 – Teen Numbers as Ten and Some More
⭐️ Set 3 – Teen Numbers as Tens and Ones
⭐️ Set 4 – Numbers with Up to 3 Tens and Ones
⭐️ Set 5 – Composing 2 Digit Numbers 
⭐️ Set 6 – Flexible 2 Digit Numbers
⭐️ Set 7 – Composing 3 Digit Numbers
⭐️ Set 8 – Flexible Three-Digit Numbers
⭐️ Set 9 – Composing 4 Digit Numbers
⭐️ Set 10 – Flexible 4 Digit Numbers
⭐️ Set 11 – 5 Digit Place Value
⭐️ Set 12 – 6 Digit Place Value
⭐️ Set 13 – Extending Multi-Digit Numbers
⭐️ Set 14 – 10 Times the Value – Single Unit
⭐️ Set 15 – 10 Times the Value – Multiple Units
⭐️ Set 16 – Decimals Composing Tenths
⭐️ Set 17 – Decimals Composing Hundredths
***And any future place value practice pages sets we create
Our practice pages and activities for place value are unique in their specificity and scope. These no-prep skill pages build conceptual understanding of specific skills through practice with visuals before progressing to abstract representations. They are a fun way to to help with teaching place value to students of all ages.
Whether students are working on the ones place and tens place or are working on mastering the place value of large numbers, these worksheets will help every student in your class master the concept of place value. Another easy way to help you differentiate these resources is to allow students to use math manipulatives.
Included in each Math Place Value Practice Bundle:
20 print-and-go practice pages
Answer Key
Google Slides
❤️ You will love how easy it is to target your students' needs specifically and differentiate for a variety of needs with this comprehensive bundle of place value resources. Each set is designed to give you clear data on how well students understand the specific math concepts covered in the practice pages. This is a great opportunity to track students as they progress from smaller numbers to larger ones.
Use these math place value worksheets for…
✅ Math centers
✅ Independent practice
✅ Test review
✅ Targeted reteaching
✅ Small Group Intervention
✅ Homework
Supports Common Core Standards (CCSS): 
K.NBT.A.1, K.CC.A.3, K.CC.B.4
1.NBT.B.2, 1.NBT.C.5
2.NBT.A.1, 2.NBT.B.8
3.NBT.A.1
4.NBT.A.2, 4.NFC.5
5.NBT.A.1
What teachers are saying…
⭐️⭐️⭐️⭐️⭐️ "Wow, I love this resource and was so glad to have found it! It was perfect for my students who were just beginning place value." – Rhonda L.
⭐️⭐️⭐️⭐️⭐️ "A lot of packed in practice for all levels! This is perfect for me as a resource teacher, since I can get a different grade level every year." – Ainslee L.
⭐️⭐️⭐️⭐️⭐️ "I teach k-5 intervention and I've used it with students in grades k-3. I've already gotten my money worth on this. I love how cleanly it's laid out, how it covers so many skills, and how it can be used for such a variety of grade levels. It allows for direct instruction, practice (independent and partner), and assessment. A great product, like all your others. Thank you." – Lyons Den Teaching
You may also like:
___________________________________
Copyright © Second Story Window
Permission to copy for single classroom use only.
Please purchase additional licenses if you intend to share this product.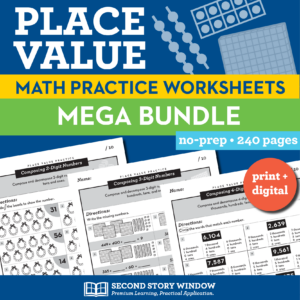 Worksheets & Activities for Place Value Mega Bundle