Morning Work Bundle Grades 3-4
Total Pages: 360
File Size: 66 MB
You have reached the maximum downloads for the monthly plan.
The original daily spiral review morning work! Our morning work/ bell-ringer expertly spiral reviews the language arts and mathematics standards.
This is a BUNDLE of the following 2 items:
4th Grade Morning Work (GROWING BUNDLE currently 100/180 pgs)
We call it morning work but this incredible review activity can be worked into any part of your school day. It's one thing we will never teach a day of school without because we've seen incredible results with our own students for years.
Daily Spiral Review is one of the most effective ways to help students move their learning from short-term to long-term memory. Every time our students retrieve information from their memories it becomes easier to recall that information in the future. Our Spiral Review includes both math & ELA content because studies show that mixing different content challenges the learner but leads to more flexible understanding and the ability to implement knowledge in varied situations. We space out how frequently students see certain content to help deepen their understanding.
What makes our morning work special?
Horizontal (easy to project!) pages
Detailed answer key
High-quality, non-distracting design
Both Math & ELA content
Carefully planned content designed to build independence in students
Expertly spiraled content that constantly reviews and increases in difficulty
Key features designed to help students deepen their understanding
Includes cursive handwriting skill practice!
3 unique, editable cover options (each in color and b&w)
NEW: Google Slides for each week
Please visit the links to the individual morning work listings to see their contents and previews.
_____________________________________________________
Join our Facebook Group to see more about this program and ask questions!
Connect with us! • Second Story Window • Facebook • Twitter • Pinterest
_____________________________________________________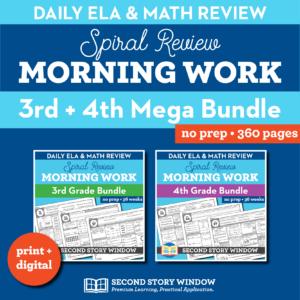 Morning Work Bundle Grades 3-4