The original 3rd Grade Spiral Review – Term 4! Our 3rd Grade morning work/ bell-ringer expertly spiral reviews the 3rd Grade language arts and mathematics standards.
We call it morning work but this incredible review activity can be worked into any part of your school day. It's one thing we will never teach a day of school without because we've seen incredible results with our own students for years.
NEW! This product now contains both print + Google Classroom compatible versions of this product!
Daily Spiral Review is one of the most effective ways to help students move their learning from short-term to long-term memory. Every time our students retrieve information from their memories it becomes easier to recall that information in the future. Our Spiral Review includes both math & ELA content because studies show that mixing different content challenges the learner but leads to more flexible understanding and the ability to implement knowledge in varied situations. We space out how frequently students see certain content to help deepen their understanding.
What makes our morning work special?
Horizontal (easy to project!) pages
Detailed answer key
High quality, non-distracting design
Both Math & ELA content
Carefully planned content designed to build independence in students
Expertly spiraled content that constantly reviews and increases in difficulty
Key features designed to help students deepen their understanding
Includes cursive handwriting skill practice!
3 unique, editable cover options (each in color and b&w)
NEW: Google Slides for each week
_____________________________________________________
3rd grade Morning Work cycles through 5 language art areas:
Phonics — vowel and syllable patterns
Language — figurative and dictionary skills
Grammar — nouns, verbs, adverbs, adjectives, contractions, past tense, subject-verb agreement, etc.
Writing — composition and editing, cursive handwriting
Vocabulary — context clues, shades of meaning, compound words, etc.
And 5 math areas:
Operations — multiplication and division practice from picture supported to fluent facts
Place Value — place value for 2-5 digit numbers and 2 and 3-digit addition and subtraction
Problem Solving — addition and subtraction (one and two-step problems) with 1-3 digits, comparisons, multiplication, and division.
Measurement — graphing, length (centimeters and inches), volume, mass, area, perimeter, telling time, and counting money.
Geometry — shapes and fractions
_____________________________________________________
3rd Grade Morning Work Term 4 includes:
45 days (9 weeks) of math/ELA spiral review
Answer key
3 editable cover options (color and b&w)
Google Slides for each week
___________________________________
Bundle & Save! 
Grab the  to get this resource plus 3 terms of morning work.
You may also like:
___________________________________
Copyright © Second Story Window
Permission to copy for single classroom use only.
Please purchase additional licenses if you intend to share this product.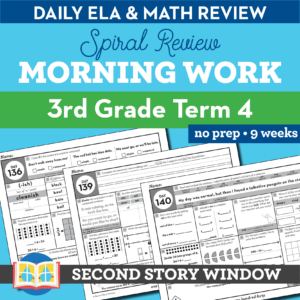 3rd Grade Morning Work Term 4 • Third Grade Spiral Review + Google Classroom