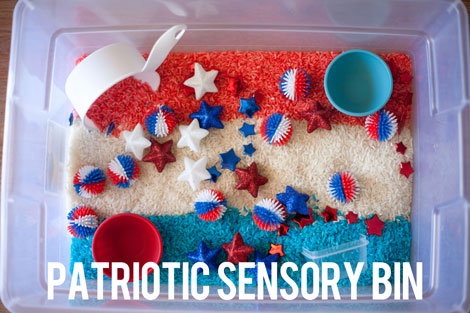 Better late than never right? I decided late that I wanted to do some patriotic themed activity with Adelaide this month, even though she's too little to understand the holiday. I placed an order for some items from Oriental Trading and the items showed up…. on July 5th. Oops! Oh well, I don't mind doing patriotic ideas all month!
Addie loves sensory bins so that's where I started. I dyed the rice blue and red with vinegar instead of alcohol, much less stinky and worked just as well. After dyeing it, I spread it on a cookie sheet and put it in the oven on the lowest temp for 15 minutes to dry it out which also helped get rid of any smell.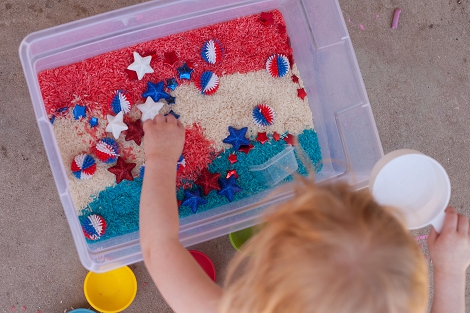 The glitter styrofoam balls and spikey balls came from OT. The little strings of stars were cut from a garland on clearance from Michaels. She loves them. Something about their 3-4 inch length makes them fun to drag around and put in containers and shake.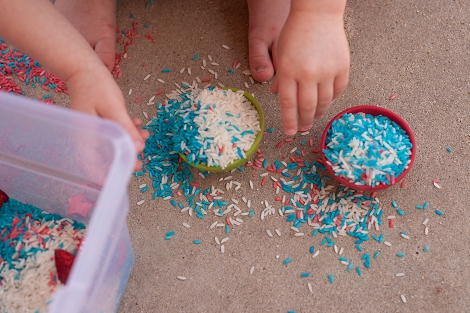 The little bowls in the bin are from World Market (but I've seen similar ones at Target.) They're "pinch" ingredient type bowls. They're probably Addie's favorite item in the bin! She saw the extra two (yellow, green) in the kitchen and wanted to use those too so I let her, even though they don't match the theme. (Who cares, right?)
Now, let's talk about the rice. The minute I took the first picture I had to move it outside because she was making a mess. Outside meant that I didn't have rice all over my house but it did mean that if I wanted to save all the rice she dumped out it would be dirty. Didn't love that idea.
I tried it inside on another day with a big table cloth underneath her and the bin. I tried to really emphasize that the rice had to stay on the cloth. That helped a little but it wasn't perfect. I don't get the impression she's intentionally being naughty, she's just having so much fun with the rice she can't help herself. But it's a huge pain to clean up.
So I don't have a perfect answer for dealing with the mess from the rice. We're still figuring it out. On the bright side, she's really been appreciating the sensory aspect of the rice and I think that's great! She especially loves the feel of it under her feet.