CLASS PARTY. The words sometimes strike fear in the heart of a teacher, right? As if we don't already have enough to do, we have to plan a class party too? Oh the chaos! But it turns out it's possible to put together a simple party, devoid of chaos, that's still tons of fun! Whether you're the teacher or the room parent planning the party, we hope this post gives you some great ideas!
ONE MAGIC KEY TO A STRESS FREE CLASS PARTY: STATIONS!
Yes, it's that simple. Here are the details for how we always do it, no matter the reason for the party. I've even used this method for my daughter's birthday parties and they always go off without a hitch!
Organization and Management
Divide the class up into small groups (ideally 3) and rotate between stations. The number of stations you need to plan depends on how much time you have and how many groups you want to have. Don't forget to plan a minute clean up at the end of each rotation. If the rotation isn't open ended, have a fast finisher because bored kids are naughty kids. I had a packet of holiday activity worksheets on each kids desk. If they finished the center early they could go work at their desks and go back to the center for the one minute clean up.
If kids have a craft or food from the center, they should put it back on their desks before rotating. A labeled paper sack can be helpful to contain the mess. If food is involved, a labeled ziploc bag is good for storing it in case there isn't time to eat it or the kid wants to save it till later.
If you don't have enough volunteers or helpers to run each station, make sure to choose activities that the students can manage and run themselves.
Basic Station Ideas
Bag decoration: Remember that labeled sack we leave on their desk to contain anything/everything they do at the stations? Decorating the back is a great station activity too!  Kids have a blast with stickers and markers!
Books: We ALWAYS make reading holiday books one of the stations. If possible, it's great to have a parent or helper reading to the group but you can always just have a stack of books out for them to peruse. You could work audio books into this station as well. Have you tried Musical Reading Chairs?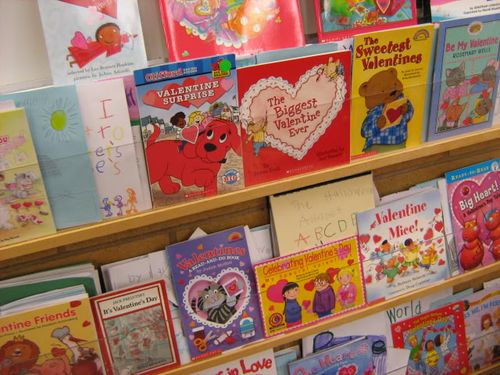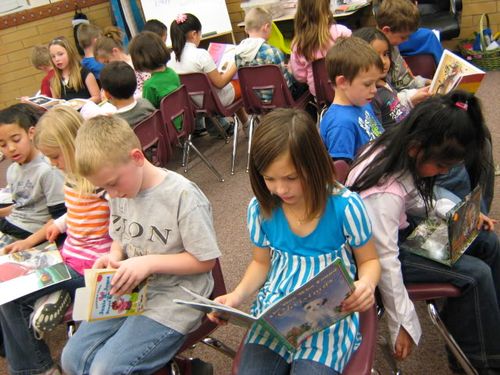 Building toys. Blocks or Magformers are always fun and so easy. Even if they don't relate to the holiday, the kids have a great time working with these toys. They'll be the hit of the party!  Bring in some blocks for home or even use nontraditional building materials.  One year, I let the kids build with plastic cups. They talked about that for months afterward!
Craft: Now crafts are always fun for class parties but that doesn't mean they need to be intense. For our preschool class parties we often buy little craft kits from Oriental Trading because they involve no prep and they don't usually take much time. The scratch art pieces from Oriental Trading are ideal–they're very affordable and kids love them!  If that's not in the budget, go for the simplest idea you can find with the least amount of needed supplies and prep. You'll thank us later! (Sign up for the Oriental Trading emails to see when they offer free shipping on any order–that's a huge money saver!!)
Movement: pull up some themed videos on YouTube or seasonal music for a dance break! Our Brain Breaks would also work great for this.
Food: it's not necessary, but having a treat can make it feel like more of a party.  If you feel that having food would be a good fit for your classroom (and wouldn't be an issue with any allergies), plan something the kids can be involved with making.  One teacher friend always had students frost Nutter Butter cookies with white frosting and add chocolate chip eyes.  It's helpful to have food partitioned beforehand.  If you're giving the kids M&Ms to decorate their frosted cookie, put them in separate plastic baggies ahead of time.  If they'll be using utensils (such as a knife for frosting), get a separate one for each kid. You'll be amazed–and disgusted–by how quickly they get globby and gunky.  Also, more than one kid will try to lick the frosting off the knife.  Have labeled plastic baggies for kids to take home treats. The bus driver will thank you!  There's nothing quite like the panic of a small child who couldn't finish their cookie and can't figure out how to get it home without it getting ruined!
Games: kid friendly board games–like Candyland–are always a hit.  Consider buying holiday themed games from Teachers Pay Teachers and sneak some actual learning into their partying.  You can put out a holiday-specific game like Bingo or Don't Eat Pete (although these run better with adult help).  I've even done simple jig saw puzzles (100 piece puzzle for 100 day). The kids at each rotation added to the puzzle.
Tips for Managing Parent Volunteers
If you're lucky enough to have parents to help with your parties, communicate your expectations to the parents ahead of time.  Many parents are excited to be involved in the classroom party, but don't have the experience you do with managing huge groups of kids.  You understand that the Christmas relay race is really fun, but only for the 3 kids participating.  Your 28 other students are standing in lines, growing bored and causing problems.  You can tell that the cute craft from Pinterest isn't feasible for 7-year-olds.  I would sit down with (or email) my room mom a few weeks before the party and (nicely!) outline what I wanted.  I tried to leave some room for the parents to be creative, but not enough room that the party would descend into chaos.  For my class of 25, I might want 6 stations.  One of those is always books, so I'll ask the room mom to help plan out the activities.  I would ask her to organize helpers for two crafts (I might suggest crafts if I have something I've picked up from Oriental Trading or Michaels), a parent to run bingo, a parent to plan a treat that the children can make (decorating cookies, etc.), and a parent to plan some sort of game.  With a small group of 3 or 4, even if the parent plans a game where only 1 or 2 children can participate at a time, there won't be too much standing around.  I always plan a fast finisher (packet at the students' desks) because that's something most parents aren't familiar with.
This format works amazingly well if you have parent helpers, but guess what?  It works even better WITHOUT parent helpers!
Most years, I didn't have parents who were able to help with class parties (particularly by Valentines day.  It was like they were already burned out with helping by then!).  So I had to figure out how to make this work with just myself.  If this is the case for you, just make sure to choose crafts or activities that your children can handle independently, i.e. nothing with a hot glue gun!  I'd set up the stations around the room.  Reading holiday books, decorating a bookmark, playing a themed time-telling game, playing Candyland, playing tic-tac-toe, building forts with red plastic cups, anything that was out of the routine made it feel like a party!  If there was one trickier station, such as one involving food, I'd stay there and manage that activity during the party.  Otherwise, I was free to roam from group to group making sure the kids were engaged and on-task.
One Valentine's day a few years ago, I was alone for the class party.  I had my little groups of 3 rotating around the room every 7 minutes.  It was going great!  The kids were having a great time, but it was totally under control.  I found I needed some extra glue bottles, though, so I popped into the room next door.  It was utter chaos!  A few room parents were trying to get the kids to finish a craft that was too complicated.  Some of the kids were really trying–the others had already given up and were throwing things around the room.  Most of the kids at the game were bored and weren't paying attention to anything that was going on.  They were having fun, but it was utter craziness!  I gave the teacher a little pep talk (she was brand new!) and hurried back to my room.  After that I was completely sold on using small-group stations for class parties!
If you have parent helpers in the classroom, this may not be the time to catch-up on your grading.  They're watching you as much as they're watching their kid. They want to see the interactions you have with the children.  It's not fair, but they are judging your regular class management by how you handle the party.  Assign yourself one of the stations to manage or make sure you're mingling with the kids.  Show the parents that you enjoy your job!  If you decide to use the parent-run party to get some of your real work done, consider staying in the room.  Even if the parents are in charge of the party, you're still responsible for what happens.  You don't want to get in trouble because the parents didn't supervise the piñata well enough and Susie got walloped on the head.
Valentine's Day Party Tips
Make decorating your Valentine box or bag part of your party. Your students' parents will thank you! Families are busy enough without adding a big creative project like this to their lists. And it will be a fun part of your classroom party as well.
Request students write their name on each Valentine but NOT address the to: portion. It's much easier and faster to pass out the Valentines if they don't have to be passed out to specific kids. This is especially important in the younger grades.
When you tell parents the number of needed Valentines, include the child in that number.
Also request that students not have separate cards for boys and girls. It never works out right in the end and it makes it extra complicated.
Buy extra valentines if you think there is ANY possibility one of your students might not bring any. Hopefully you won't need them!
Valentine's Day Party Station Ideas
Valentine Sucker Flower. These were a big hit and sooo easy!  I reduced this coloring page for the flower petals and the suckers were from the dollar store
Graph conversation heart colors
Decorating sugar cookies is pretty simple and easy. We were lucky to be able to order kits from a popular local cookie factory some years but it wouldn't be hard to find pre-made cookies at a grocery store bakery and add some canned frosting and sprinkles. Decide whether or not you have a group of kids that can handle this! Some years it would have been a disaster with certain kids.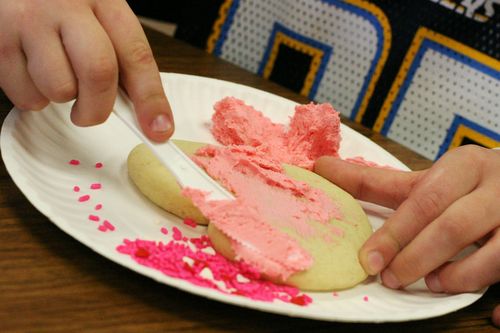 Have students pass out their valentines for other students during one of the rotations.
Halloween Party Tips
Costumes are the big headache!  If your students are little, you'll want them to come in costume (if the school is okay with that) so that you don't have to get 25 fiddly costumes on 25 wiggly first graders!
Let parents know that the kids still need to be able to use the bathroom in their costumes.  That's an accident no one wants!!
Remind parents that any costumes that come to school need to be sturdy enough to withstand some wear-and-tear (nothing delicate!), allow the children to move, and not pose a safety hazard (no masks or weapons).
Keep any party activities light and fun–you don't want kids going home with nightmares!  Avoid ghost stories or any mention of violent, gory monsters.
Pick up an extra Halloween costume or two if you think there is any chance one of your students might no have one. You would hate for anyone to be without one! Even something from the Dollar store will work.
Halloween Party Station Ideas
Bingo! Can't go wrong with it and it's so easy to pull together. Here's a Costume Party Bingo freebie.
Joke Book. I got this idea from another teacher. I give the kids a construction paper cover cut to look like a pumpkin and several pumpkin shaped pages. On each page is the first part of a joke (What did the mother broom say to her baby?). On the board I write all the answers. They write the correct answer for each riddle and then illustrate it. They don't finish in 10 minutes, but it's nice to have a project to finish up at the end of the day after the costume parade. DLTK has several Halloween riddles and coloring pages already done.
Roll-a-monster. The children each need a roll-a-monster page, a blank paper, and a number cube. The first roll determines the shape of the body. If they roll a 4 they look at the shape in the 4th box, etc. They love this! Download the roll-a-monster page.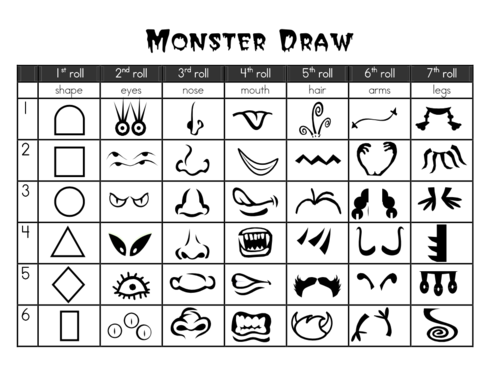 Flannel board story. I have the flannel board ghosts for The Chocolate Chip Ghost story that my mom used back when we were little. The ghosts are made from felt: white on one side fused with a colored piece on the back. The faces are all drawn on with Sharpie. As the ghosts eat the forbidden food, you flip the ghost from the white side to the color. Afterward, I'm going to give each child a white paper lunch sack. They can color it to look like a ghost from the story by leaving one side white and coloring the other.
Costume parade. If your school doesn't do a parade for the entire school, consider doing one with just your class or your grade level. This is a favorite Halloween memory from when I was a kid!
Nutter Butter ghost cookies– very simple! Could use white frosting and just smear it on one side if you want to go extra easy/independent.
We hope that these ideas and tips have helped you plan out the best, stress-free class party of all time! If you have a class party idea or tip, leave it in the comments!