Read about the 12 Days of Christmas booklet here. 
I think this googledocs thing is working.  Let me know if it's really not.
Here's what my kiddos get on the 1st Day of Christmas (12 school days before vacation).  It's a doorknob hanger to color and cut out.  Sometimes they have to take it home to finish, but most of them get it done since this is a quick one.
You can download it here.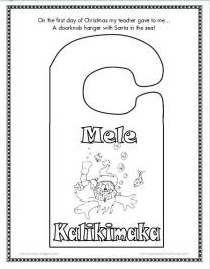 Please ignore the terrible rhyming, but do come back tomorrow for Day 2.