It's the middle of July! How did that happen? I hope you're enjoying lazy days by the pool, sipping cool drinks, and losing yourself in breezy romance novels.
Yeah. Me neither.
People keep asking me if I'm enjoying my summer and I tell them no. Then I mention something about preparing to transition to the new Common Core as if that would mean anything to non-teachers. But you get it, I'm sure!
Every time I think I'm getting close to being ready for this switch, I realize there's another huge project needing immediate and sustained attention. Granted, I bring a lot of this stress on myself, but I don't know how to be a different kind of teacher! The harsh truth about myself is that if it isn't ready to go on the first day of school, I won't get back to it until next summer.
Last week we had a 2 day training on the new writing core. I left feeling like I need another 2 months of summer to get ready for the fall. On Saturday I was feeling a bit down about the small number of things I've managed to check off my to-do list. I decided to work on something small and accomplishable (that really should be a word!).
Eric, one of our literacy specialists, shared a cute book at the writing training. It's called Happy Birthday to Whooo? Have you seen it? It was new to me. Our training was in the computer lab, so while Eric was giving his presentation, I just ordered myself a copy. I do love Amazon Prime!!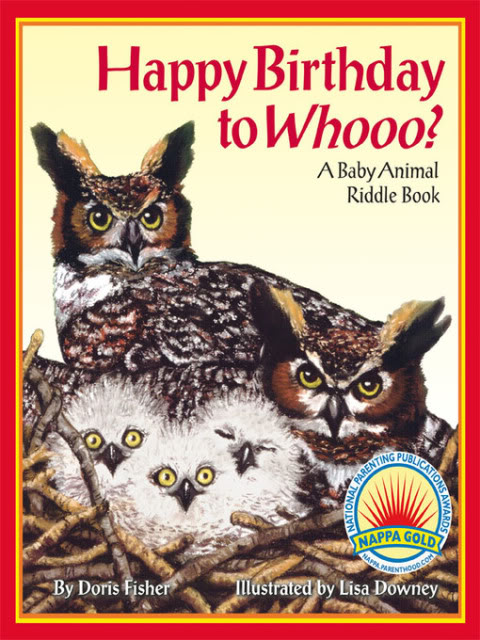 It's by Doris Fisher (her One Odd Day book is a personal favorite). Amazon has a Kindle version as well, so you lucky Smartboard endowed teachers could go that route. In this book, each page is an animal birth announcement that gives clues to help you identify the new arrival.
For example:
We are tickled pink!
Here at last on July 2,
Mr. and Mrs. Ever Glades
welcome their hatchling
that is just a featherweight at 3 1/2 ounces.
Can you guess? When you turn the page, you see the little family and get some additional information about them.
The new writing core has a much stronger emphasis on informational texts than our last curriculum. I'm a little (a lot?) nervous because I've never had great success with having kids do independent research. I'm excited to do this activity because the kids only need to find 2 or 3 facts about baby animals. I think even my strugglers could do this!
The back of the book has a blank birth announcement that students could fill in, but I wanted something easier to copy. So this is what I did on Saturday.

You can download a copy here. It's all gray scale because our only color printer is in the principal's office. Plus, this way the kids can personalize it, right?
I haven't tried this out yet, but the plan is to do something like this:
After helping the kids find their baby animal facts, I would give them a blank paper and a birth announcement. The announcement should be folded on the dotted line. Glue goes only on the back of this folded part. The announcement should be positioned in the middle of the page. Then the students can fill in their facts and draw a picture underneath. Most of the animal should be hidden under the announcement/flap, but they can have a bit of feathers or fur stick out as a clue (like in the book). Once the drawing is done, they can add one more interesting fact that they learned. I think the kids would just be over the moon to get to share their finished work with the class!
Well, there's one thing off the list. Two things if you count blogging about it as another task. And three whole weeks to finish the rest!