Movement Breaks in The Classroom Printable Cards Yearlong BUNDLE
Total Pages: 135 (540 cards)
File Size: 5 MB
You have reached the maximum downloads for the monthly plan.
Help your students focus with this comprehensive set of movement breaks in the classroom BUNDLE! This bundle of movement breaks or brain breaks printable cards comes with an entire year's worth of movement and mindfulness activities will help your students focus in class. With no need for technology, this bundle provides easy and quick prep activities that can be quickly implemented in any elementary classroom.
This brain breaks or movement breaks in the classroom bundle is perfect for any grade level and can easily be customized to fit the needs of any classroom. With a variety of different movements and activities, your entire class will never go bored completing these printable cards with movement and mindfulness exercises. These easy-to-prep brain breaks are NO TECHNOLOGY so you never have to worry about your internet or devices working properly. Just grab a brain break and go!
Included in this bundle of educational brain breaks:
⭐️ Back to School Brain Breaks
⭐️ Valentine's Day Brain Breaks
⭐️ St. Patrick's Day Brain Breaks
Each set in this bundle contains 60 everyday and seasonally themed brain break activities to get your students refocused, refreshed, and recharged! In total, there are 540 brain breaks to keep your class moving throughout the school day all year long! These movement breaks are a great way to increase the energy level in your classroom in a productive way.
We have 3 different types of brain breaks:
✅ Recharge – these brain breaks are for movement. Use these when you need kids to get the wiggles out! They're likely to elicit lots of giggles.
✅ Refocus – these are brain breaks that involve concentration like meditation and controlled movement.
✅ Refresh – these brain breaks will engage your students' minds in fun activities that will make them smile.
These grab and go brain breaks are perfect for breaking up a long day of school with an engaging activity to get your kids moving and laughing. You will see the positive effect that these short breaks have in your class with younger students and older students. They're great for transitions, inside recess, theme days, and any moment your students need a break. You will save so much class time with these interactive movement breaks that can be used throughout the school year.
Reasons to LOVE these fun brain breaks printable cards:
❤️ The whole class is involved, no waiting around!
❤️ Get students moving with physical activity OR help them calm down with focused yoga poses, deep breathing and meditation
❤️ No Technology
❤️ No Prep
❤️ Each fun activity takes only a few minutes
✅ Check out the preview for a closer look at these mindfulness and movement break ideas! 
OR
✅ Sample this product: See our Brain Breaks Sampler for a sample from each of the included bundles.
What teachers are saying…
⭐️⭐️⭐️⭐️⭐️ "My students were begging me to come up with more of these after I found your Thanksgiving freebie. THANK YOU! You have made many students very happy." – Allison W.
⭐️⭐️⭐️⭐️⭐️ "I absolutely love this resource. I have done a lot of brain breaks on the computer but they are time consuming. These are short and fun. I will be able to do them quickly when my students need a break without worrying about missing instruction time." – Meghan H.
⭐️⭐️⭐️⭐️⭐️ "This was a great resource for my small group. The quick activities help my students to refocus quickly and get back to learning!" – Angela L.
Want more information about Brain Breaks? Check out my blog for more information!
_____________________________________________________
Copyright © Second Story Window
Permission to copy for single classroom use only.
Please purchase additional licenses if you intend to share this product.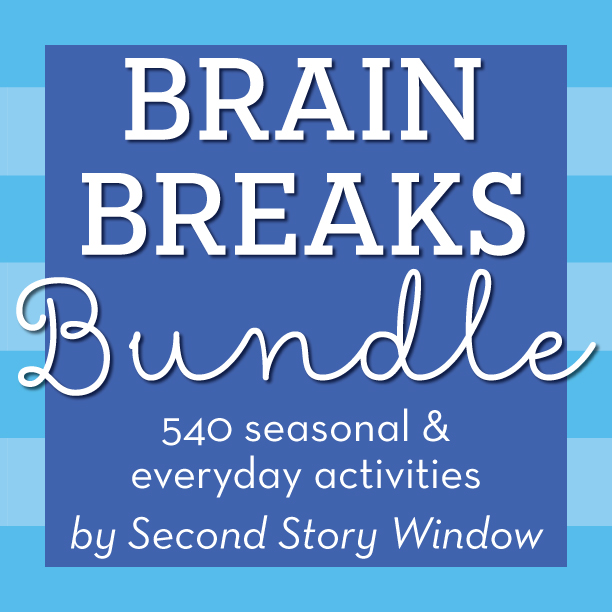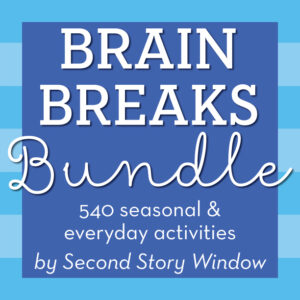 Movement Breaks in The Classroom Printable Cards Yearlong BUNDLE