We have a fun new bundle of Halloween activities for your little spooks! It's important to us that when we make something seasonal that it's both fun AND meaningful and we've worked hard to achieve that with these activities. They're also differentiated so should be appropriate for grades 1-4!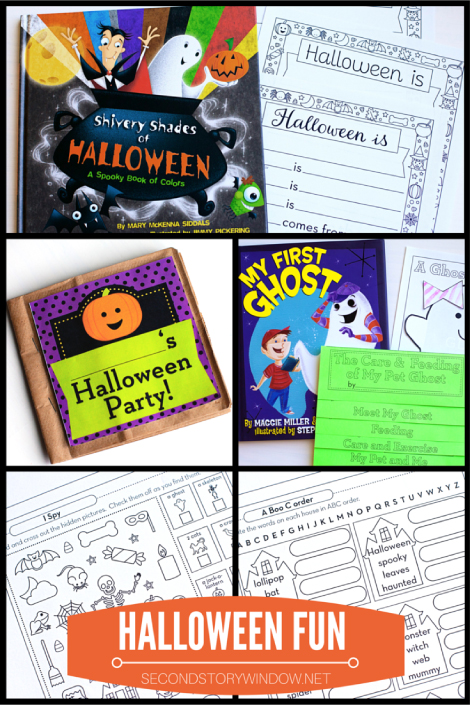 The first activity in the bundle is a set of no-prep printable work pages.  Last year, in a strange set of circumstances, I ended up helping in a friend's daughter's class party.  While there, I noticed that the teacher had been having her students do themed worksheets for the holiday; however, they were not geared toward 1st grade. The students were working on pages that were not designed around 1st grade topics.  I'm sure the teacher found something that looked good or just did what her team was doing, but it still made me a bit angry.  Not at the teacher, but the situation.  Why aren't there sets of pages that can meet the needs of a wide range of learners?  That thinking lead to this packet.  The pages are differentiated with three levels of difficulty for each topic!
One of my favorite holiday teacher-tricks is to make a packet of themed worksheets.  I reduced each page to 1/2 sheet and fit four activities on each piece of paper!  My 2nd graders had no trouble writing on the reduced lines, and they had plenty to do on a day that can be challenging for the teacher.  The packet isn't all we did during the day, but it gave me a quiet and productive half-hour or so and then worked as a great fast-finisher for the rest of our activities.  And my students LOVED their packets!  When I announced we were doing a holiday packet, it would actually get cheers!
With these pages, you can choose your favorites and use them to fill time on Halloween or use them all month long!  Topics include: ABC order, adjectives, opinion writing, plural nouns, sight words, vowel sounds, syllables, addition, multiplication, comparisons, rounding, skip counting, place value, and subtraction.  Easier pages are marked with 1 star.  Medium level difficulty have 2 stars.  3 stars are for the hardest pages.  The stars correspond to level of difficulty and not grade-level.  Depending on the age and abilities of your students, you may use only one level or you may find you need some from all three.  There are also 4 "just for fun" pages: an I-spy hunt, maze, secret code, and word search.  These are 4 not differentiated.  There are 2 levels of a cover page that have students drawing and writing about their own Halloween costumes.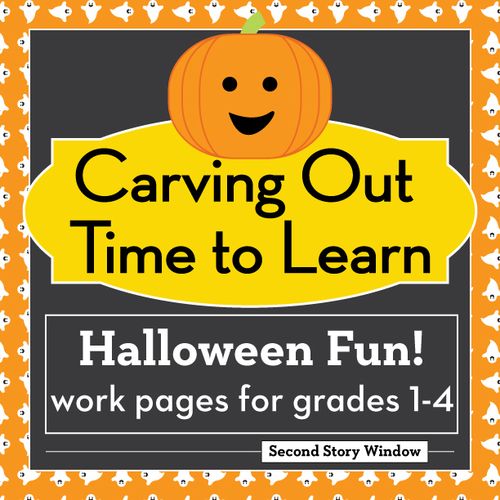 Let your students plan an epic (imaginary) Halloween party!  This is a stand-alone activity, but it can be even more fun when paired with a book.  Haunted Party, Click-Clack Boo! (in this month's Scholastic book order), Not Very Scary, and many other books all focus on a Halloween party.  Try one (or all!) before introducing this activity.
Then students get to make their own party scrapbook in a paper bag album.  These are very easy to make–just take 2 paper lunch sacks, stack them, fold them in half, and staple.  Voila!
What would it be like to have a pet ghost? Students can imagine and write about their ideas in 2 different writivities (I'm making that a word!).  My First Ghost is in the Scholastic book order this month and makes a natural tie-in to these writing activities.  This set also contains graphic organizers to help students chart their thoughts before writing.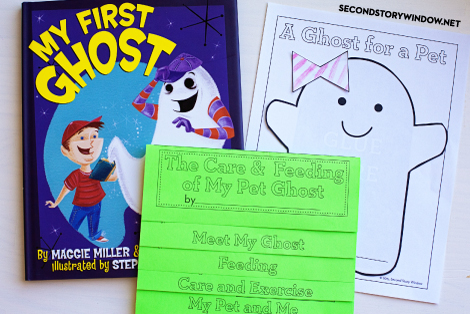 Halloween is the perfect time to do a little poetry writing!  This set of graphic organizers and brainstorm materials walks students step-by-step through writing their own Halloween color poems.  There are 3 levels of difficulty with this task, so young learners can be successful and more advanced learners can spread their creative wings.  Introducing your students to the idea of color poetry before writing can be helpful.  Shivery Shades of Halloween is a wonderful color poetry book and you can find it in the Scholastic book orders this month.  Use up those bonus points!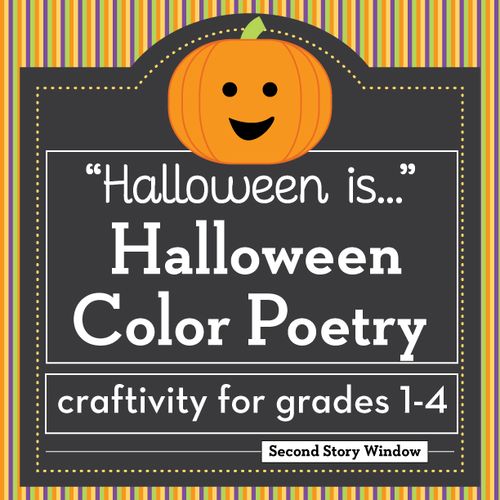 Click here to check out the whole bundle in the shop!