Now that we know how important brain breaks are, how about some Halloween-themed ones to kick the fun up a notch? Oh and did I mention you can grab some for FREE?
We created three types of brain breaks:
Recharge – these brain breaks are for movement. Use these when you need kids to get the wiggles out! They're likely to elicit lots of giggles.
Refocus – these are brain breaks that involve concentration like meditation and controlled movement.
Refresh – these brain breaks will engage your students' minds in fun activities that will make them smile.
Sometimes an activity could work in more than one category, depending on how you do it with your class. We put it in the category that made the most sense to us, but you can always mix and match these however you like.
There are many (many!!) brain breaks that make good use of technology, but if your projector isn't handy, these brain breaks are ones that you could grab at any moment–no technology or props required! We planned activities that make the most of student participation so there is very little standing around waiting to take a turn, and therefore, very little opportunity for your students to disengage and start causing problems.
Get 12 Free Halloween Brain Breaks by signing up below!
An easy way to store your brain breaks is to put a hole in the corner, put in a metal ring, and hang it on command hooks on the inside of a cupboard door! And a tip for making all the holes line up nicely: punch a hole in the first card and then line up a card behind it and punch through the existing hold to the new card. When you're done, your whole stack should have a hole in the exact same spot.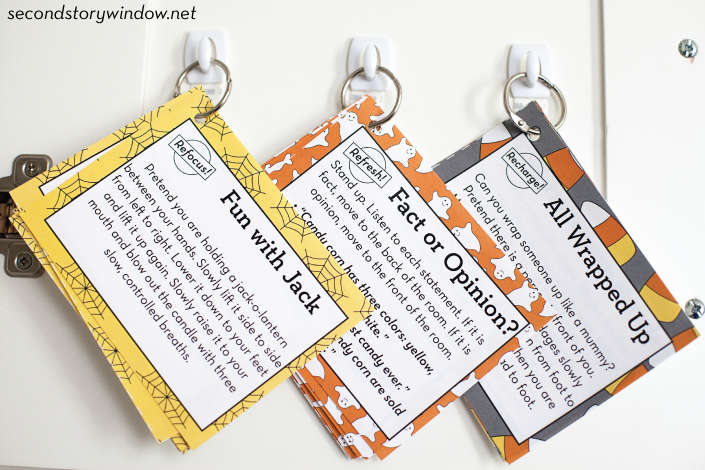 Want MORE Halloween Brain Breaks? Head over to our store to pick up our set of 60 Halloween Brain Breaks!
Happy Halloween!