Vocabulary Activities Lesson Plans Bundle | Science of Reading SOR | Vocabulary Practice Weekly Words Bundle
Unlock the power of vocabulary with this year-long bundle of weekly vocabulary activities, lessons, and graphic organizers. This bundle includes materials for 50 different books and weekly lesson plans. Pick and choose the books that you want to use or use them all!
Vocabulary instruction just got a lot easier with our bundle of weekly vocabulary lessons, activities, and graphic organizers. Our engaging vocabulary lesson plans use popular picture books (optional) to teach tier 2 academic vocabulary words each week. The meaningful vocabulary activities included are aligned to the science of reading (SOR) research.
Using a weekly words routine to build academic vocabulary allow students to frequently learn and use new vocabulary words in an interactive way. Students love learning new words from beloved stories and compelling vocabulary activities. 
You'll love how easy it is to implement this print-and-go weekly word work routine to help students' vocabulary skills soar!
Note: While these units complement the mentioned picture books, they do not provide the book. The books are a great way to introduce the words but are  required for utilizing the materials.
This bundle includes:
Students love this method of acquiring new academic vocabulary with these SOR aligned activities and you'll be amazed at how well they retain the words!
Included in each weekly vocabulary activities set:
Vocabulary lesson plan utilizing science of reading (SOR) research
Teacher's Guide to easily get started with this routine
4 academic vocabulary words that coordinate with a picture book (optional)
Word cards (for their notebooks) that use engaging vocabulary activities and examples to build understanding
Review activity that incorporates active participation
Quick weekly assessment
Poster for displaying the vocabulary words throughout the year
Foldable graphic organizer (master) for their vocabulary notebooks
Vocabulary example cards with photo support (great support for ELLs!)
Interactive review activity PowerPoint (no-prep!)
What does the Jargon Journal vocabulary routine look like?
✅ The week's four vocabulary words are introduced with a picture book (optional) and science of reading aligned lesson at the start of the week. (30 minutes or less)
✅ Then students practice the words each day in a variety of vocabulary activities, recording their thinking in an interactive vocabulary notebook. (5-10 minutes each day)
✅ A no-prep, PowerPoint review lesson is a great way to wrap up the week. (30 minutes or less)
✅ Lastly, a brief assessment can then be done to see how well students have retained the new vocabulary words. (5-10 minutes)
❤️ Want some more guidance for implementing a weekly words academic vocabulary routine? Click here to read more about this product and how to implement these vocabulary activities.
→ Download the preview to try out a free weekly vocabulary unit.
WHAT TEACHERS ARE SAYING
⭐️⭐️⭐️⭐️⭐️ "If you are considering purchasing this set – you should!  My kids are loving all of the new words.  At the beginning of the year they asked if they could say "Ding" like a bell whenever they heard one of the words in any of our readings…. 19 bazillions dings later….. they even ding to themselves when they are testing!  They are so excited to find our words AND they want to learn more words.  For second language learners this has been heaven- sent!" – Martha T.
⭐️⭐️⭐️⭐️⭐️ "What an incredible resource for authentic vocabulary instruction! This is exactly what I was looking for to help teach my second and third graders new vocabulary words. The activities are engaging and the mentor texts are a perfect way to practice vocabulary words within context. " – Brittney H.
⭐️⭐️⭐️⭐️⭐️ "I've been using it for several years now! My kids still remember their vocab words years later!" – Shannon D.
⭐️⭐️⭐️⭐️⭐️ "This may be my favorite resource of ALL time. The routine is simple yet engaging and the vocab words are words that the students see often. There isn't a day that goes by that I don't have at least one student point out one of the Jargon Journal vocabulary words in their independent reading. You will not regret this purchase!" – Brittany B.
___________________________________
You may also like…
___________________________________
Copyright © Second Story Window
Permission to copy for single classroom use only.
Please purchase additional licenses if you intend to share this product.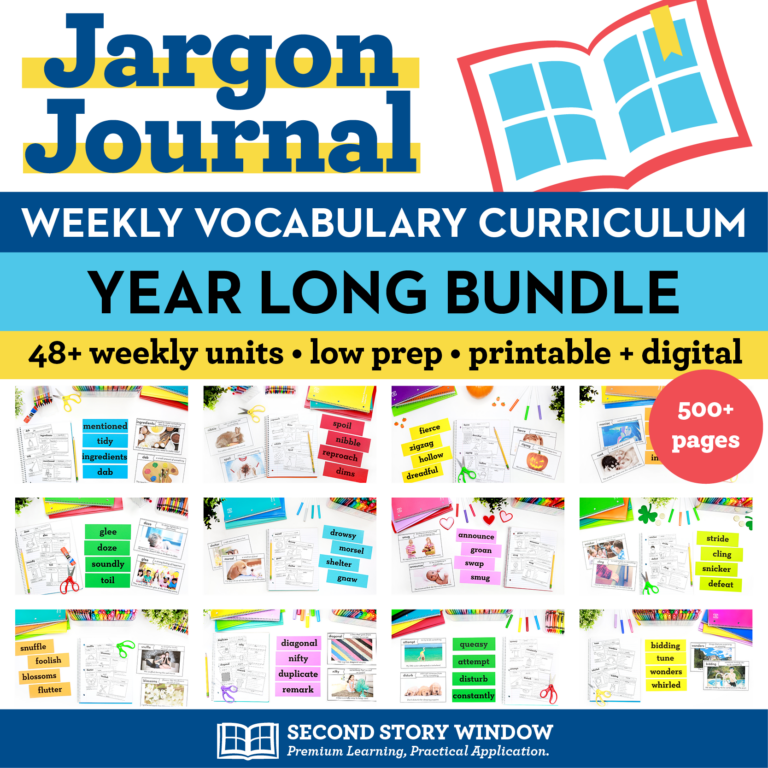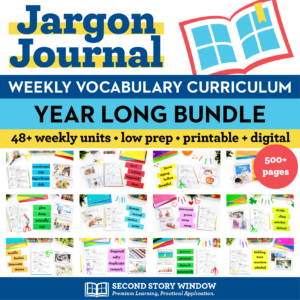 Vocabulary Activities Lesson Plans Bundle | Science of Reading SOR | Vocabulary Practice Weekly Words Bundle