Reading Fluency in a Flash 1st Grade April • Digital Fluency Mini Lessons
Total Pages: 125
File Size: 685 MB
Fluency in a Flash! This is a 5 week set of non-seasonal reading fluency mini lessons for April in 1st Grade. This resource is a weekly 5-day interactive PowerPoint mini lesson that can be done in just a few minutes every day with no prep from you! You'll love how easy it is to implement these lessons in your daily routine with only a few minutes needed! Your students will love these interactive and engaging mini-lessons.
Please note: You MUST have PowerPoint on a desktop device to use this resource. It is NOT compatible with Google Slides, Keynote, or Powerpoint for Ipad. This resource is digital only and is not designed to be printed. The files will open directly into Powerpoint show mode to protect the complicated animations and links.
What is Fluency in a Flash?
The Fluency in a Flash program is a brief, targeted routine for practicing reading fluency daily. Each day of the week focuses on a specific fluency skill and can be completed in 2 or 3 minutes.
Simply project the day's lesson on your board and guide your students through the activity. Offer feedback on how they're reading and, if time allows, give them the opportunity to complete an extension activity and self-assess their reading fluency.
When we help students recognize words effortlessly and teach them to read with appropriate expression and phrasing, we're allowing them to access texts in a more meaningful way. Reading fluency is the key to unlocking the magic of reading.
What does a week of Fluency in a Flash look like?
Monday – Fantastic Phrases: Students practice reading sight word phrases with fluency to learn how fluent readers group words into meaningful phrases.
Tuesday – Punctuation Power: Students read the same sentence with multiple punctuation marks to learn how punctuation changes the meaning and sound of a sentence.
Wednesday – Rhythm & Rhyme: Students practice reading a short poem as a real-life opportunity to practice good phrasing and expression. They also have the opportunity to practice reading in different styles of voice to make this fluency practice extra fun. You can practice with up to 3 different styles each week.
Thursday – Syllable Slide: Students work with multi-syllable words to practice the efficient word attack strategies that help fluent readers quickly decode unknown words.
Friday – Find the Funny: Students learn how to use good phrasing, expression, and timing to successfully tell jokes. (Spoiler alert: your students will love this!)
At the end of each day, we also offer a quick optional extension practice activity and opportunity for students to self-assess how well they used the components of fluent reading.
We also include a paper-free teachers guide that can be easily accessed within the file as needed.
What 1st Grade April Fluency in a Flash contain?
1st Grade April Fluency in a Flash contains 5 weeks of daily interactive powerpoint mini-lessons. We provide 5 weeks so you always have enough!
=====================================================
Looking for more Fluency resources? Check out all our fluency resources.
=====================================================
Join our Facebook Group to see more about this program and ask questions!
Connect with us! • Second Story Window • Facebook • Twitter • Pinterest
=====================================================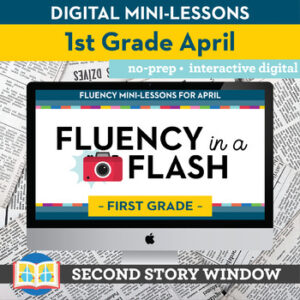 Reading Fluency in a Flash 1st Grade April • Digital Fluency Mini Lessons