Enjoy this low-prep and fun companion activity to the book I Got two Dogs by John Lithgow. We highly recommend you use the book in conjunction with this activity.
This would also make a great activity for the first day of school or for a 2nd day of 2nd grade celebration! It's perfect for any time in the first week of school.
For this activity, students will be writing about their 2 dogs (real or imagined)! It's a fun activity for introducing writing about and comparing two characters.
This is one of the resources in our 2nd day of 2nd grade bundle of activities.
Includes:
• Activity directions and materials
→Click to see the whole 2nd Day of 2nd Grade bundle here!←
=====================================================
Connect with us! • Second Story Window • Facebook • Twitter • Pinterest
=====================================================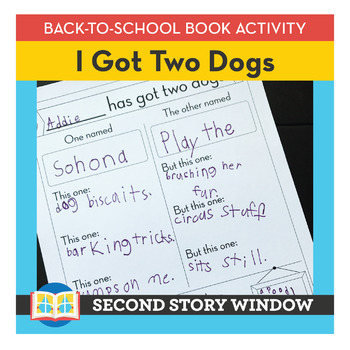 I Got Two Dogs • Back to School Book Companion Activity • 1st Day of School