Back to School Classroom Procedures and Routines • Guided Discovery of School Tools
Establish important classroom procedures and routines from the start with this engaging method of introducing school materials!
Make introducing classroom procedures for school tools exciting and motivating with this engaging back-to-school resource. This guided discovery set provides a hands-on, collaborative, and meaningful method for establishing the routines and procedures for school supplies in your classroom. No-prep and easy to use, this resource gives you everything you need to introduce and explore over 20 common classroom tools using printed materials and Google Slides!
The best way to ingrain learning of classroom procedures is through hands-on activities with feedback. This resource gives students ownership over – and accountability for – the way school tools are used in the classroom.
What's included for 22 school tools:
Step-by-step lessons for guided discovery of each material
Anchor charts for recording discussion
Google Slides for making digital versions of the charts
Engaging activity sheets for guided exploration of each tool
Action plans for addressing issues that arise later in the year
A detailed teacher guide
Blank, editable lesson and chart for introducing additional materials
Binder cover for organizing materials
Book list of read-aloud picture books you can use for introducing supplies
Your students will love this hands-on exploration of the school tools in your classroom. They will be focused on the process of establishing procedures and routines and engaged in the guided discovery you will do together! It's meaningful  fun!
Your year will be better, smoother, and calmer for the effort you take at the beginning of the year to teach your procedures with guided discovery. This resource is no-prep so that you can easily implement the process in your classroom right away. Just make some copies and you'll be ready to go!
This bundle of resources covers the 20+ most common school tools and supplies you use often in your classroom. But we've also included blank lessons, charts, and slides so you can use this method with any other classroom tool you want to introduce.
The 6 stages of each guided discovery lesson are:
Introducing
Establishing Use
Generating Standards
Exploring
Reflecting and Sharing
Caring for Materials
Want to learn more about Guided Discovery? Click here to learn about how we use Guided Discovery to introduce school tools.
___________________________________
WHAT TEACHERS ARE SAYING
⭐️⭐️⭐️⭐️⭐️ "What a fantastic discovery!I had noticed in previous years many hiccups with the way students took ownership of using both classroom and school materials. This resource gave me a new chance to help students engage positively with both the expected routines and how to use materials in a more responsible manner. Thank you for making the beginning of my new year run so much more smoothly. The tools, lessons and materials shared in this resource made it very engaging to introduce and use the various supplies we use together as a class on a daily basis. It is not just the teacher telling the students how to use the material, but it is a discussion and students are given the opportunity to practice and reflect upon how they use the various materials in our class each day. " – Yvonne C.
⭐️⭐️⭐️⭐️⭐️ "As a first-year teacher, I wasn't sure how to encourage student ownership in our discussion of respectful use of classroom tools or how to help the concepts feel more concrete. Although I only used a fraction of the pages available in this resource, it was worth every penny for the opportunity it gave us right at the start to have clear and actionable discussions as a classroom community. I will definitely be using these again!" – Ariel P.
⭐️⭐️⭐️⭐️⭐️ Thanks so much for this product, I have never had a better start to the year after taking the time to review these classroom expectations–students are so respectful and responsible with our class tools! – Jennifer B.
___________________________________
You may also like…
___________________________________
Copyright © Second Story Window
Permission to copy for single classroom use only.
Please purchase additional licenses if you intend to share this product.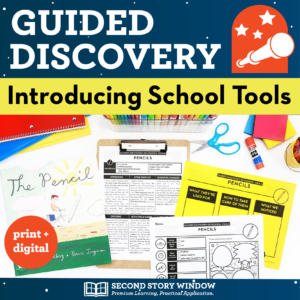 Back to School Classroom Procedures and Routines • Guided Discovery of School Tools