3rd grade homework. 180 days of 3rd grade homework. Each day containing a half-sheet with 3rd grade language arts on one side and math practice on the other.
NEW! This product now contains both print + Google Classroom compatible versions of this product!
→ This is a bundle of 3rd Grade Math Homework and 3rd Grade ELA Homework. You're saving 20% off the individual unit prices by purchasing this bundle! ←
=====================================================
Other homework bundles:
=====================================================
3rd grade homework cycles through 5 language art areas:
Phonics – long vowel practice, r-controlled sounds, ambiguous vowel sounds, ending patterns,

Grammar – affixes, nouns, verbs, adverbs, adjectives, contractions, past tense, subject-verb agreement, etc.

Writing – composition and editing

Vocabulary — context clues, glossary skills, synonyms, compound words, shades of meaning, etc.
Fractions — area fractions, linear fractions, fractions of a group, and fraction word problems

Multiplication and Division — modeling multiplication and division, writing and solving equations

Measurement — length, area, perimeter, volume, counting money, graphing

Time — telling time to the minute, elapsed time

Number and Operations — 2 and 3-digit addition and subtraction, problem solving, rounding, place value
3rd grade homework includes:
180 days of common core aligned math/ELA practice
Answer Key
Now includes Google Slides!
Be sure to download the Bonus file to get the ELA and Math homework combined into one file AND the digital files!
Join our Facebook Group to see more about this program and ask questions!
Want to give the homework a test drive? Try the 3rd Grade Homework Sampler.
=====================================================
You may also be interested in 3rd grade
=====================================================
Connect with us! • Second Story Window • Facebook • Twitter • Pinterest
=====================================================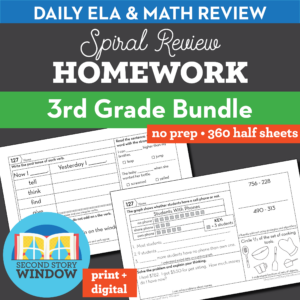 3rd Grade Homework Bundle • Spiral Review Math and ELA Homework 3rd