Are you looking for a fun and effective way to teach your second graders about word families and spelling rules? Look no further than our 2nd Grade Word Family Phonics Worksheets! With engaging exercises and spelling activities designed specifically for second graders, these printable worksheets are the perfect addition to any classroom.
This is a BUNDLE of 36 word family worksheet sets for 2nd grade. Our Science of Reading approach ensures that students not only memorize words, but also understand the patterns and rules behind them, setting them up for success in reading and spelling. Get ready to see your 2nd graders reading, writing, and phonics skills soar with our comprehensive and easy-to-use word family worksheets and spelling activities.
Included in this 2nd Grade Science of Reading BUNDLE of word family phonics worksheets:
⭐️ 36 different word family worksheet sets
⭐️ 15+ pages per set
⭐️ Each page includes clear directions and examples to guide students to complete an activity that gets them thinking about—and using—a common word family.
Each set of spelling activities provides students with multiple opportunities to develop a deep understanding of an essential word family. Knowing these word family chunks is a great way to enable students to quickly read and spell hundreds of words.
❤️ You will LOVE using these word family worksheets because each set includes at least 15 unique practice pages! Simply pick and choose the activity that's right for your students. Your students will gain all the extra practice they need for learning this important skill.
This Science of Reading print and go resource is great for…
✅ Literacy centers
✅ Phonics centers
✅ Homework
✅ Small groups
✅ Morning work
✅ Exit tickets
✅ and more!
Included word family chunks:
at
ap
in
ob
ug
ack
ar
orn
ake
ee
eat
oat
unk
end
eed
ain
ay
ow (long o)
ew
ight
ime
an
old
oon
oil
are
ear
ite
ore
ice
age
out
aw
ow (diphthong)
all
ark
This BUNDLE includes word family worksheets for 36 chunks (the same 36 chunks included in our 2nd grade Word Play Phonics Curriculum). It is perfect for an second grader who needs to improve their reading skills and spelling skills.
✅ Check out the preview for a closer look at these 2nd grade phonics worksheets!
What teachers are saying…
⭐️⭐️⭐️⭐️⭐️ "I am using the Word Play bundle (mostly the chunks and spelling sorts) with my second graders. This is a fantastic resource to complement that. There are so many worksheets for each spelling chunk, that I can really differentiate as needed. I especially like that there is one page focused on fluent reading. Great resource!" – Miss Caroline
⭐️⭐️⭐️⭐️⭐️ "LOTS of practice and I can tell that lots of thought and time went into creating this product. Thank you!" – Julie H.
⭐️⭐️⭐️⭐️⭐️ "The various activities for each spelling chunk are great for Daily 5 Word Work rotations. So many choices! Thank you for all of your hard work on this resource!!" – Alison B.
______________________________________________
Bundle & Save! 
Purchase the Word Family Worksheets Mega Bundle to get this set and all our other word family worksheets sets for a discounted price.
You may also like…
_____________________________________________________
Copyright © Second Story Window
Permission to copy for single classroom use only.
Please purchase additional licenses if you intend to share this product.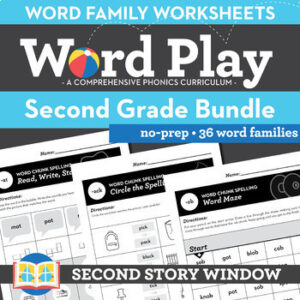 2nd Grade Phonics Worksheets & Spelling Activities for Word Families