1st Grade Reading Fluency Passages • Reading Comprehension Passages & Questions
36 weeks of homework or intervention to improve first grade students' reading fluency. Includes a weekly fluency passages, reading comprehension activities, fluency growth charts, and Google Slides and Google Forms options.
1st Grade No-Prep Reading Fluency Passages and Close Reading style Comprehension Homework / Reading Fluency Passages and Reading Comprehension
36 weeks of homework or intervention to improve first grade students' reading fluency.
=====================================================
Need more fluency resources for 1st grade? You may also be interested in our companion resources: 1st Grade Fluency in a Flash digital mini lessons and 1st Grade Fluency in a Flash Seasonal digital mini lessons
=====================================================
Other fluency bundles:
=====================================================
Print the pages you need for the week and copy them back-to-back. Students work on one page per week at home. The assignment is set up to make this run as smoothly as possible for Mom and Dad. Each page is divided into 4 sections and labeled Day 1, Day 2, Day 3, Day 4. Students practice reading the assignment for the day (letters, words, or sentences depending on the level) and then complete a quick close reading activity to help strengthen skills. There are also weekly parent tips to give families ideas of how to support their students at home.
You could send home the same assignment with each student for the week, or use the different levels to differentiate.
Each week contains:
2 pages (copy double sided)
1 leveled passage for daily reading (alternating fiction and non-fiction each week starting in level E)
4 days of short close reading activities
Parent Tips (weekly)
Parent letter in English & Spanish
NEW FEATURE: alternate question page each week with multiple choice close reading questions + key
Leveled Reading Fluency Passages:
36 weeks total – BUNDLE of the following products:
=====================================================
Please note: the Level A, B, C, D, practice sheets in this bundle are different than the ones in the Kindergarten Fluency Bundle. This is a great companion resource to any of our other fluency products.
=====================================================
→Download the 1st Grade Fluency Sampler to try out 5 weeks of homework.←
=====================================================
Connect with us! • Second Story Window • Facebook • Twitter • Pinterest
=====================================================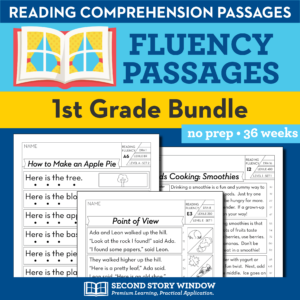 1st Grade Reading Fluency Passages • Reading Comprehension Passages & Questions