180 days of ELA spiral review 1st-grade homework (90 pages). Each day contains a half-sheet with ELA on one side and math practice on the other. Copy back to back and cut down horizontally across the middle.
→ Save 20% by purchasing this set as part of the 1st Grade Homework Math & ELA Bundle. ←
NEW! This product now contains both print + Google Classroom + Seesaw (ready-to-use) versions of this product!
=====================================================
What makes our homework half sheets special?
Horizontal (easy to project!) half pages
Paper-saving half-sheet design
Parent-friendly details
Effective content review that is not time-consuming or overwhelming
Detailed answer key
High-quality, non-distracting design
Both Math & ELA content
Carefully planned content designed to build independence in students
Expertly spiraled content that constantly reviews and increases in difficulty
Key features designed to help students deepen their understanding
NEW: Google Slides for each week
NEW: Seesaw – Click & Assign for each week
1st grade ELA homework cycles through 5 language art areas:
Phonics – short and long vowel word family practice
Sight words – daily high-frequency practice
Vocabulary – word usage and dictionary skills
Grammar – nouns, verbs, adjectives, adverbs
Writing – composing and expanding sentences
Each page is labeled with an "I can" statement for each topic.
Includes:
180 days (90 pages) of common core aligned ELA practice
Answer Key
NEW: Google Slides for each week
NEW: Seesaw – Click & Assign for each week
=====================================================
You may also be interested in 1st grade:
=====================================================
Connect with us! • Second Story Window • Facebook • Pinterest • Instagram • Twitter
=====================================================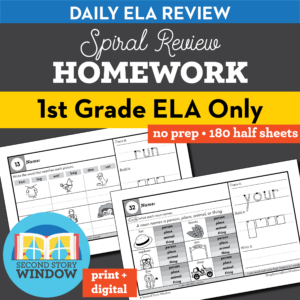 1st Grade ELA Spiral Review Homework, Exit Tickets, Worksheets + Google, Seesaw